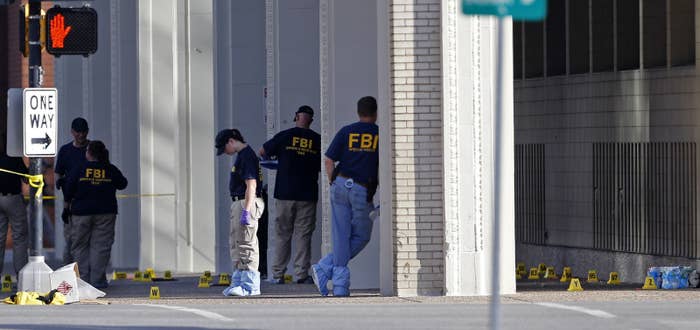 DALLAS — Federal authorities do not appear to be treating the massacre of five Dallas police officers as a domestic terrorism incident, as the case remains under the direction of local officials.
"It's a [Dallas Police Department]-led criminal investigation," said Allison Mahan, a spokeswoman for the FBI's Dallas office, when asked if the incident was being investigated as domestic terrorism. "We are assisting them with all available resources."

Asked specifically if that meant the case was not being treated as domestic terror, Mahan didn't respond.
Neither the Dallas Police Department nor the FBI told BuzzFeed News specifically what the shooting was being investigated as, though some officials offered that it was likely being probed as a state crime, not a federal one.
That the FBI has not yet taken over the inquiry indicates the incident is not being investigated as domestic terrorism, which is a federal charge. FBI headquarters in Washington referred requests on the matter to the Dallas Police Department, which did not respond to multiple requests to clarify.
It's a small linguistic detail that has big implications as law enforcement officers piece together the violent shooting that killed five officers and injured seven more during a peaceful protest in downtown Dallas Thursday night. If the attack remains a state level crime, it will stay a local case.
"It makes a big difference," one federal law enforcement official said, requesting anonymity to discuss the ongoing investigation. "Domestic terrorism is something that the feds get involved in."
Federal investigators can support local police in pursuing state-level criminal cases, the official said, but they wouldn't take over the inquiry, and so far, the feds haven't. "Dallas FBI is providing all possible assistance to our law enforcement partners," Mahan said Friday. It remains unclear what their specific role in the probe is.
Other federal agencies, including the Bureau of Alcohol, Tobacco and Firearms and the Department of Homeland Security are also assisting in the crime scene processing, which could shut down swaths of downtown Dallas until next Wednesday.
Micah Xavier Johnson, 25, specifically targeted law enforcement when he opened fire Thursday night during a peaceful demonstration protesting the deaths of two black men at the hands of police officers. During a round of failed negotiations early Friday morning, Johnson told police he "wanted to kill white people, especially white officers," Dallas officials said Friday.
Whether or not to classify violent actions like Johnsons' as domestic terror has long been debated in law enforcement spheres. In the aftermath of 9/11, domestic terrorism was defined broadly in the USA Patriot Act. One of its possible definitions is violence intended "to affect the conduct of a government by mass destruction, assassination, or kidnapping."
The recent massacre of 49 people at an LGBT nightclub in Orlando last month was classified as domestic terrorism, and federal officials took the lead on investigating Omar Mateen, the shooter who pledged allegiance to the ISIS terror group while opening fire.
Johnson, Dallas officials said at a press conference Friday, acted alone, and did not have any apparent ties to organized militant or terrorist groups. Dallas police had questioned three additional suspects, but they were released without charge Friday afternoon.