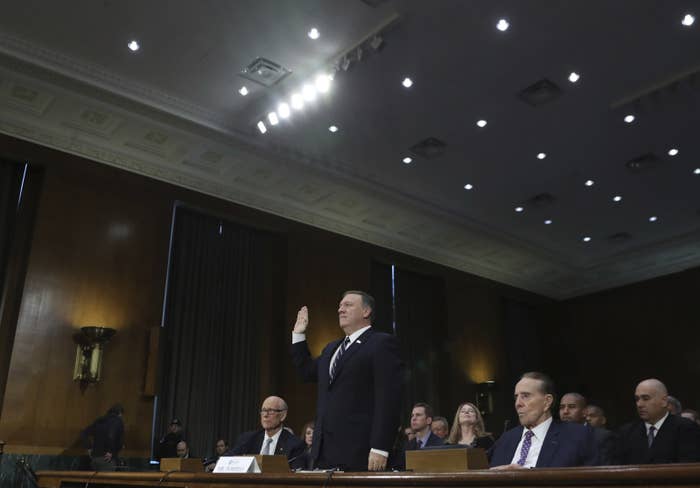 WASHINGTON — Donald Trump's pick to lead the CIA told lawmakers Thursday that he believed intelligence officials' assessment that the upper echelons of the Russian government worked to elect the president-elect, and promised lawmakers that he would continue to probe the issue if approved to lead the spy agency.
Mike Pompeo, a Republican congressman from Kansas who was tapped to lead the spy agency, said the intelligence community's assessment that Moscow's top officials ordered Russian intelligence agencies to "aggressively" work to undermine the US election was an "analytical product that is sound."
Pompeo also pledged to cooperate with the Intelligence Committee's own investigation into Russian influence operations, and said he would continue probing the issue at the agency — adding that he expected the president-elect to elevate the issue when he took office.
"It shouldn't surprise any of us at all that the leadership inside of Russia used this as something that might well be to their benefit," Pompeo said, also calling for a "robust" American response.
Trump has downplayed the intelligence community analysis that Russia worked to help him get elected, and said he expects its operations to stop once he's elected president, because Moscow will "respect" the US more.
Pompeo went on to say that despite claims by Trump's prospective national security adviser, Michael Flynn, and Trump's own suggestions, the CIA had not become politicized.
"I have not seen that," he said.
Pompeo also committed to several concerned lawmakers that he would not advocate for a return to harsh interrogation practices, including waterboarding, while at the agency. Though Trump had previously promised to bring back a "hell of a lot worse than waterboarding," domestic and international law prohibits it, and restricts government interrogators to the interrogation guide contained in the Army Field Manual, a military document.
"There's no doubt in my mind on the limits [the manual] places on the DoD and the Central Intelligence Agency," he said.
But he doesn't expect Trump to actually ask.
"I can't imagine that I would be asked that by the president-elect," he said.
Earlier in the day, as the Intelligence Committee's vice-chair, Mark Warner, began speaking about Russia's efforts to influence the US election, the lights in the hearing room flickered and then went dark, prompting nervous laughs and shuffling in the packed hearing room.
Intelligence Committee Chairman Richard Burr said he expected to move Pompeo's nomination quickly, as soon as the official nomination was received by the Senate.