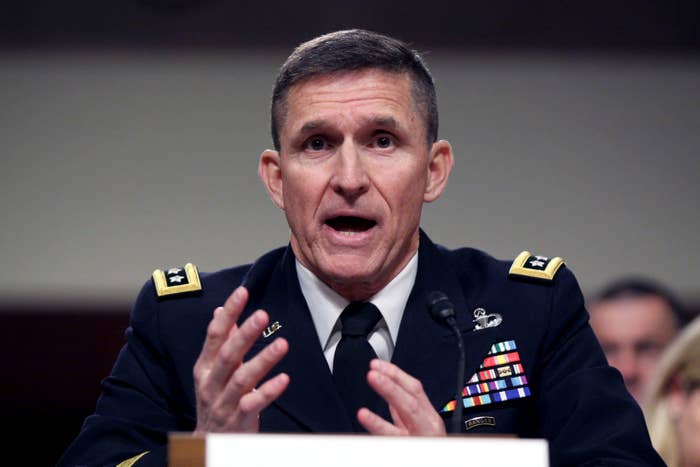 WASHINGTON — The Trump administration avoided a long battle with Congress over one of its more controversial appointments Friday as retired Lt. Gen. Michael Flynn accepted a post as the incoming president-elect's national security adviser, a move that was met with mixed emotions across the national security community.
Flynn, whose inflammatory rhetoric about Islam, apparent reverence for Russia, and questionable ties to foreign governments has drawn ire from his critics, has long been assumed to be the likely candidate for the national security adviser spot. Recent Washington rumors also put him as a top candidate for director of the CIA or secretary of defense, but those — unlike the national security adviser gig — would both require Senate confirmation, and the defense post in particular would require a congressional waiver given Flynn's recent service in the military. Flynn said he was "deeply humbled and honored" to accept the post in a release Friday.
"I don't know if I love him or if he's too simple for a complicated world. He might hate the Islamic religion," said one defense contractor who works closely with the Pentagon. "He's a smart guy. He's a good example of the kind of action-oriented people who falter at senior levels of government."

Flynn's career, capstoned by his recent foray into politics with the Trump camp, has been riddled with controversy, though he's credited with overhauling the country's counterterror strategies in Afghanistan. That success was dotted with Pentagon investigations — including one internal Pentagon probe that substantiated Flynn's inappropriate sharing of classified intelligence with allies — and his uniformed career ended when he was unceremoniously pushed out of the Defense Intelligence Agency after heated run-ins with the Obama administration over its ISIS strategy.
Some of his more extreme policy positions, many of which he only publicly adopted since joining the Trump camp, have alarmed even his former allies in the Pentagon, and his ties to Russia have raised eyebrows — Flynn frequently appears on Russia Today, and recently attended a dinner with Russian President Vladimir Putin. He's vilified the Islamic religion, blaming it broadly as the cause of violence across the world, and has sat in on top-secret intelligence briefings with Trump while still advising foreign clients.
"I believe that the president-elect would be best served by a national security adviser who brings a steady and thoughtful demeanor to the Oval Office and can help offset the potentially impulsive nature of the next president," said House Intelligence Committee chair Adam Schiff, citing Flynn's closeness to Russia and inflammatory remarks on Islam. "These are not qualities readily apparent in observing General Flynn over the last few years."

But since Trump's stunning victory last week, many in DC's national security apparatus have realized the national security adviser gig is the only realistic place Flynn could end up in a Trump White House. Even some of the president-elect's Republican colleagues on the Hill agree that the disgruntled lieutenant general would have a hard time making it through a confirmation process in the Senate.
While he may not have direct control over certain bureaucracies like the CIA or Pentagon, the placement of Flynn directly in the ear of the commander-in-chief may give him a bigger potential for impact than had he been at the controls of the nation's soldiers and spies, particularly given Trump's lack of knowledge. Trump praised Flynn on Friday, calling him "one of the country's foremost experts" on matters of national security.
"I am pleased that Lieutenant General Michael Flynn will be by my side as we work to defeat radical Islamic terrorism, navigate geopolitical challenges and keep Americans safe at home and abroad," Trump said in a statement. "General Flynn is one of the country's foremost experts on military and intelligence matters and he will be an invaluable asset to me and my administration."

The national security adviser position is "the place where [Flynn] can influence things and have the most impact" said one former Pentagon official who worked with Flynn.
"You want Mike Flynn in a place where he can have maximum impact in a Trump administration," the former official said, who spoke very highly of Flynn's service.
Quietly, many national security hands will still roll their eyes at Flynn's name — but there is grudging acceptance that, especially on the national security adviser front, there's not much to be done except hope for the best.
"General Flynn served honorably throughout his 33-year military career. ... In becoming National Security Advisor, General Flynn is taking on a very different and challenging new civilian role," Sen. Jack Reed, the top Democrat on the Senate Armed Services Committee, said in a statement Thursday that was released before Flynn was formally offered the job. "He is familiar with the complex set of security challenges we face. ... It's incumbent on any National Security Advisor to provide unbiased and fact-based advice. I hope the Trump Administration will begin to detail its plans to advance America's national security interests."