President Obama Tells World Leaders Now Is Last Chance To Address Global Climate Change
Almost 200 nations have gathered in Paris for talks climate activists hope will result in a binding international deal on limiting carbon emissions.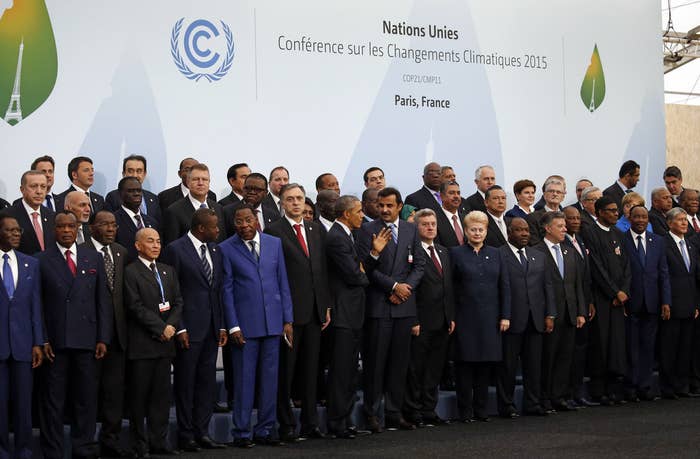 U.S. President Obama told a gathering of almost 200 world leaders they must act now on combating climate change or it will be too late Monday.
Speaking at the COP21 climate summit in Paris, Obama said he saluted the people of Paris for insisting the talks go on despite the recent terrorist attacks. "[It is] an act of defiance that proves nothing will deter us from building the future we want for our children," he said.
"Nearly 200 nations have assembled here this week. A declaration that for all the challenges we face, the growing threat of climate change could define the contours of this century more dramatically than any other."
He added that "this summer, I saw the effects of climate change firsthand in our northernmost state, Alaska, where the sea is already swallowing villages and eroding shorelines, where permafrost thaws and the tundra burns, where glaciers are melting at a pace unprecedented in modern times.
"And it was a preview of one possible future -- a glimpse of our children's fate if the climate keeps changing faster than our efforts to address it. Submerged countries. Abandoned cities. Fields that no longer grow."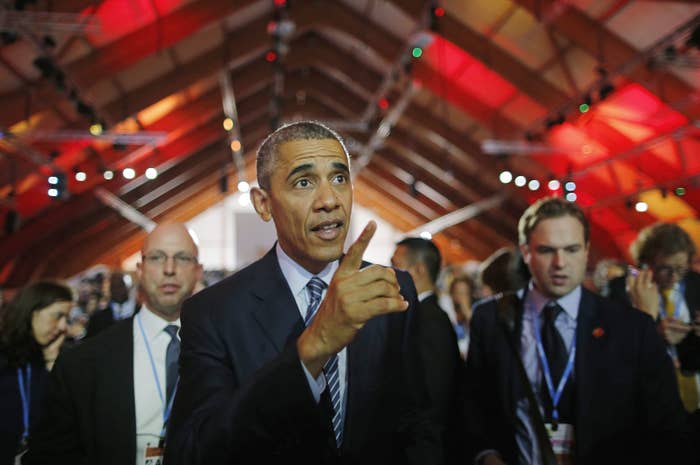 The summit is the 21st meeting of the 196 countries that have signed on to a 1992 United Nations environmental treaty pledging to not tip the world's climate into danger by emitting too many greenhouse gasses.
World leaders and negotiators will spent the next two weeks discussing how to curb global emissions.
Obama arrived in France on Sunday and began Monday morning by meeting with China's President Xi Jinping, where he emphasized the importance of China-U.S. efforts to fight climate change.
There have been worldwide protests ahead of the talks and 208 people were detained following demonstrations in Paris on Sunday.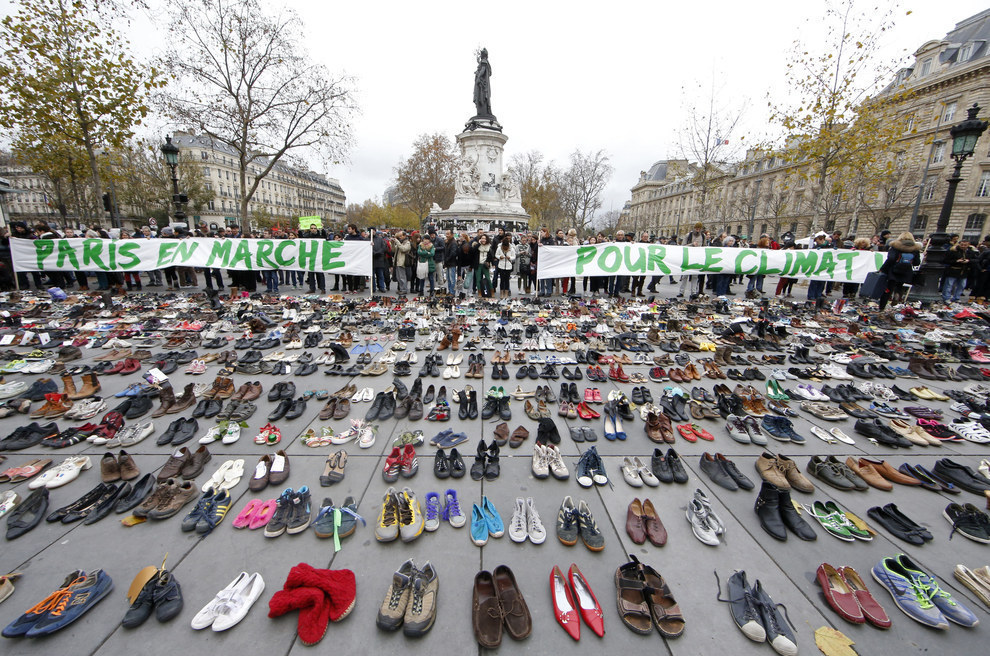 Obama told gathered leaders they were "the first generation to feel the impact of climate change and the last generation who can do something about it."
Here, in Paris, let's secure an agreement that builds in ambition, where progress paves the way for regularly updated targets — targets that are not set for each of us but by each of us, taking into account the differences that each nation is facing.

Here in Paris, let's agree to a strong system of transparency that gives each of us the confidence that all of us are meeting our commitments. And let's make sure that the countries who don't yet have the full capacity to report on their targets receive the support that they need.

Here in Paris, let's reaffirm our commitment that resources will be there for countries willing to do their part to skip the dirty phase of development. And I recognize this will not be easy. It will take a commitment to innovation and the capital to continue driving down the cost of clean energy. And that's why, this afternoon, I'll join many of you to announce an historic joint effort to accelerate public and private clean energy innovation on a global scale.

Here in Paris, let's also make sure that these resources flow to the countries that need help preparing for the impacts of climate change that we can no longer avoid. We know the truth that many nations have contributed little to climate change but will be the first to feel its most destructive effects.

And finally, here in Paris, let's show businesses and investors that the global economy is on a firm path towards a low-carbon future ... There are hundreds of billions of dollars ready to deploy to countries around the world if they get the signal that we mean business this time. Let's send that signal.
"For I believe, in the words of Dr. Martin Luther King, Jr., that there is such a thing as being too late. And when it comes to climate change, that hour is almost upon us," Obama said.