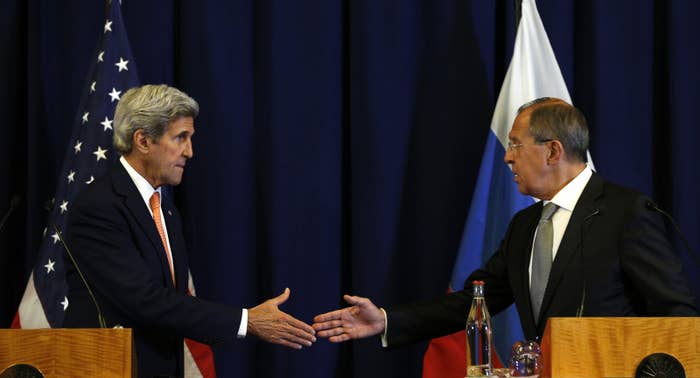 After months of negotiations, the US and Russia on Saturday agreed to a ceasefire deal in Syria in a bid to stem fighting between the US-supported rebels and Russian-backed government forces.

During a press conference early Saturday in Geneva, US Secretary of State John Kerry confirmed that a ceasefire would begin at sundown on Sept. 12, coinciding with the Muslim Eid al-Adha holiday.
In addition to the ceasefire, the arrangement also requires Moscow to pressure Assad's government to halt all offensive operations against Syria's armed opposition in certain areas, which were not detailed. In turn, Washington must persuade US-backed rebels to stop working with with Fath al-Sham, an al-Qaeda-linked group previously known as the al-Nusra Front, and other extremist groups.

The full military deal will go into effect if both sides abide by the truce for a week and allow unimpeded humanitarian deliveries. The US and Russia will then begin intelligence sharing and targeting coordination, while Assad's air and ground forces will be restricted to running operations against ISIS only.
"Today the United States and Russia are announcing a plan which we hope will reduce violence, ease suffering, and resume movement toward a negotiated peace and a political transition in Syria," Kerry said. "We are announcing an arrangement that we think has the capability of sticking, but it is dependent on people's choices."
"It has the ability to stick, provided the regime and the opposition both meet their obligations, which we — and we expect other supporting countries — will strongly encourage them to do," he said.
Speaking alongside Kerry at the press conference, Russian Foreign Minister Sergey Lavrov said the agreement would help expand the counterterrorism fight and aid deliveries to Syrian civilians by the UN which have stalled in recently weeks.
He said Syrian President Bashar Assad's government was informed of the accord, and was prepared to comply.
"The United States is going the extra mile here because we believe that Russia, and my colleague, have the capability to press the Assad regime to stop this conflict and to come to the table and make peace," Kerry said.
"This is just the beginning of our new relations," Lavrov said.
The main Syrian opposition group told the Associated Press it was hopeful the new agreement would "ease the suffering of civilians."
Basma Kodmani, of the High Negotiations Committee, said Russia should pressure Assad's government to abide by the agreement. Kodmani said mechanisms will need to be put in place to enforce the ceasefire, including the "cessation of hostilities and the grounding [of] regime air forces."
Getting Assad's government and rebel groups to comply is expected to be difficult as fighting rages around Aleppo, Syria's most populous city.
Assad's government appeared to tighten its siege of Aleppo in the past week, seizing several key transit points. Forty days of fighting in the city have killed nearly 700 civilians, including 160 children, the Associated Press reported.