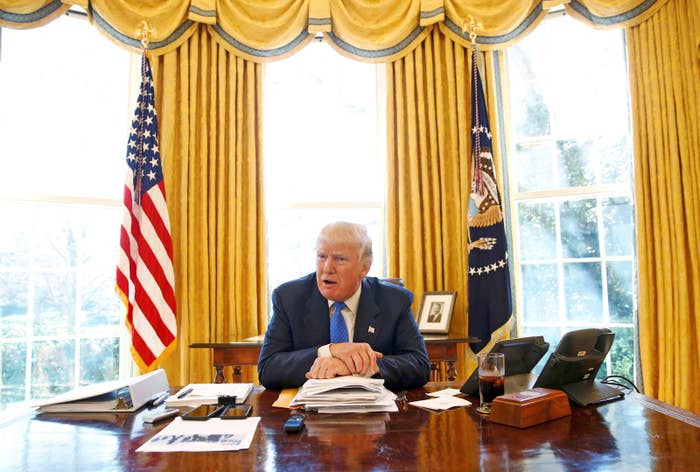 A deputy national security adviser to President Trump reportedly handed him — in all seriousness — a hoax Time magazine cover, Politico reported Monday, citing four White House sources.
K.T. McFarland reportedly gave Trump a printout of two Time covers — one, which was supposedly from the 1970s, warned of a coming ice age, while the other, from 2008, was about global warming. It was supposed to be an example of mainstream media hypocrisy concerning climate change.
Shane Goldmacher, Politico's chief White House correspondent, then reported: "Trump quickly got lathered up about the media's hypocrisy. But there was a problem. The 1970s cover was fake, part of an Internet hoax that's circulated for years. Staff chased down the truth and intervened before Trump tweeted or talked publicly about it."
The Time cover from 1977 is a hoax that has been widely shared and was debunked in 2013.
Bryan Walsh, writing for Time, has reported: "The cover on the right is real. (I should know — I wrote the story about China and India that's mentioned in the subhead.) The one on the left is very much not. It's a doctored version of this cover, from 2007:"
When asked about the incident, Politico cited a White House official who said it was just a simple mistake — and had this to say about the fake cover: "While the specific cover is fake, it is true there was a period in the '70s when people were predicting an ice age...The broader point I think was accurate."
The White House didn't immediately return BuzzFeed News' request for comment, and BuzzFeed News couldn't immediately independently confirm the incident. McFarland will soon leave her post for the ambassadorship to Singapore.
The Politico piece also reported that Chief of Staff Reince Priebus has warned senior White House staff to stop sharing news articles and press clips with the president. The report said multiple sources had confirmed aides would sometimes slip stories to Trump in the hopes of influencing his decision-making or policy choices.
Information provided to the president is usually closely monitored but Trump prefers a more open channel from both official and unofficial sources.