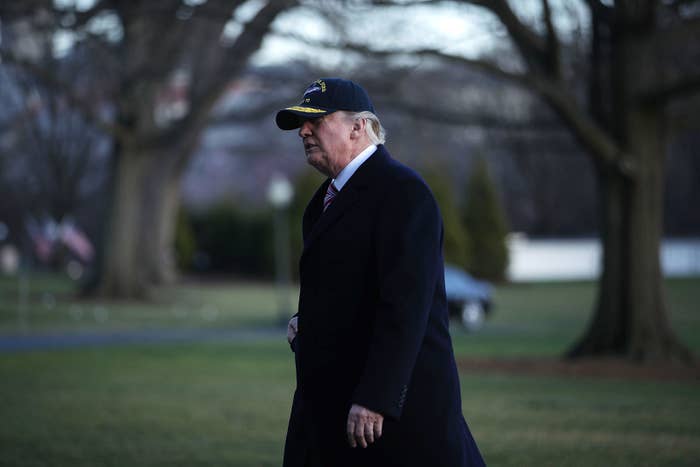 Without offering a scintilla of evidence, President Donald Trump on Saturday accused former President Barack Obama of spying on him by ordering the wiretapping of phones in Trump Tower during the 2016 election campaign — a charge the former leader denied.
Like much of what Trump tweets, the Obama wiretap claim appears to have followed a path through the pro-Trump media. The president may have been referring to an article from alt-right media outlet Breitbart, which makes claims that Obama worked to undermine Trump during the election. The Breitbart story references a segment from conservative commentator Mark Levin's Thursday night radio show in which he said Obama used surveillance techniques to gather information on Trump.
In a series of early morning tweets on Saturday, Trump shared the claims: "Terrible! Just found out that Obama had my 'wires tapped' in Trump Tower just before the victory. Nothing found. This is McCarthyism!
"Is it legal for a sitting President to be 'wire tapping' a race for president prior to an election? Turned down by court earlier. A NEW LOW!"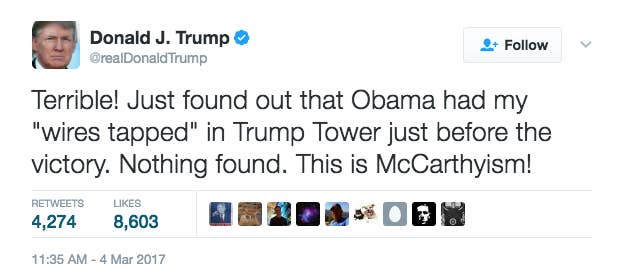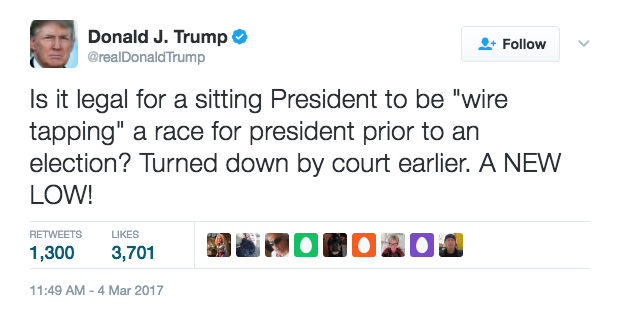 In further tweets, Trump claimed a "good lawyer could make a great case" out of the alleged phone-tapping.
He also called Obama a "bad (or sick) guy," comparing him to former President Richard Nixon and the infamous Watergate scandal.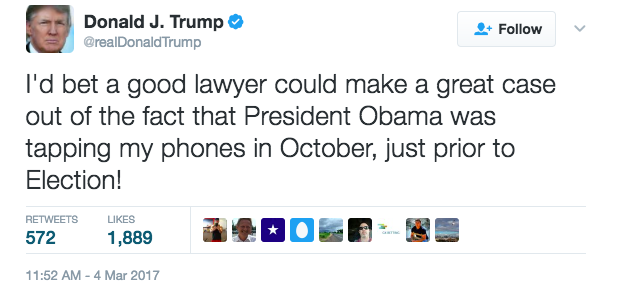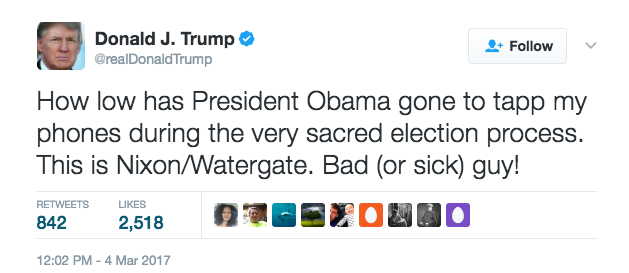 In a statement, Obama spokesman Kevin Lewis expressly denied that the former president or White House officials ever directly ordered such surveillance:
A cardinal rule of the Obama Administration was that no White House official ever interfered with any independent investigation led by the Department of Justice. As part of that practice, neither President Obama nor any White House official ever ordered surveillance on any U.S. citizen. Any suggestion otherwise is simply false.
The statement only addressed whether the White House had ever ordered surveillance of a US citizen — a point noted by former Obama speechwriter Jon Favreau.
Under US law, President Obama could not have simply ordered the surveillance of an individual without first obtaining a warrant from the Foreign Intelligence Surveillance Court, or FISA court. If such a warrant were to exist with regards to Trump, then the president could order it be declassified.
Following Trump's tweets, Ben Rhodes, Obama's deputy national security adviser, responded by saying that no president could order surveillance without a warrant.
At a town hall event in Clemson, South Carolina, on Saturday, Republican Sen. Lindsey Graham told the audience that he was not sure whether Trump's claim was true, "but if it is true, illegally, it would be the biggest political scandal since Watergate."
"The other side of the story...If the former president of the United States was able to obtain a warrant lawfully to monitor Trump's campaign for violating law, that would be the biggest scandal since Watergate," he continued.
The senator pledged to "get to the bottom" of the claims.
In a statement, Republican Sen. Ben Sasse called on Trump to provide more information on his claims.
"The President today made some very serious allegations, and the informed citizens that a republic requires deserve more information," the Nebraska senator said.
The New York Times reported in January that some law enforcement and intelligence agencies were examining intercepted communications and financial transactions as part of a broad investigation into possible links between Russian officials and associates of Trump.
The FBI is spearheading the investigations, with assistance from the National Security Agency, the CIA , and the Treasury Department's financial crimes unit, according to the Times.
Trump's tweets now raise the question of whether the FBI briefed the White House on details of the investigation, whose existence director James Comey has previously refused to confirm or deny to Congress.
Saturday's tweets mark the second time in as many days that the president has parroted conservative media.
On Friday, Trump tweeted an image of Sen. Chuck Schumer, the top Senate Democrat, meeting with Russian President Vladimir Putin, mocking his calls for an investigation into the White House's ties to Moscow.
The 2003 photo had been posted to a pro-Trump Reddit thread less than 24 hours before, where it then was circulated to right-wing blogs and websites, before eventually making its way to Trump's official Twitter account.