This is Kyle Simpler. He is a 56-year-old English teacher at Burleson High School in Texas.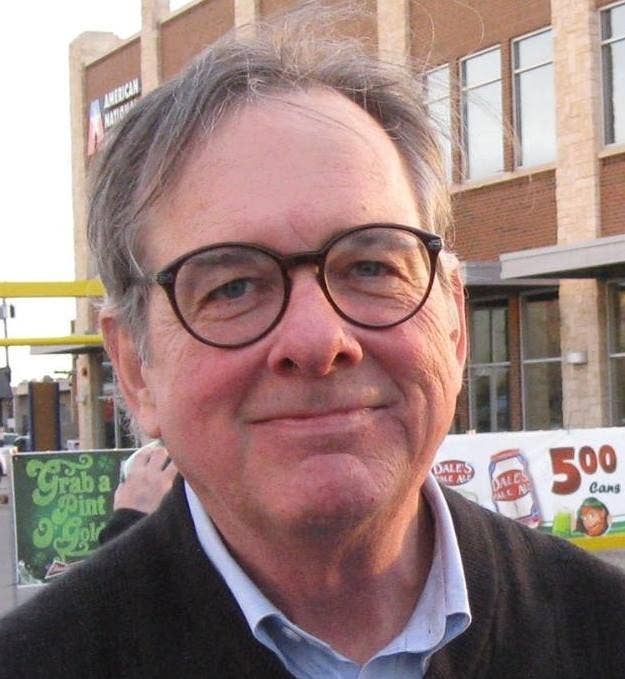 Before this week, Mr Simpler could not remember the last time he had a big birthday celebration.
He told BuzzFeed News it had been at least 10 years since he had celebrated with a birthday cake.
When his students found out, a group of them decided they wanted to do something to celebrate his latest milestone.
So they decorated his classroom with balloons, streamers, banners, and ordered a cake with a picture of a cat on it as a surprise for him.
Simpler told BuzzFeed News he was completely surprised when he walked in and his students began singing "Happy Birthday" to him.
"When I walked in and saw what they had done, I was really overwhelmed," he said. "I believe my first thoughts were, 'You've got to be kidding!' It was a lot to take in all at once."
Student Saeya Esparza posted a video of the heartwarming moment on Twitter.
Simpler was very overwhelmed by the gesture and, at one point, appeared to be crying.
"It was an amazing experience to say the least," Simpler said. "[They gave] me gift cards, cat toys, and pictures of musicians I like. One student, though, gave me a copy of a Dr. Seuss book that she had kept for years. She said it was her favorite book when she was a child, and that it always made her happy."
The video struck a cord with people and has been retweeted more than 53,000 times.
Several other students from his class also shared pictures of the surprise.
Student Karlie Moran told WFAA seeing how Simpler reacted had made it all worthwhile.
"It was so awesome," she said. "When he put his hands over his face, I was like, 'Yes, that's perfect!'"
"It has been years since I had a celebration like that," Simpler told BuzzFeed News.
"It shows that there are a lot of considerate and thoughtful kids out there. I'm very proud of these students," he said.
"It makes me glad to be a teacher. When students show their appreciation, it really encourages you."