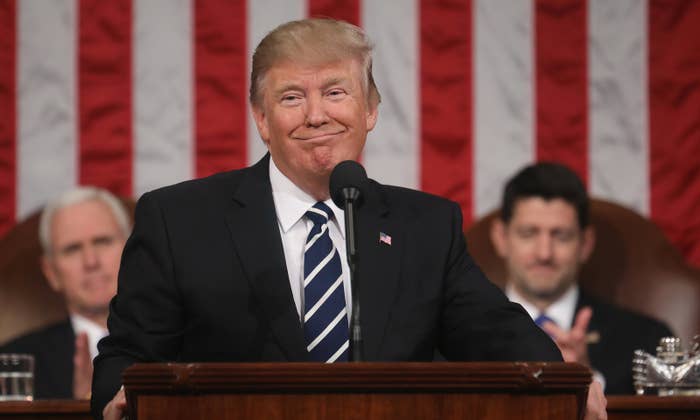 President Donald Trump has requested congressional intelligence committees investigate whether the Obama administration ordered wiretaps on Trump Tower during last year's election campaign.
On Saturday, Trump used his Twitter account to repeat a conservative media claim that former president Barack Obama wiretapped phones in Trump Tower during the election campaign. Trump failed to provide any evidence to support his claim. In a statement, Obama spokesperson Kevin Lewis said that "a cardinal rule of the Obama Administration was that no White House official ever interfered with any independent investigation led by the Department of Justice. As part of that practice, neither President Obama nor any White House official ever ordered surveillance on any U.S. citizen. Any suggestion otherwise is simply false."
Meanwhile, FBI Director James Comey asked the Department of Justice to formally call out Trump's claims as false, the New York Times reported.
After a day of silence on the issue, White House press secretary Sean Spicer on Sunday released a statement in which Trump called for an investigation into his claims.
Trump has asked intelligence agencies investigating potential Russian interference during the election to widen their investigation to include his claims the "executive branch investigative powers were abused in 2016."
"Reports concerning potentially politically motivated investigations immediately ahead of the 2016 election are very troubling," Spicer said in the statement.
"President Donald J. Trump is requesting that as part of their investigation into Russian activity, the congressional intelligence committees exercise their oversight authority to determine whether executive branch investigative powers were abused in 2016.
"Neither the White House nor the President will comment further until such oversight is conducted."
On Sunday, former Trump campaign manager Corey Lewandowski potentially furthered the president's claims by suggesting the Obama administration also listened in on Attorney General Jeff Sessions' conversations with Russian officials.
Lewandowski, who was fired by Trump, made the claims in an interview with Fox News host Jeanine Pirro, but presented no further evidence.
"What we've seen from the previous administration was that they did spend time listening to conversations between then-senator Jeff Sessions and the ambassador to Russia while he was in his US Senate office," Lewandowski claimed. "What other conversations did they listen in on from the American public?"
When asked to clarify, Lewandowski said, "They were monitoring when a United States senator was having a private conversation, is what I understand. And if that is the case that's very concerning."
He did not indicate where he gathered this information from, and it was unclear whether he may have misunderstood last week's reports regarding law enforcement and intelligence officials examining communications between members of the Trump campaign and Russian officials.
Florida Senator Marco Rubio told CNN Sunday morning that he was "not sure what [Trump] is talking about," but he conceded it was possible "the president has information that is not yet available to us or to the public."
"If it's true," Rubio told CNN's Jake Tapper, "we are obviously going to find out very quickly. And if it isn't, then obviously he'll have to explain what he meant by it."
Earlier Sunday on CNN, former director of national intelligence James Clapper denied Trump's claims of wiretapping, and denied that the FBI obtained a FISA court order to surveil the then–president-elect.
Clapper told Chuck Todd that if there was a FISA court order under Obama he would have known about it, and that he knew of no such court order.
He added that during his time as director of national intelligence, he, the NSA, FBI, and CIA included nothing "that had any reflection of collusion between members of the Trump campaign and the Russians. There was no evidence of that included in our report."
Senior Democrat on the Senate intelligence committee Mark Warner called Trump's allegations "very reckless" during an interview on CBS's Face the Nation Sunday morning. The Virginia senator said the claims felt like "an attempt where the president is trying to distract us by throwing out unsubstantiated information."
However, Arkansas Republican Sen. Tom Cotton told Fox News that he believes Trump. "We're going to follow the facts wherever they lead us. And I'm sure that this matter will be a part of that inquiry."
Cotton admitted he had not seen any evidence that Obama had ordered wiretapping of any kind, but maintained that it "doesn't mean that none of these things happened. It simply means I haven't seen that yet."