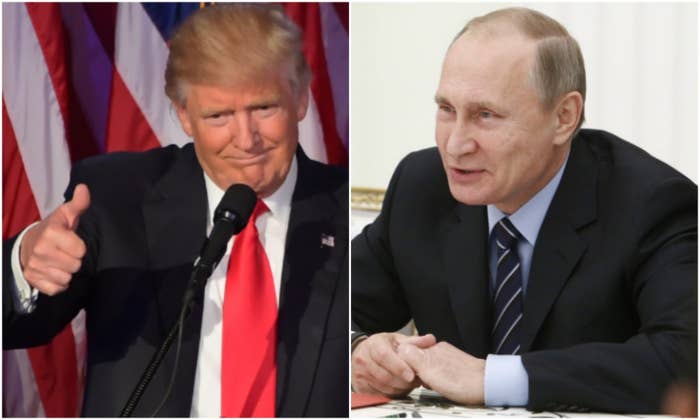 Russian politicians are expressing hope for a better relationship with the United States now that Donald Trump has been elected president.
President Vladimir Putin was among the first foreign leaders to congratulate Trump on his win.
Putin expressed "hope" that Russian–US relations would improve under a Trump presidency, the Kremlin said in a statement.
"In a telegram, Vladimir Putin expressed hope for working together in taking Russian–American relations out of current critical state, and for finding solutions to actual questions of international agenda as well as effective answers to global security threats," the statement said.
"[The] President of Russia expressed a certainty that building a constructive dialog between Moscow and Washington, that is based on principles of equality and mutual respect with accordance to each others' positions, is in interest of people of both countries and international community as a whole. V. Putin wished D. Trump success in such important work at the head of the state."
Also speaking Wednesday morning, Putin aide Vyacheslav Volodin said he hoped relations between the two nations would improve under President-elect Donald Trump.
"Hopefully, with the new US president a more constructive dialogue between our countries is possible. [The parliament] will welcome and support any steps in this direction," Volodin told parliamentary reporters.
Many politicians also expressed hopes Trump's win would lead to the lifting of international sanctions against Russia.
"I am convinced sanctions [on Russia] will be dropped completely," Gennady Zyuganov, leader of Russia's second-largest party, the Communist Party, told state media.
He predicted that Trump will recognize Russia's 2014 annexation of Crimea.
"What we have seen so far shows that the US ruling class is facing a crisis and also that social divisions have been deepening in the US, the stronghold of imperialism and capitalism," Zyuganov added.
Vladimir Zhirinovsky, a Russian MP and leader of the Liberal Democratic Party, said: "Here's the analysis of why America voted Trump: a very difficult situation in the world; Hillary is threatening war. For her, Russia is the main enemy. Of course, most Americans just want to live a calm life. We're gladly stating that in [the] US, the best of two candidates presented to the voters has won."
Chairman of Russia's State Duma (its lower house of parliament) International Affairs Committee, Leonid Slutsky, said he hoped the two countries would have a "constructive" relationship.
"Let's remember his rhetoric. He said that a constructive relationship needed to be built with Russia. But history knows a lot of examples when election-cycle rhetoric of the candidate changed to its destructive side in relations with Russia. One can assume that Trump just played with those electorate groups that didn't agree with Clinton's rhetoric."
And Kirill Dmitriev, the head of Russia's sovereign wealth fund, said he believed Trump's victory would reduce geopolitical tensions, Reuters reported.
"A less confrontational US foreign policy will unlock major opportunities for joint [Russia–US] trade and investment," Dmitriev said. He said he believed financial markets would recover quickly "just as they did after the Brexit vote."