U.S. B-52 Bomber Flies Over South Korea In Show Of Force After North's Nuclear Test
The plane flew low over Osan Air Base near Seoul and was joined by South Korean F-15 and U.S. F-16 fighters in a clear warning to North Korea.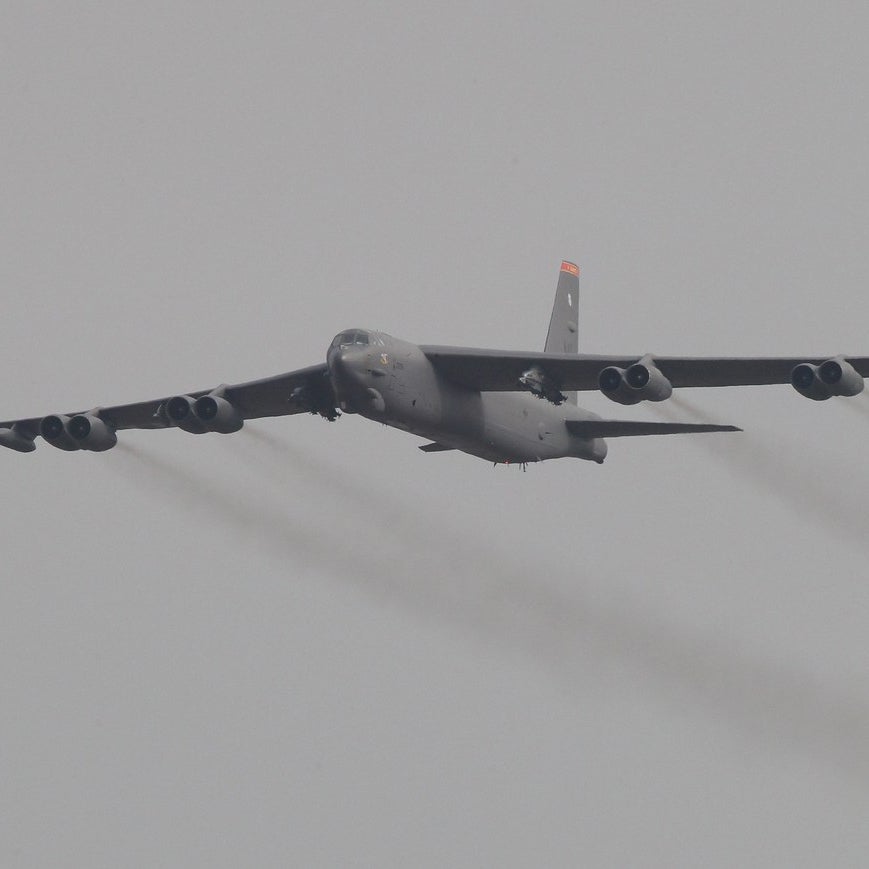 The B-52 bomber flies over Osan Air Base in Pyeongtaek, South Korea.
A U.S. B-52 bomber flew over South Korea Sunday in a clear show of force from the United States following a deepening standoff between Seoul and North Korea following Pyongyang's nuclear test.
The plane was seen by an Associated Press photographer at Osan Air Base near Seoul and was joined by South Korean F-15 and U.S. F-16 fighters before it returned to its base in Guam, the U.S. military said.
"This was a demonstration of the ironclad U.S. commitment to our allies in South Korea, in Japan, and to the defense of the American homeland," said Adm. Harry B. Harris Jr., commander U.S. Pacific Command, in a statement. "North Korea's nuclear test is a blatant violation of its international obligations."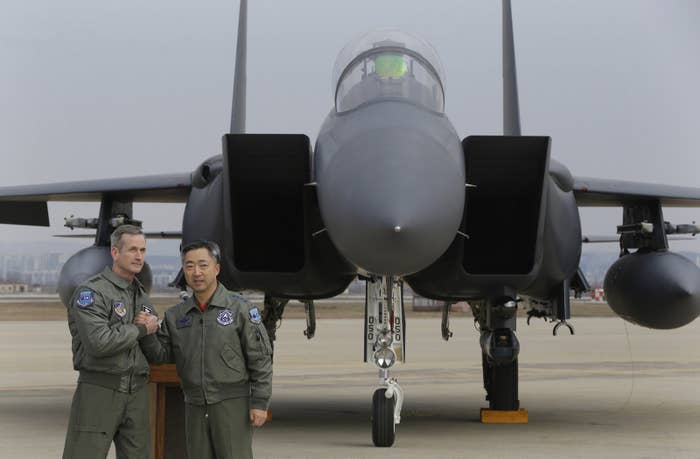 The B-52 flight comes after a victory tour by North Korean leader Kim Jong Un to celebrate the country's widely disputed claim of successfully testing a hydrogen bomb.

There was no immediate reaction from North Korea's state media to the B-52 fly-over, which also happened after North Korea's third nuclear test in 2013.
The flyover took place a day after North Korea threatened war against the South after Seoul resumed blasting messages on loudspeakers across the border in retaliation for Pyongyang's latest nuclear test.
The propaganda messages, which feature news from the world, K-pop music, and criticism about authoritarian leadership, are broadcast over high-wattage speakers placed along South Korea's border with the North.
Kim's first public comments about last week's test came in a visit to his country's military headquarters, where he called the explosion "a self-defensive step" meant to protect the region "from the danger of nuclear war caused by the U.S.-led imperialists," according to a dispatch Sunday from state-run Korean Central News Agency.
"It is the legitimate right of a sovereign state and a fair action that nobody can criticize," Kim was reported as saying during his tour of the People's Armed Forces Ministry.