On Sunday night, BuzzFeed News published an account by Star Trek: Discovery actor Anthony Rapp in which he said Kevin Spacey made sexual advances towards him when he was 14 years old.
Rapp said he had decided to speak out about his experience following the unprecedented conversation about sexual abuse and harassment in the entertainment industry that followed the Harvey Weinstein accusations.
Rapp told BuzzFeed News that in 1986, Spacey befriended him while they were both performing in Broadway shows, invited him over to his apartment for a party, and, at the end of the night, picked him up, placed him on his bed, and climbed on top of him, making a sexual advance. According to public records, Spacey was 26. Rapp was 14.
"He was trying to seduce me," Rapp said. "I don't know if I would have used that language. But I was aware that he was trying to get with me sexually."
After the story broke, Spacey tweeted a statement where he said he had chosen "now to live as a gay man."
Spacey said he did not remember the encounter Rapp described.
Many people were quick to take issue with Spacey's statement and his decision to announce his sexuality in response to the sexual misconduct allegations.
Vanity Fair film critic Richard Lawson tweeted that Spacey's statement subjected the gay community to "old criticisms and conspiracies."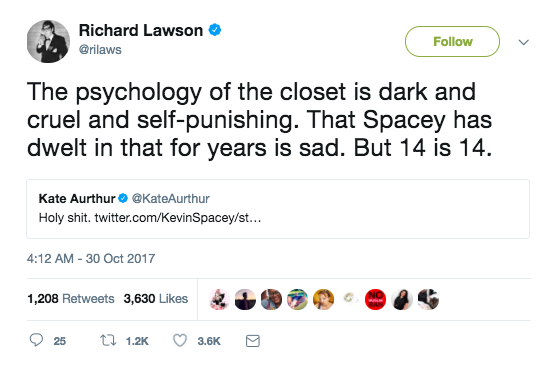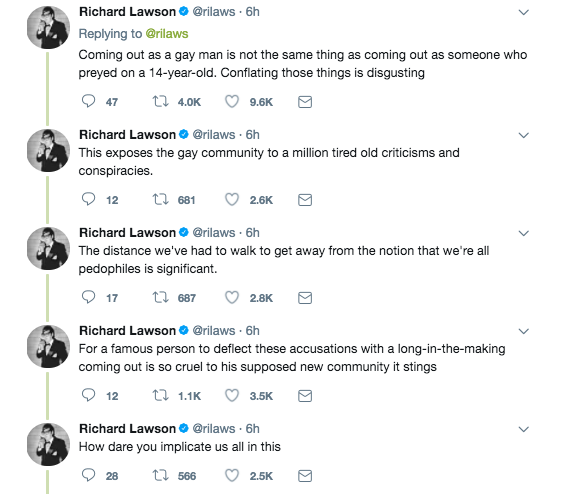 GLAAD President and CEO Sarah Kate Ellis had this to say:
"Coming out stories should not be used to deflect from allegations of sexual assault," said Sarah Kate Ellis, President and CEO of GLAAD. "This is not a coming out story about Kevin Spacey, but a story of survivorship by Anthony Rapp and all those who bravely speak out against unwanted sexual advances. The media and public should not gloss over that."
Daily Beast writer Ira Madison III also took issue with Spacey in a piece where he accused the actor of "grossly conflating pedophilia and homosexuality."
Others also criticized Spacey for using his statement to change the media narrative around the story.
While others took Spacey to task for saying if the events did happen he must have been drunk.