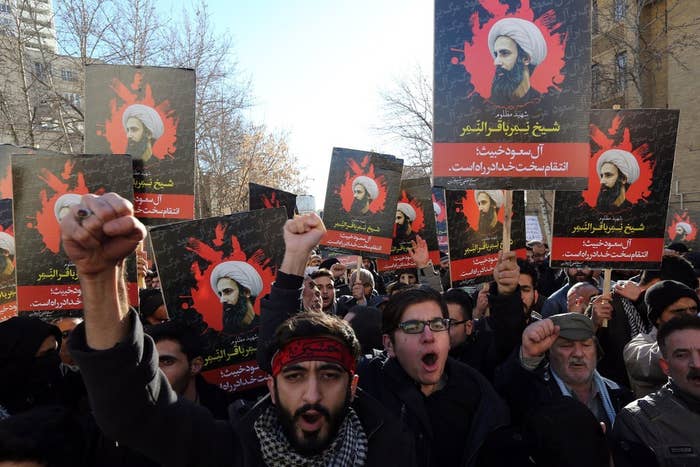 Bahrain, the United Arab Emirates, Kuwait and Sudan have joined Saudi Arabia in severing or downgrading diplomatic ties with Iran following protests at foreign embassies in the country.
Protests began in Iran after Saudi Arabia announced Saturday morning it had executed 47 people, including Shiite cleric Nimr Baqir al-Nimr.
Some 400 demonstrators took to the streets of the Iranian capital of Tehran, while some began defacing Saudi property.
Forty people were arrested and investigators were pursuing other suspects, Tehran prosecutor Abbas Jafari Dowlatabadi said, according to the Associated Press.
Another Saudi mission also was attacked in Mashhad, Iran.
Saudi Arabia announced Sunday that it would break off diplomatic ties with Iran and gave Iranian diplomats 48 hours to vacate the country. The country's foreign minister also said it would cut off all commercial ties with Iran and ban Saudi citizens from traveling to Iran, Reuters reported.
Tuesday, Kuwait said it had recalled its ambassador to Iran but would not elaborate or say how the Kuwait-Iran diplomatic ties would be affected.
On Monday, Bahrain announced it too would sever ties with Iran, while Sudan expelled the Iranian ambassador from the country. The UAE said it would "downgrade" diplomatic ties with Iran.
The statement released by a state-run news agency in the UAE said the country would be downgrading its diplomacy to only focus on business relationships between the Gulf federation and Iran. The country is also recalling its ambassador in Tehran, AP reported.
It said the UAE was doing this due to "Iran's continued interference in the Gulf and Arab countries' internal affairs."
Iranian Foreign Ministry spokesman Hossein Jaberi Ansari also said Saudi Arabia was inflaming tensions in the region by cutting diplomatic ties.
"Saudi Arabia sees its interests and even its existence in continuing tensions and clashes," Ansari said.
He said the kingdom was trying to "resolve its domestic problems through projecting and exporting them abroad."
Saudi Arabia also cut all flights to and from Iran on Monday, according to the AP.
This is a developing news story. Check back for updates or follow BuzzFeed News on Twitter.