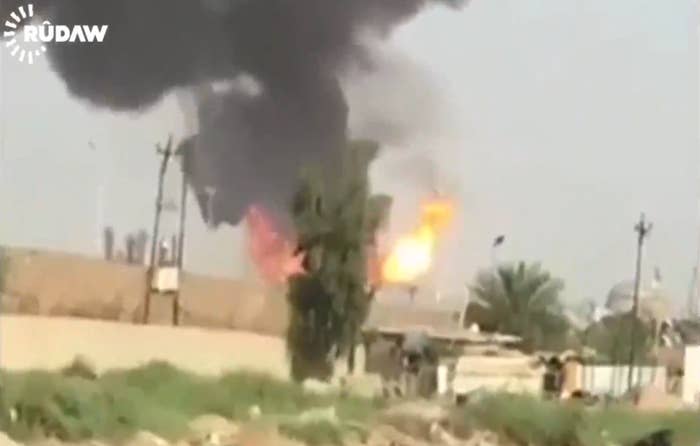 ISIS militants attacked a natural gas plant in Iraq Sunday, killing at least 14 people, officials said.
The group launched a coordinated assault on the plant in Taji, north of the capital of Baghdad, at dawn when a car bomb exploded at the main gate, the Associated Press reported.
A medical official confirmed the casualty figures to AP but spoke on condition of anonymity as they were not authorized to release information. A further 27 people were injured.
Iraq's interior ministry spokesman, Brigadier General Saad Maan, said three gas storage units were torched during the attack.
"Civil defense forces managed to extinguish the fire," he said in a statement released to Rudaw.
"The terrorists exploded a truck at the door of the factory and then six suicide bombers wearing explosive belts stormed into the factory."
The IS-affiliated Aamaq news agency credited a group of "Caliphate soldiers" for the attack.
Elsewhere in Baghdad, three separate bomb attacks killed at least eight people and wounded 28 others, police said.
Since Wednesday, more than 100 people have been killed in several bombings in Baghdad and elsewhere across the country, AP reported.
Meanwhile in Yemen Sunday, a suicide bomber killed at least 25 people, many of them policemen, in the city of Mukalla, officials told AP.
The attacker detonated his explosives outside a police base. About 17 people were also wounded.
The Yemeni branch of ISIS claimed responsibility for the attack on social media.