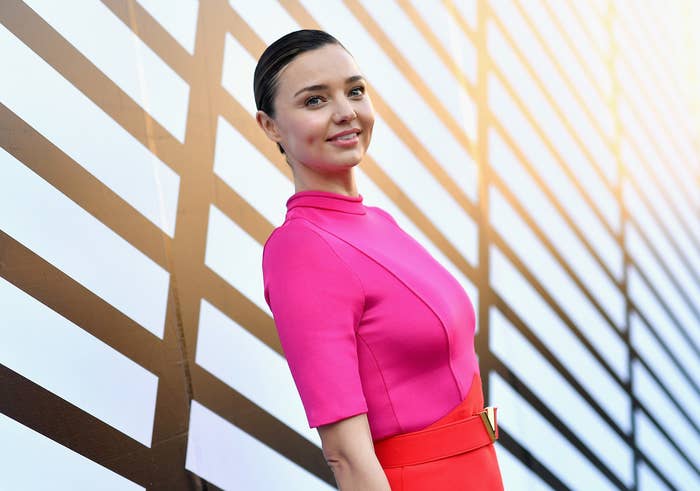 An intruder was reportedly shot and a security guard was injured during a break-in at model Miranda Kerr's LA home.

According to TMZ, a security guard at Kerr's Malibu home confronted an intruder and was injured.
In a statement posted on Facebook, the Los Angeles County Sheriff's Department confirmed an intruder stabbed an armed security guard before the guard shot him:
On Friday, October 14, 2016 at approximately 11:11 a.m., Malibu/Lost Hills Station deputies responded to the 4900 block of Puesta Del Sol Street in the city of Malibu regarding a fight and person with a gun call for service. When the deputies arrived at the residence they found an armed security guard was involved in a physical altercation with an intruder. During the physical altercation, the intruder stabbed the armed security guard and the armed security guard shot the intruder.


Both the armed security guard and the intruder were transported to a local hospital for treatment of their injuries. The armed security guard is listed in stable condition, and the intruder is listed in critical condition with non-life threatening injuries.

There were no occupants in the house at the time of this incident. The incident took place on the property, but not inside the house.
The security guard and the intruder were both airlifted to hospital.
Kerr, 33, bought the Malibu home with her ex-husband, British actor Orlando Bloom, in 2014.
She spoke about the home in a profile in the September issue of Harper's Bazaar.
"I knew that this house was it at first sight. It needed a lot of work, but it had a great view. It wasn't right on the water, so it was protected from the wind and very private," Kerr told the magazine.

"I could just see the potential. It felt so right. In some ways it feels like a tree house. That was another thing that I loved. It's all open, and the view of the ocean makes it feel more spacious."