A gunman stormed a Colorado Springs Planned Parenthood clinic Friday, opening fire and killing one police officer and two civilians before he was taken into custody, officials said. Nine others were injured with gunshot wounds, including five officers.

Colorado Springs Police Department released a mugshot of the suspect early Saturday.
Robert L. Dear, 57, of North Carolina
Lieutenant Shane Roberts of the Colleton County Sheriff's Office in South Carolina on Saturday told BuzzFeed News that the suspect of the shooting at Planned Parenthood, Robert L. Dear, lived in Walterboro, South Carolina, from 1997 to at least 2007.
Dear's South Carolina license expired in 2014 and he also has an address in North Carolina, Roberts said.

Police said on Twitter Dear was a resident of Hartsel, Colorado. The town lies in the middle of the state and is just over one hour's drive from Colorado Springs.
There are also voting records of a Robert Lewis Dear Jr. living in Hartsel, Colorado, as recently as 2014. Although the gender listed is female, the birth year 1958 matches Dear's.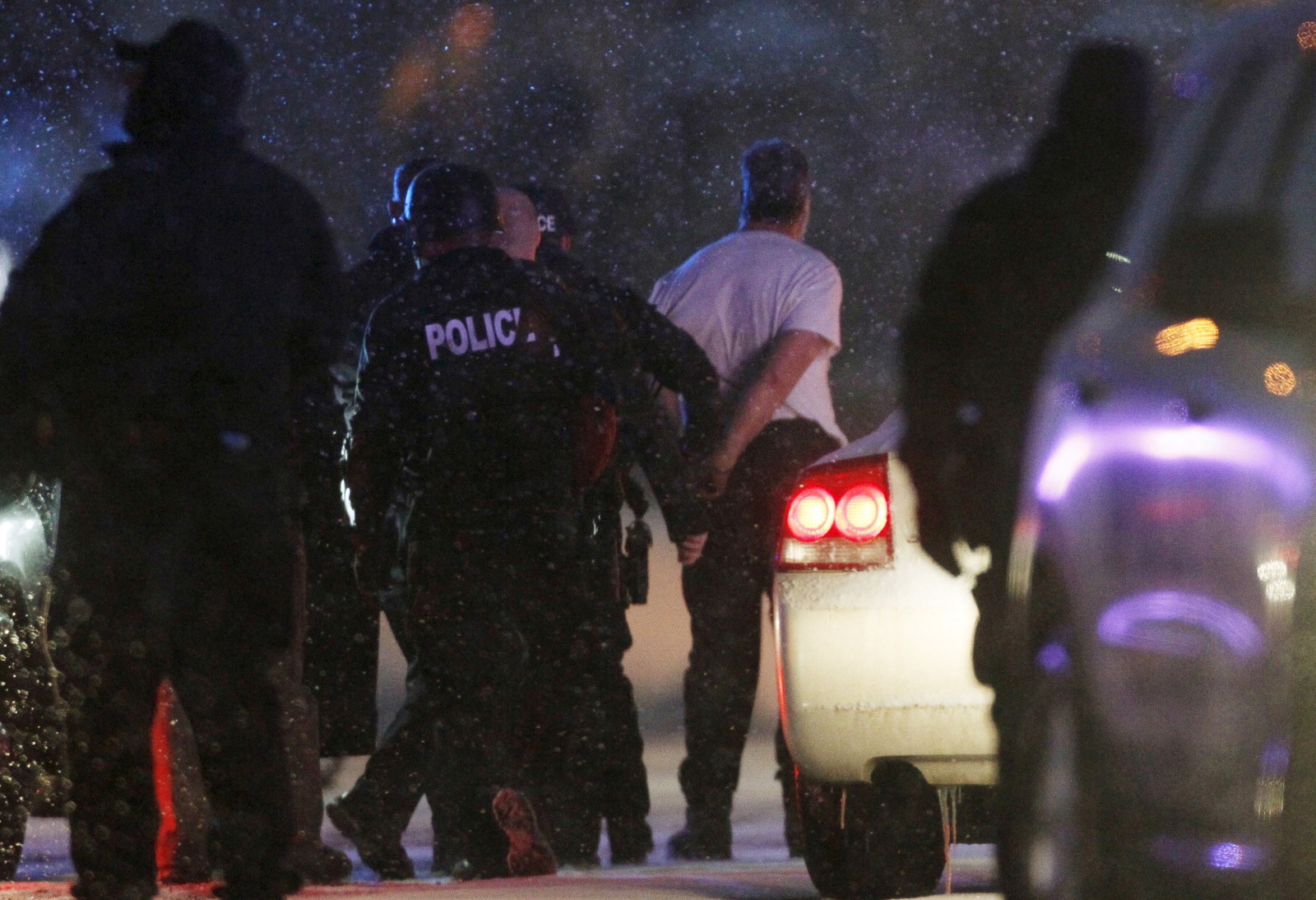 The motive behind the shooting was not clear Saturday, though law enforcement officials said Dear made comments about politics and abortion during interviews with police.
NBC News reported that Dear referred to Planned Parenthood in one statement and said "no more baby parts." He also allegedly made comments about President Obama.
An unnamed source made similar comments about Dear's interviews with police to the Washington Post, and indicated the shooting may have been politically motived.
Dear's ex-wife Pamela Ross told the Times he had a background in art dealing and a college degree in public administration.

According to Ross, Dear was born in Charleston, South Carolina, grew up in Louisville, Kentucky, and was raised a Baptist. He remained religious but did not regularly attend church, Ross also said.
Dear eventually went on to get a degree in public administration and was enrolled at the University of Kentucky and the University of Louisville, the Times reported. He reportedly worked as an independent art dealer, was generally conservative, and was against abortion, though Ross said it was "never really a topic of discussion."
Ross and Dear divorced in 2000 and eventually lost touch, the Times reported. Ross described the divorce as amicable and said Dear eventually took custody of their son.

Dear was married at least twice before Ross. His first recorded marriage took place in 1979 in Louisville, Kentucky to a woman named Kimberly Ann with whom he had a son named Matthew in 1980. Around 1983 they separated and Dear moved to Charleston, South Carolina where he began working at the Santee Cooper power company, the Times reported.
In South Carolina Dear met and married his second wife, Barbara Micheau, to whom he was married until 1993 when she filed for divorce. During the marriage Dear fathered two children with two other women, the second of whom became his third wife, Ross. He and Mucheau also had a child named Walker.
In Micheau's divorce affidavit, she accused Dear of lying about his marital status when they met, gambling, cheating on her, repeatedly abusing her, and causing her to "live in fear and dread," the Post & Courier reported.

According to a police report from 1992 obtained by BuzzFeed News, Dear was charged with rape. The charge does not appear on Dear's criminal record.
"The suspect then allegedly put a knife to the victim's neck and forced her back inside her residence," the report states. "The suspect then allegedly forced the victim down into the couch, struck her in the mouth with his fist, and then sexually assaulted her."

In the report Dear claimed that he and the alleged victim were sexually involved, though it was entirely consensual.
Though the alleged victim died in 2007, her husband, Craig Melchor, told the Times that his wife wanted to take Dear to court over the assault, but the only other witness refused to testify. He said his wife remained frightened Dear would track her down until the day she died.
Micheau refers to the case in her affidavit, though she said she believed the incident was consensual and another case of Dear's adultery.
"He claims to be a Christian and is extremely evangelistic, but does not follow the Bible in his actions. He says that as long as he believes he will be saved, he can do whatever he pleases," Ms. Micheau said in the court document. "He is obsessed with the world coming to an end."
A year after the divorce was finalized, Dear moved into a trailer in Walterboro, South Carolina and married his third wife, Ross.
Zigmond Post, who told BuzzFeed News he was a neighbor of Dear's in Hartsel, said the man once gave him anti-Obama pamphlets.
Post said he once went to Dear's home to retrieve two dogs that had gotten loose. "We were there for a minute and the guy was already handing us anti-Obama pamphlets," he said. According to Post, Dear said "Obama was ruining the country and needed to be impeached."
Post told BuzzFeed News he last spoke with Dear on Wednesday when he saw him at the local post office. He said didn't believe Dear was acting strangely. "I never thought he would do anything like that," Post said of Friday's rampage. "You never think your neighbor would do anything like that."
Post said police arrived at Dear's trailer home around 1 a.m. Saturday, and had sent sapper robots into the home later in the morning.
The Associated Press reported Dear also had a cabin in Black Mountain, North Carolina.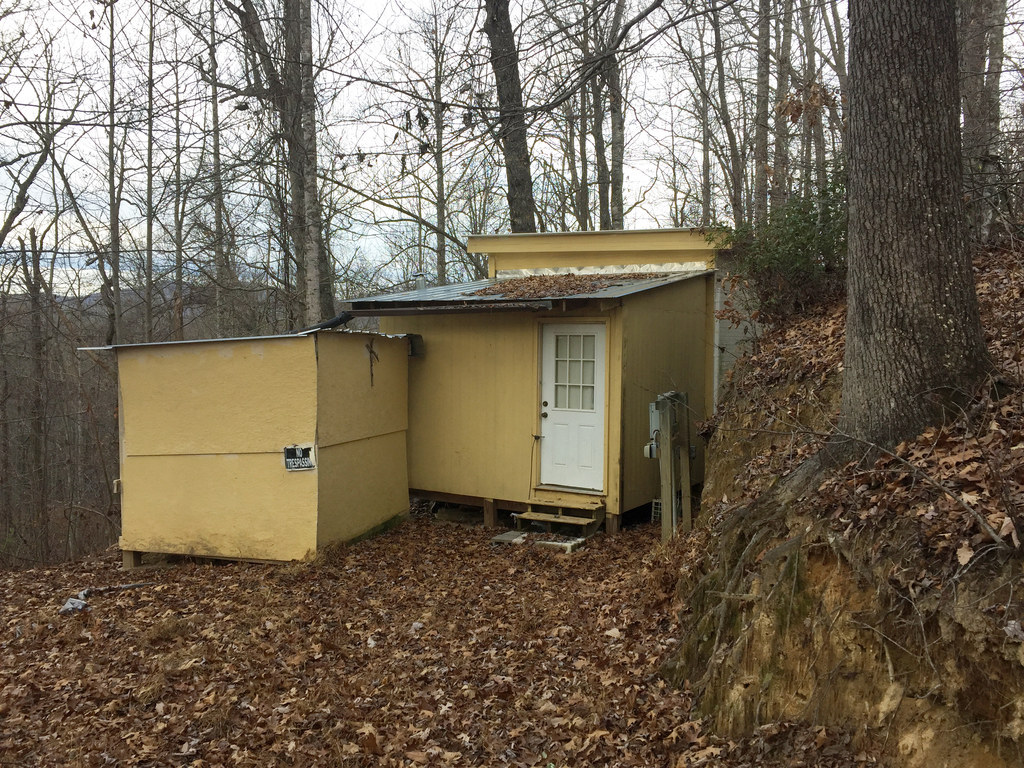 A neighbor, James Russell, told the Associated Press that he had not found Dear to be overly political. "If you talked to him, nothing with him was very cognitive — topics all over place," Russell said.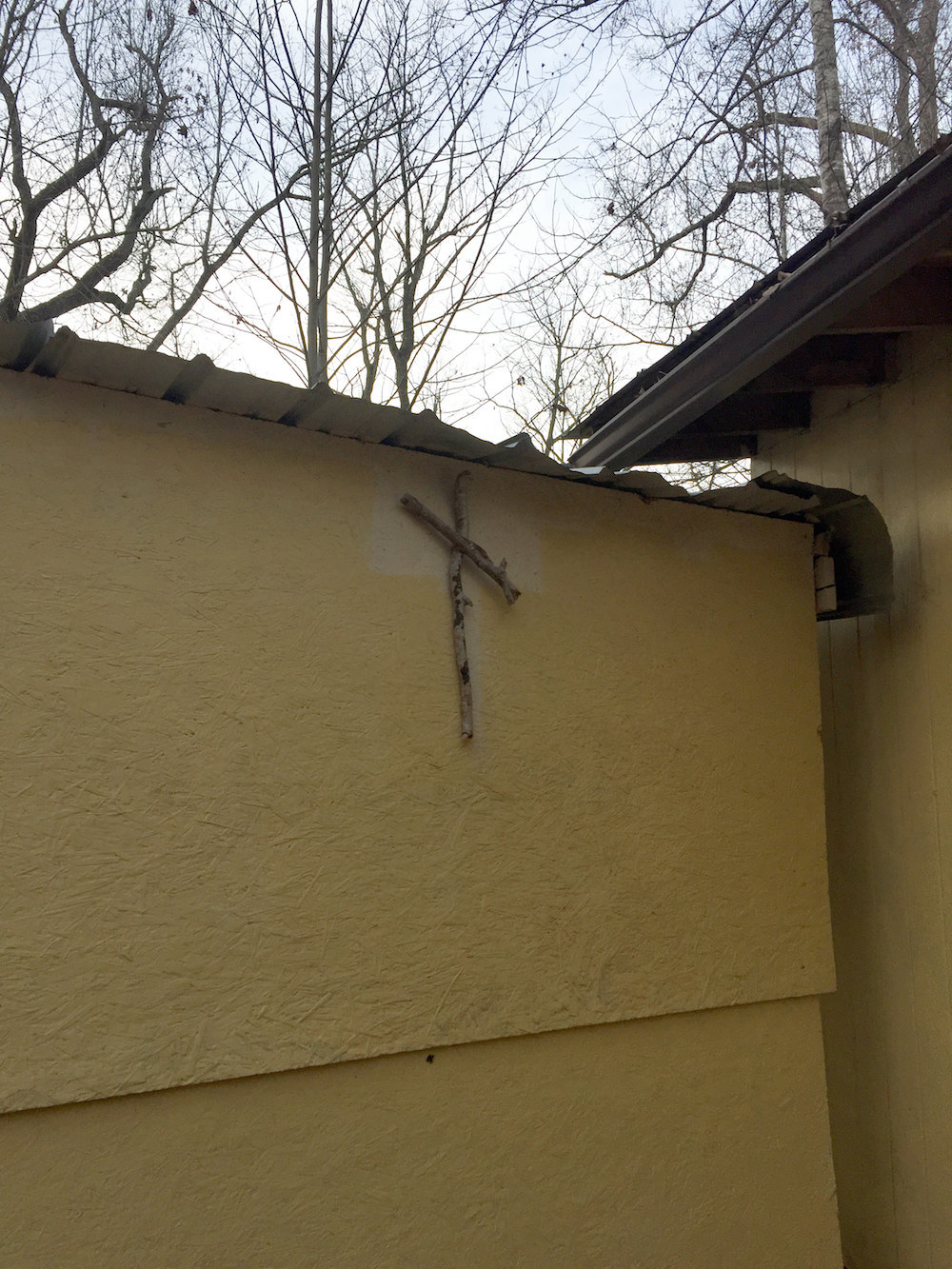 Public records reviewed by BuzzFeed News indicate Robert Lewis Dear Jr. has been investigated as many as nine times in North and South Carolina, on traffic infractions, two misdemeanors for cruelty to animals (for which he was found not guilty during a bench trial), and for being a peeping tom (which was dismissed at a preliminary hearing).
Police records provided to BuzzFeed News by the Colleton County Sheriff's Department show Dear was well known to authorities in the area.
In 1997, Dear was interviewed by police in Walterboro, South Carolina, after his wife, who he has since divorced, alleged he hit her and pushed her out of window, resulting in a minor injury, according to a police report.
"The victim wanted something on record of this incident occurring. The victim does not wish to file any charges at this time," the report by the Colleton County Sheriff's Office read.


Dear's now ex-wife told The New York Times he sometimes became angry with her, but usually apologized.
In May 2002, Dear was investigated in Walterboro for "making unwanted advancements," while on Memorial Day weekend in 2001 a couple told police they noticed Dear lurking in the bushes by their house.

Douglas Moore was working in the yard with his son in Walterboro down a driveway marked with an American flag and a "rebel flag," according to the police report from November 1, 2002. "A shot was fired from the residence next to his and Douglas' dog yelped out loud and ran over to him," the report read. "Douglas checked his dog and found a small wound on the right side of the dog," which had apparently been shot with a pellet gun. Dear allegedly denied shooting the dog but said Douglas "was lucky that it was only a pellet that hit the dog and not a bigger round," the report read.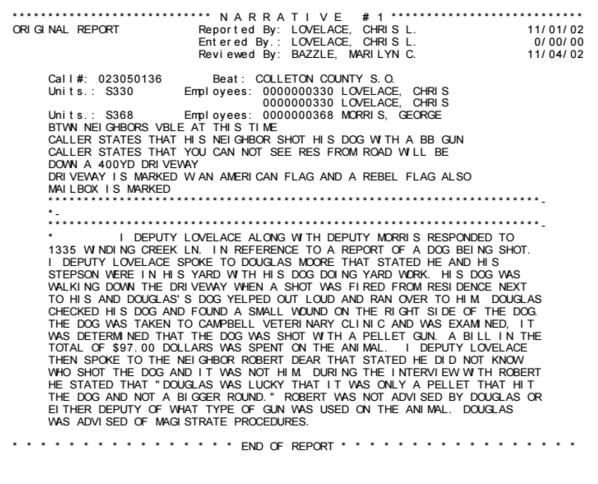 On September 27, 2005, Deputy Buchanan took a report from victim Douglas Moore, who told police that Dear called him on September 24 and told him he was going to do bodily harm because he thought Moore pushed his motorcycle over on the ground.

A report had been taken by another deputy about the bike being knocked over. "This is an ongoing problem between the victim and suspect," an incident report read.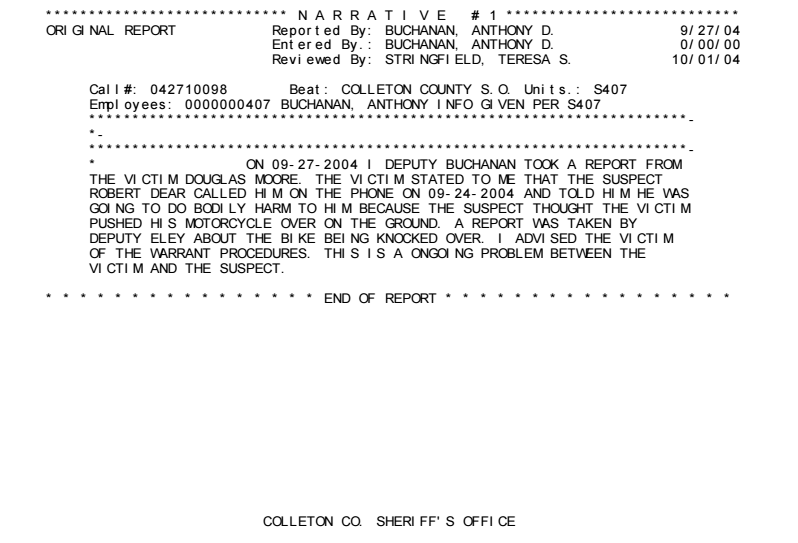 Dear also contacted authorities multiple times alleging local "juveniles" were driving past his residence on ATVs, cursing at him and his family, and repeatedly turning over his motorcycle as retaliation for disputes with his son.
Lt. Roberts told BuzzFeed News that his office had not heard from federal authorities.

Colorado Spring Mayor John Suthers said that Dear is being held without bond.
Dear is scheduled to appear in court on Monday, according to jail booking records viewed by CBS Denver.
BuzzFeed News will update this article as more information is confirmed.