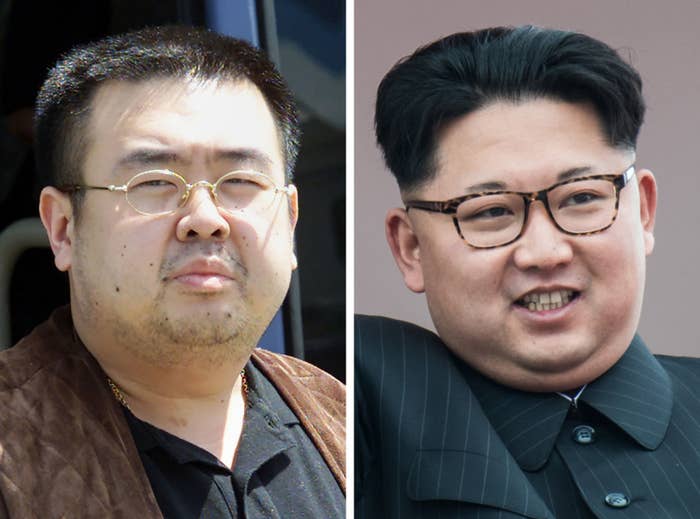 The mysterious substance used to assassinate the half-brother of North Korea's leader last week has been identified as a VX nerve agent, a chemical listed by the United Nations as a weapon of mass destruction, Malaysian authorities said Friday.
Kim Jong Nam, 46, who was known for his criticism of North Korea's regime, was killed on Feb. 13 at Kuala Lumpur International Airport. Kim died from a seizure on the way to the hospital after complaining he felt unwell following an incident where a woman daubed or sprayed a chemical onto his face.
A preliminary laboratory report confirmed the VX nerve agent was found on Kim Jong Nam's eye and face, Khalid Abu Bakar, Malaysia's inspector general of police, said in a brief statement Friday.
VX is an extremely toxic, odorless, and tasteless manmade chemical warfare agent developed in the 1950s. Exposure to the substance can cause symptoms to appear within seconds and eventually lead to respiratory failure. According to the US Centers for Disease Control and Prevention, VX is the most potent of all nerve agents.
"It is possible that any visible VX liquid contact on the skin, unless washed off immediately, would be lethal," the CDC states.
North Korea is widely believed to have one of the world's largest stockpiles of chemical weapons, something the reclusive nation has denied in the past.
Malaysian police previously said they were looking for a North Korean embassy staff member in relation to the death of Kim, the half-brother of the secretive country's leader, Kim Jong Un.
On Wednesday, Bakar told reporters that authorities were looking for the second secretary of North Korea's embassy in Kuala Lumpur and an employee of North Korea's state-owned airline Air Koryo, the Associated Press reported.
"We hope that the Korean embassy will cooperate with us, allow us to interview them and interview them quickly," he said. "If not, we will compel them to come to us."
Pyongyang strongly denied having any involvement in Kim Jong Nam's death, accusing Malaysian officials of fabricating evidence for its arch-foe South Korea.
On Saturday, an Indonesian official said one of the women arrested over the killing said she was paid $90 for what she believed was a prank, AP reported.
Siti Aisyah, 25, has said previously that she was duped into the attack, but Malaysian police say she and the other arrested woman, identified by the AP as 28-year-old Doan Thi Huong, who is Vietnamese, were aware of what they were doing. However, Malaysian police say the attackers had been trained to immediately go to the bathroom and wash their hands.
On Monday, a Japanese broadcaster released what appeared to be CCTV footage of the deadly poison attack on Kim Jong Nam in the airport in Kuala Lumpur.
The security camera footage, broadcast by Fuji TV, showed two angles of the attack in which a man, believed to be Kim, is grabbed by a woman in a white top. She puts her hands over his face and then walks away. A second woman is also seen leaving the scene.
Kim is then seen stumbling and wiping his face before seeking help from airport staff.
Three people, including two women, have been arrested in relation to the event, according to Malaysian police. The North Korean embassy has demanded the "innocent women" be released.
Kim was at the airport in the Malaysian capital to catch a flight to Macau when he was attacked, the AP reported.
Malaysian police said in a statement that a woman carrying Vietnamese travel documents had been arrested early last Wednesday. The police said she was alone at the time of the arrest, and had been identified from CCTV footage. A second woman was arrested later, Malaysian authorities told the AP and Reuters. A man, believed to be the second woman's boyfriend, was also arrested late Wednesday, a Malaysian police officer confirmed to the AP.
On Wednesday, South Korea's intelligence director, Lee Byung-ho, told lawmakers in his country that Kim Jong Un had issued an assassination order against his brother in 2011, the Wall Street Journal reported. Lee Cheol-woo, one of those lawmakers, added that the order had now been carried out, according to the Journal.
After the killing, a CCTV screenshot that showed a woman dressed in a white, long-sleeve T-shirt emblazoned with "LOL" circulated in Malaysian media, purporting to show a suspect in the killing.