Somali Militant Group Al-Shabab Says It Was Behind Explosion On Passenger Plane
The Daallo Airlines plane was forced to make an emergency landing in Somalia after the explosion during mid-flight.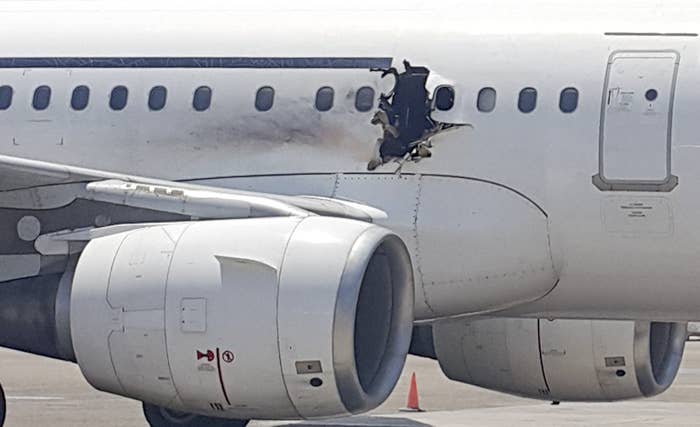 Al-Shabab has claimed responsibility for an alleged bomb attack on a passenger plane in Somalia earlier this month, according to reports.
The Somali Islamist group claimed it was targeting Western officials in the attack which blew a hole in a commercial plane, forcing it to make an emergency landing, Al Jazeera reported.
In a statement obtained by Al Jazeera, Al-Shabab said the operation was "retribution for the crimes committed by the coalition of Western crusaders and their intelligence agencies against the Muslims of Somalia".

Last week, Somali Transport and Aviation Minister Ali Ahmed Jama said the mid-air explosion, which forced the plane to make an emergency landing, had been caused by a bomb.
A passenger identified as Abdulahi Abdisalam was killed, probably after being propelled out of the aircraft in the explosion, investigators said.
Two people were injured, and the 74 passengers and crew were evacuated after the Daallo Airlines plane landed safely at Mogadishu's international airport, the Associated Press reported.
The pilot said he thought a bomb had caused the explosion and subsequent fire. An aviation expert who looked at photographs of the plane said the damage was consistent with an explosive device.
The plane had been traveling to Djibouti in the Horn of Africa when it was forced to land just minutes after taking off from Mogadishu.
"I think it was a bomb," the pilot, Vladimir Vodopivec, told Serbian news site Blic. "Luckily, the flight controls were not damaged so I could return and land at the airport. Something like this has never happened in my flight career. We lost pressure in the cabin. Thank god it ended well."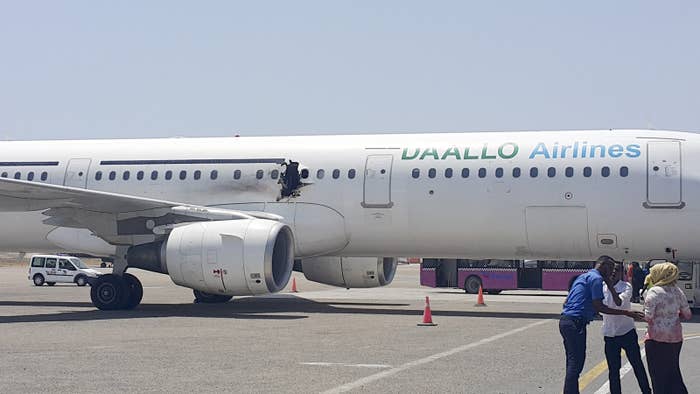 Awale Kullane, Somalia's deputy ambassador to the U.N., who was on board, said on Facebook he "heard a loud noise and couldn't see anything but smoke for a few seconds." When visibility returned, passengers realized "quite a chunk" of the plane was missing, he wrote.

Kullane, who was going to Djibouti to attend a conference for diplomats, also posted a video showing some passengers putting on oxygen masks inside the plane. The post was later removed from his Facebook page.