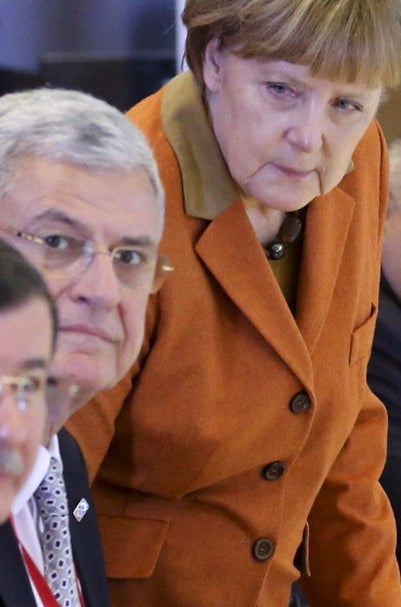 EU leaders have postponed negotiations at an emergency summit to discuss how to deal with the deepening refugee crisis amid wrangling with Turkey and disagreement over moves to close a migration route through the Balkans.
At the meeting in Brussels Monday, leaders discussed plans to close the route used by hundreds of thousands to enter Europe, while also pressing Turkey to do more to stem the flow of migrants. The meeting, which was intended to wrap up by early afternoon, was extended into early Tuesday.
Despite 12 hours of negotiations a final commitment was not reached and the parties agreed to reconvene for another summit on March 17 and 18 to clinch a deal.
Negotiations were delayed after Turkey made new demands on the EU in order to secure their cooperation. They insisted any agreement would require Europe to advance Turkey's long-delayed hope of joining the EU and ease visa restrictions on Turkish citizens.
Turkey also surprised EU leaders by demanding more funding than the 3 billion euros ($3.3 billion) already pledged. "Turkey is ready to work with the EU, and Turkey is ready to be a member of the EU as well," Turkish Prime Minister Ahmet Davatoglu told reporters in Brussels.
However, Turkey's prime minister Ahmet Davutoğlu outlined a new proposal to resettle one Syrian refugee in Europe for every Syrian returned to Turkey from the Greek islands.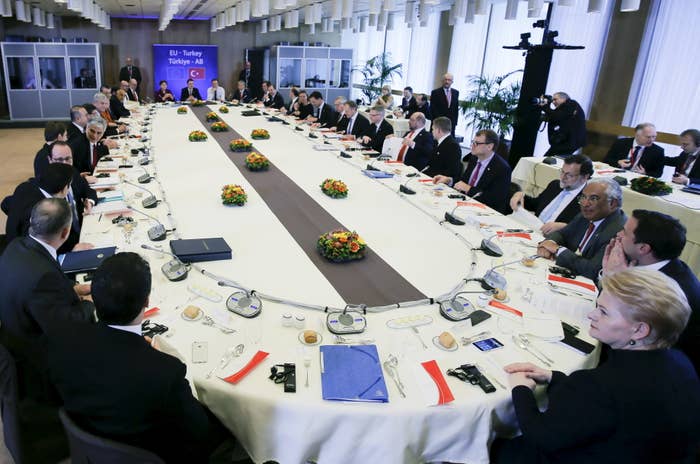 The summit had been intended to persuade Turkey to take back thousands of refugees and stop others traveling to Europe.

In a statement released Tuesday after the summit ended, the EU said the tentative agreement called for the "return of all new irregular migrants crossing from Turkey into the Greek islands" and backing for Turkey's one-for-one resettlement plan
Speaking after the summit ended, French President Francois Hollande said leaders had "hope that the refugee question can be dealt with through solidarity in Europe, and efficiency in cooperation with Turkey."
U.K. Prime Minister David Cameron said "it has been a long and difficult evening but I think we do have the basis for a breakthrough which is the possibility that, in future, all refugees who arrive in Greece will be returned to Turkey."
"The truth is that Turkey came to the summit with attractive proposals, and I believe that surprised many," Greek Prime Minister Alex Tsipras said. And EU President Donald Tusk added the group "have a breakthrough now."
The Balkan route starts in Greece and runs through Macedonia, Serbia, Croatia, and Slovenia, allowing refugees to reach northern Europe.

There are fears, especially among leaders in Rome, that any closure of that route would encourage migrants to instead attempt to travel north through Albania and across the Aegean Sea to Italy, according to Politico.
Thousands of refugees are currently stranded in makeshift camps in the village of Idomeni, on the border between Greece and Macedonia, after unofficial restrictions were implemented by western Balkan countries.
In a massive increase from last year, more than 100,000 refugees have already arrived in Greece from Turkey since January.
Human rights group Amnesty International called the EU's plans to make Turkey a border guard "a dangerous and deliberate ploy to shirk their responsibilities to people fleeing war and persecution."
"Europe has an absolute duty to protect refugees and must make the bold decision to fast-track significant, unconditional resettlement as a matter of urgency," the group's deputy director for Europe and Central Asia, Gauri van Gulik, said.
The summit has been criticized within Turkey as well, with some Turkish opposition figures accusing the EU of giving the country a pass on escalating human rights violations in exchange for cooperation on the migrant crisis.
Over the weekend, Turkish authorities armed with court orders seized control of Zaman, a major opposition newspaper, and teargassed its protesting staff and readers. The newly emerged version of the paper now vocally supports the government.
Selahattin Demirtas, co-leader of the opposition Kurdish-led People's Democratic Party (HDP), said he had spoken repeatedly to EU officials in Turkey and Brussels who have all resisted his calls to take a tougher stance against Turkey's crackdown on dissidents.
"The EU says right now they need Turkey so they don't want to anger [President] Erdogan," he told a gathering of foreign reporters on Sunday. "The EU should help Turkey. But when Erdogan blackmails Europe, the EU should not comply. The refugee crisis is not a business deal to be hammered out."
However, a German government spokesperson said Chancellor Angela Merkel did discuss press freedom with Turkey's Prime Minister Ahmet Davutoğlu on Sunday, Reuters reported.
"You can assume that this topic was on the agenda during the most recent talks between the chancellor and the Turkish prime minister," the spokesperson said. "Press freedom has very great significance to the German government."