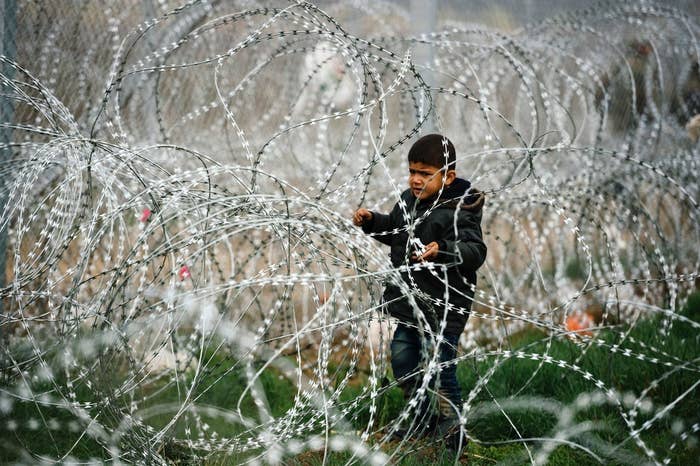 Plans to return migrants and refugees trying to enter Europe through Greece back to Turkey have been heavily criticized by charities working on the ground.
At an emergency summit Monday, EU leaders and Turkey tentatively agreed on a spate of possible measures they say will tackle the deepening refugee crisis in Europe. The group failed to reach a final decision and agreed to reconvene at a second summit on March 18–19.
The main points, which have been strongly criticized by NGOs, include the plan to return all "irregular migrants" crossing the Aegean sea to the Greek islands back to Turkey and the suggestion that for every Syrian returned to Turkey one Syrian could be resettled in Europe.
NGOs also criticized the assumption that Turkey was a "safe country" where refugees could wait and seek asylum.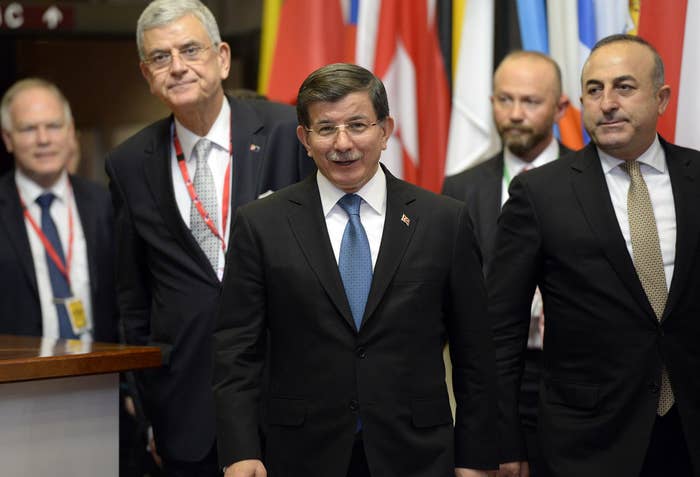 Philippe Dam, Human Rights Watch advocacy director for Europe and Central Asia, told BuzzFeed News it was "worrying that the EU is going this way because it gives the impression that refugees are just bargaining chips."
He said: "How the EU is planning to return such large groups of refugees to Turkey raises serious concerns. The language of the statement seems to suggest this will be a speedy process to return refugees to Turkey which raises questions on how can they ensure people's claims will be fairly assessed and that their right for international protection is respected.
"And there are some really big questions around what it would take for Turkey to be effectively considered a safe country of asylum for refugees.
"The EU should be looking at implementing the commitments already made. They were supposed to resettle 22,500 refugees by 2017 but to date have only processed about 800 in a year."
Dam said closing the Balkan route was not guaranteed to stop desperate people attempting to travel to Europe: "People are traveling the western Balkan region on foot, not because they want to, but because they barely have any other choice. ... If that route closes, without any other credible alternative for asylum-seekers, there's no guarantee another route wouldn't quickly emerge."
Speaking via phone from a makeshift refugee camp on the Greek/Macedonia border, Doctors Without Borders (aka Médecins San Frontières, or MSF) told BuzzFeed News the delay was "disappointing".

Jan van't Land, MSF's deputy head of missions for Greece, said: "To be honest I was frankly stunned when they failed to reach an agreement after hours of talks. I am standing here in the middle of a muddy field where thousands of people are camped in horrible conditions waiting to know what is going to happen to them.
"Returning these people to Turkey will not deter them from trying to get to Europe. People are being treated as a commodity just to be moved around. The human aspect of this crisis is being ignored.
"Practically I'm not sure how possible it will be to move people back and forth between Europe and Turkey as suggested. And I don't believe Turkey is the correct country to act as gatekeeper."
About 14,000–15,000 refugees are currently stranded at the camps in the village of Idomeni waiting to see if they can cross into Macedonia and continue on to northern Europe. That possibility is becoming less and less likely, with Slovenian Prime Minister Miro Cerar announcing that "today or tomorrow", only migrants with the documents required by the EU's Schengen-member states will be allowed passage.

UNHCR Europe bureau director Vincent Cochetel told reporters in Geneva Tuesday that collective expulsion of foreigners is prohibited under international law.
Cochetel said he was "tired of hearing about irregular migrants," because 91% of people arriving in Greece are from war-torn countries such as Iraq, Syria, and Afghanistan.
Amnesty International has gone as far as to warn the scheme to send thousands of migrants back to Turkey may be legally flawed.
In an email statement to BuzzFeed News, a Save The Children spokesperson said the group was "deeply disappointed by the nature of the discussions that took place at yesterday's EU-Turkey Summit, which amounted to a tit-for-tat game played with innocent human lives."
"Europe's concern goes no further than guarding its external borders and containing people within Turkey – depriving vulnerable people and children fleeing war and persecution from seeking asylum in Europe, which is a violation of both international and refugee law."
In a statement Amnesty called the plans "alarmingly short-sighted and inhumane" because Ankara was not suitable to care for refugees.
"Turkey has forcibly returned refugees to Syria and many refugees in the country live in desperate conditions without adequate housing," European head Iverna McGowan said.
"By no stretch of imagination can Turkey be considered a 'safe third country' that the EU can cozily outsource its obligations to."