Cease-Fire Begins In Yemen As U.N.-Led Peace Talks Get Underway
The week-long cease-fire began Tuesday as peace talks started between the government and Shiite rebels.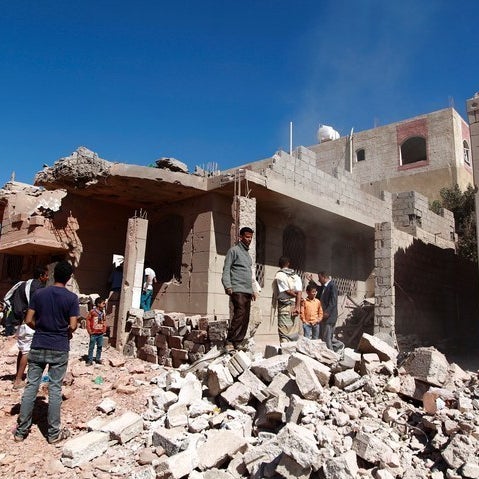 A weeklong cease-fire has begun in Yemen as peace talks got underway between the government and Shiite rebels in Switzerland Tuesday.
The cease-fire, which halts nine months of fighting in the country, was due to start on Monday but was pushed back after an attack that killed two senior officers from the Saudi-led coalition, Al Jazeera reported.
Delegates from the Saudi-backed Yemeni government-in-exile and representatives of Huthi rebel groups have now met in Geneva for peace talks sponsored by the United Nations. The talks are expected to go on all week.

The death's of Saudi Colonel Abdullah al-Sahyan and Emirati officer Sultan al-Ketbi caused the cease-fire to be pushed back for 12 hours but the truce eventually went ahead at 12 p.m local time.
Media controlled by the Huthi rebels said the two were killed in a rocket attack on the Red Sea coast, Al Jazeera reported.
In a statement, U.N. special envoy for Yemen Ismail Ould Cheikh Ahmed said he considered the cease-fire a critical first step towards building a lasting peace in the country.
He said: "The cessation of hostilities which was called today should mark the end of military violence in Yemen ... Making peace is a fundamental requirement to rebuild Yemen, rehabilitate the basic infrastructure, address the consequences of the war, provide the necessary environment to normalize life in all governorates, and resume economic activity."
About 24 Yemeni representatives and advisors are attending the talks, which will be facilitated by Ahmed.
The coalition has been fighting Huthi rebels and their allies since President Abdrabbuh Mansour Hadi was forced into exile in March.
At least 5,700 people have been killed so far, almost half of them civilians, the BBC reported.

Speaking at a press conference on Saturday, Huthi rebel spokesperson Mohammed Abdel Salam said: "We have agreed to the cease-fire to lift the suffering of our people and to deliver humanitarian assistance to them."

Due to the ongoing conflict an estimated 7.6 million people in Yemen are severely food insecure and require urgent aid, according to the U.N.