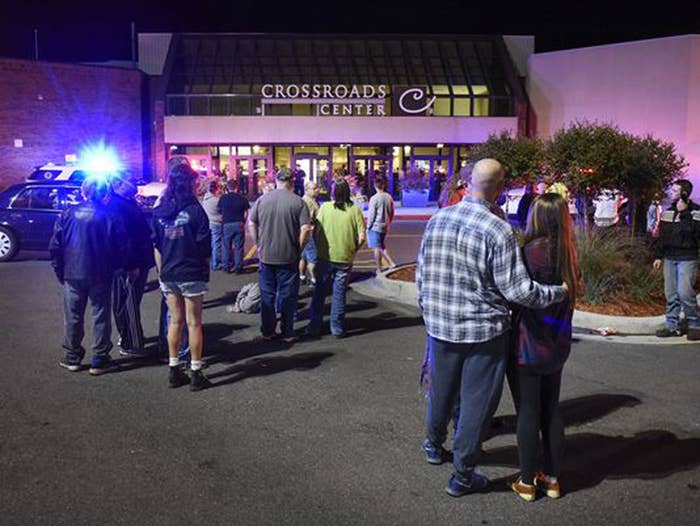 Nine people were taken to the hospital Saturday evening after a man wearing a security guard's uniform attacked shoppers with a knife at a mall in St. Cloud, Minnesota.

The suspected attacker was shot dead by an off-duty police officer, authorities said.

"We are currently investigating this as a potential act of terrorism," Rick Thornton, special agent in charge of the FBI's Minneapolis Division, told reporters on Sunday afternoon.

Thornton spoke after the ISIS-linked Amaq news agency claimed a "soldier of the Islamic state" carried out the attack.
St. Cloud Police Chief William Blair Anderson told reporters on Sunday that the man was armed with a knife and reportedly made references to Allah, asking at least one person whether they were Muslim.

Anderson confirmed eight people were taken to St. Cloud Hospital with non-life-threatening injuries following the attack, which occurred at about 8:15 p.m. local time. He said another person traveled to a hospital on their own for treatment.

In an interview with CNN Sunday afternoon, Anderson said that all but one of the victims were released from the hospital.
The chief said the motive was not yet known and that connections between the attack in his town and those in New York and New Jersey were only conjecture at this stage.

"We will be diligent and get to the bottom of this," he said.
Anderson said that local police had encountered the suspect three times in the past, mostly for minor traffic violations, but said that he was not under surveillance by law enforcement. He did not name the attacker.

"We do know that he was wearing a private security uniform," Anderson said. "We're in the process right now of trying to figure out if he in fact worked for a private security company or if he worked for one previously."
In a media release, the Council on American-Islamic Relations (CAIR) described the attacker as a "young Somali man in his mid 20s who worked as a security guard (not at the mall) and was a college student." The man's family said he had no mental health problems but had been complaining of insomnia, according to CAIR.

Though there has been no official confirmation that the attacker was in fact Somali, members of St. Cloud's Somali-American community condemned the attack in a press conference Sunday, giving their condolences to the victims.

"We are not associated with this terrorist group, we are victims of this terrorist group," Mohamoud Mohamed, a Somali-American leader said. He and other Somali-Americans from St. Cloud emphasized that the attacker does not represent their community and does not represent their religion.

A Somali-American St. Cloud mother, Lul Hersi, spoke of the fear she had when she first heard of the attacks, knowing that her son could well have been at the mall and been a victim. When she went to the site of the mall she saw many other parents around her and realized, she said, they were all feeling the same fear.

"We cannot let the hate take over us. Let's unite, let us be one Minnesota," Hersi said. "Let's take love instead of hate."

Though the name of a suspected attacker has been reported by local media, no police or government officials have confirmed his name or heritage.

St. Cloud has one of the largest Somali-American communities in the US.
Danny Carranza, of Willmar, was in the mall with his wife and children when the attack happened.
"People came running around the corner and I freaked out because I thought it was a terrorist attack or something because I saw a lot of people, so I grabbed my kids," he told the St. Cloud Times.

"I ran as much as I could and I heard someone yell, 'Stop! Stop!' As soon as the door shut I heard gunshots."
College student Sydney Weires was shopping at the mall with friends when the attack happened.
"I saw this security guard sprinting down the hallway toward Target," Weires told the Times. "He was yelling, 'Call the cops! Call the cops!'
"We saw these two guys. One guy was bleeding from the side of his face. He was screaming at us, 'Get the F out!' We would've been in that hallway. We could have been one of those victims. It's insane."

The officer who shot the suspect was identified by St. Cloud Mayor Dave Kleis as Jason Falconer, a member of the Avon Police Department.

Falconer also owns a "tactical advantage" workshop to people aiming to obtain a license to carry firearms in Minnesota.
Local officials credited Falconer with saving many lives through his quick actions.
Hillary Clinton released a statement on the attack Sunday afternoon saying that she has "laid out a comprehensive plan" on how to "thwart attacks before they can be carried out, and to spot lone wolf attackers." This includes working with Silicon Valley to counter online propaganda, she said.