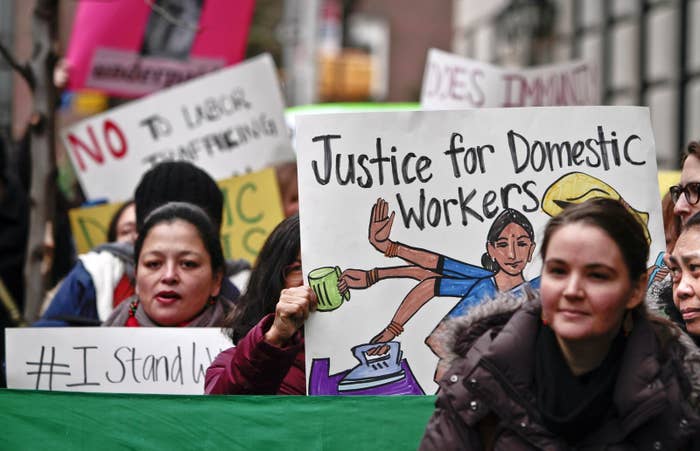 Isabel is an immigrant from Guatemala who has worked as a house cleaner for more than two decades. In one home she cleaned, an employer would regularly leave pornographic magazines in the kitchen. One day, she found him watching pornography on the computer in the bedroom she was preparing to clean. At another house where she worked, one of the three men who lived there tried to rape her when she came to clean.
June is a queer Jamaican immigrant who works as a home care provider. June was once hired as a live-in caregiver for a man who demeaned her, demanded that she lie in bed with him, and grabbed her breasts and vagina repeatedly while she was doing her job. June was subject to daily groping and inappropriate behavior. A family member laughed it off, and dismissed it as "funny" behavior.
Exposing the appalling behavior of powerful men like Harvey Weinstein has opened the political space for millions across the country to share their stories of sexual harassment and sexual violence. Thanks to #MeToo creator Tarana Burke, we now have a language to talk about the consequences of what happens when powerful people abuse their influence to diminish the dignity of others. The dam has broken — people are telling their stories, naming their abusers, and demanding change.
As we support survivors, we cannot forget that abuse also thrives in low-wage sectors like domestic work, a fast-growing field that will take up a growing share of the workforce as our population ages. These workers, who are disproportionately women of color and immigrant women, are highly vulnerable to sexual harassment and sexual violence, working in private homes where even the minimal social restraints of white-collar office culture are not present.
Caring is inherently personal and intimate, and takes place behind closed doors. It is work that is hidden; workplaces are often "off-the-books" and unregistered. Women work alone. These dynamics create an atmosphere of abuse that is much more potent, making it possible for employers and clients to intimidate, threaten, sexually harass, and assault.
June and Isabel's stories aren't exceptions to the rule in our workforce: They are the rule. Their experiences reflect a long history of exclusion from basic protections in our labor laws, and cultural devaluing of work in the home as "women's work." As a profession, domestic work has its roots in the legacy of slavery. During the New Deal, a racist compromise was reached among lawmakers that excluded domestic workers and agricultural workers from many labor protections that others received. Since then, domestic workers have had to fight to be covered by the most basic federal labor laws, and continue to be excluded from many today.
In addition, many protections from discrimination and harassment at work are designed for large workplaces with dozens of employees. For example, the criteria required by the Equal Employment Opportunities Commission (EEOC) to enforce harassment and discrimination laws make it virtually impossible for domestic workers to file a complaint. And where protections do exist, few resources are actually available to domestic workers seeking to raise grievances against an employer without fear of retaliation. In this line of work, there is no HR department where you can report an incident, and entities like the EEOC often don't offer clear paths to hold abusers accountable while keeping survivors safe.
The abuse and harassment of these workers rarely, if ever, makes the news or is the subject of Senate hearings. Yet what we know from #MeToo and from the stories of our members at the National Domestic Workers Alliance is that sexual violence and sexual harassment are pervasive, and survivors deserve a real response.
Some critics say that #MeToo places undue pressure on survivors of sexual harassment and sexual violence to tell their stories, which could result in lost jobs and damaged careers and reputations. But this curtails the agency of survivors to tell their stories as a way to reclaim the dignity stolen from them by the experience of violence or harassment.
It also obscures the responsibility that lawmakers have to ensure that survivors can get justice.
We now have an opportunity to fundamentally change our culture and policies, making sexual violence and harassment unacceptable, once and for all. The good news is survivors like Isabel and June are leading the way. Both of them have become leading spokespeople in the movement to empower their fellow survivors to speak out. As local leaders with domestic worker groups like Arise Chicago and Miami Workers Center, they're organizing to bring value and dignity to their profession.
Their work reminds us that protecting and uplifting the most vulnerable among us ensures that everyone benefits and no one is left behind from the progress we make. Domestic workers are so susceptible to harassment and violence in part because they're excluded from or unable to access many federal and state labor protections available to most other workers. We can fix this, and we must. Bringing all working people under robust labor protections — and then enforcing them — can ensure that survivors have the support needed to speak out, knowing they will be trusted and believed, and the abuses of power will be addressed.
All people deserve dignity and respect, including the people working in our homes and caring for our loved ones. Our laws have been painfully insufficient, and it's time to create a new generation of protections that both address historic exclusions, and account for the millions of survivors who fall through the cracks working in "nontraditional" settings like domestic work.
#MeToo offers a powerful opportunity to take concrete action to protect all survivors from further harm, and to prevent harm from happening in the first place. It's up to lawmakers to take the next steps, guided by survivors — including those whose lives are less visible in Hollywood and Congress.
Alicia Garza is the strategy and partnerships director for the National Domestic Workers Alliance (NDWA), the nation's leading voice for house cleaners, nannies, and caregivers. She is also the cocreator of #BlackLivesMatter and the Black Lives Matter Global Network.