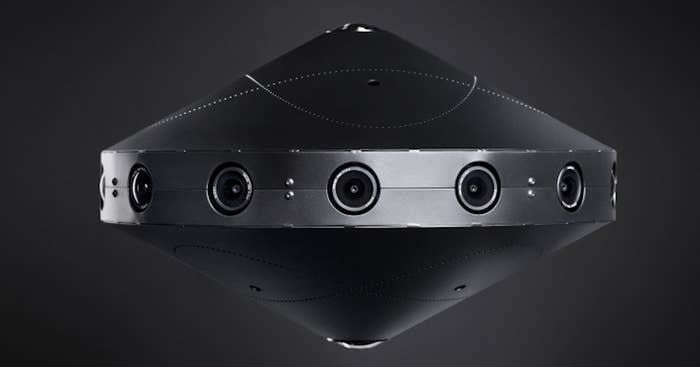 If you want Facebook's new 360 degree camera, you're going to have to build it yourself.
Announced during the company's annual F8 developers conference in San Francisco Tuesday, the Facebook Surround 360 is more camera schema than camera. While Facebook has built a few of the 17-camera rigs for the purposes of demonstration, it has no plans to sell them. "We're not getting into the camera business," Facebook chief product officer Chris Cox explained during the F8 keynote. "So we're planning on open sourcing the hardware and software for all of this."

Facebook intends to publicly release plans for the Surround 360 to GitHub later this year, so anyone interested in building a hardcore camera capable of shooting video from a full 360-degree perspective. But it will take some engineering acumen and financial means to do so. The materials to build the Surround 360 will reportedly cost $30,000, likely part of the reason Facebook isn't marketing the device to directly to consumers.
The complexity and cost of the Surround 360 is indicative of how difficult it is to create high quality 360-degree videos. While more reasonably-priced 360-degree cameras do exist (the Ricoh Theta S costs about $350), they're handheld and shoot video of a quality far below that of the "3D 360" level footage captured by Facebook's Surround 360.
Facebook's Surround 360 effort is somewhat similar to the GoPro Odyssey which debuted last year alongside Google's JUMP VR initiative. A 16-camera rig, it too is intended as an engine for immersive video creation — though the hardware is available for purchase from GoPro and not DIY.
The $15,000 Odyssey has been delayed, but is expected at market around the time of Google's next developer conference in late May. Which means by the end of the year, Google and Facebook both will have begun to arm a new generation of content creators not just with cameras capable of shooting immersive 360 degree video content, but with the software necessary to seamlessly stitch it together and easily broadcast it — putting both in the running for platform of choice for the nascent medium.