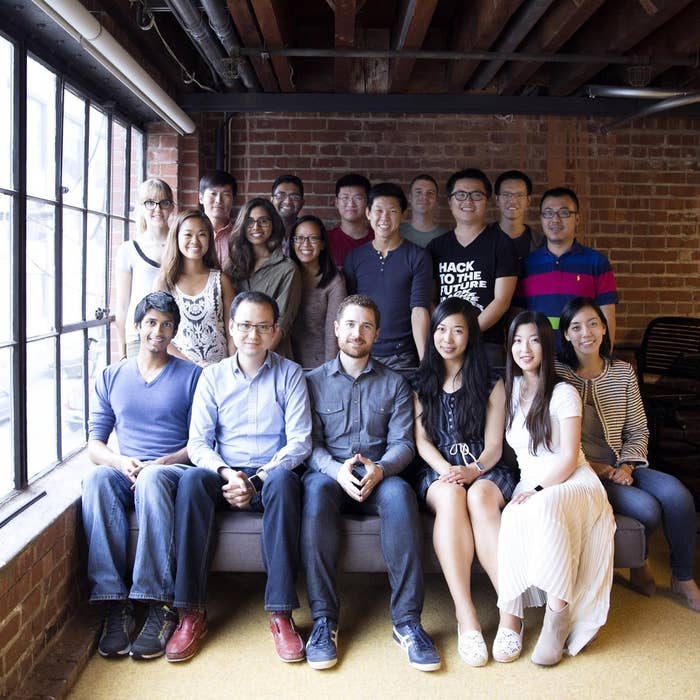 In the winter of 2012, Pinterest commerce head Michael Yamartino wrote up a memo and circulated it around the office. Titled "The Case for Commerce," the document outlined a bold and potentially risky future path for Pinterest, arguing that it was in the company's best interest to help people buy the stuff they saw collected on its pages.
"Users complain that mobile shopping experiences are frustrating and inconvenient," Yamartino wrote, describing the opportunity. "Since Pinterest is one of the places where shopping starts, we're in a unique position to offer a killer commerce experience on these devices."
In those two short sentences, Yamartino identified Pinterest's greatest strength and a key shortcoming: The platform often inspired people to buy the products it showcased, but the resulting purchases were made elsewhere. In other words, Pinterest was very effective at generating sales leads for other companies to close. And in doing so, it was leaving a lot of money on the table. Why not complete the circuit?
Overhauling Pinterest to support e-commerce would be no small undertaking. It would require significant engineering and business resources, not to mention the risk of alienating some users. And there was no guarantee it would succeed. But if commerce on Pinterest did work, the gains would be significant — perhaps even transformative. And so, three years after Yamartino's initial memo, Pinterest went for it, debuting "buyable pins" this June.
In a series of interviews at Pinterest's San Francisco headquarters last month, executives insisted the company's move into e-commerce wasn't a response to growth pressures, and that Pinterest was perfectly positioned for success before the debut of the "buy it" option. Perhaps. But Pinterest's structure before buyable pins could only take it so far. Adding commerce put it in position to make money on a much greater scale.
Out of all the companies in online media, the two leaders by a wide margin, Facebook and Google, both make their money by selling ads tactically calibrated with user data. Google uses a killer intent signal, search, to contextually match ads to the queries of the people who use it, queries that often reveal what people are looking to buy at that moment. Facebook, on the other hand, has a store of data so vast, a walk through its ad buying interface would make any normal person's jaw drop. Facebook can not only tell advertisers whether you're into bodybuilding, it can also provide them with details such when you're likely to buy their products based on how quickly you upgrade your phone.
In contrast, the user data Pinterest collected prior to rolling out commerce was more limited — browser and platform data and an understanding that people generally like the products they pin. By adding commerce to its platform, Pinterest is now capable of capturing definitive purchase data (gold for advertisers) and opening a new revenue channel that could someday dwarf its advertising business
"We're putting a lot behind [commerce]," Yamartino said. "It's a pretty important part of what we're doing."
The Meeting at Mars
Yamartino's 2012 memo was well-received internally, and backed up by data that identified "buyable" pins as a top user request. But it took the hiring of Engineering Manager Chao Wang in January 2013 to really set things into motion. Wang, who'd previously done stints at Google and Zynga, also had commerce on the brain.
After mentioning commerce to a manager early on, Wang was pointed to its top champion at Pinterest. "I think you should meet Yamartino," the manager told him. "That's another guy who has the same crazy idea as you."
The two decided to meet at Mars Bar, a San Francisco haunt popular with Pinterest employees — "the place that history happens," according to Wang. There, they drew up what would ultimately become Pinterest's commerce offering, though it didn't develop overnight.
The plan for buyable pins simmered on the back burner until a Pinterest hackathon in August 2013. There, a Wang-led project demonstrated that the concept could work, and a team of two engineers and one product manager were assigned to build the product. By December 2014, the team had finished its first integration with a handful of merchants. As a holiday gift to its employees, Pinterest gave each a $100 credit to buy things through the platform. As 2015 progressed, the team grew from five engineers to 10, before finally debuting the product in June.
In the time that it took Pinterest to implement buyable pins, the online commerce market changed in a fundamental way. Smartphone ubiquity pushed shoppers from the website-driven world of desktop to the app-driven world of mobile. Turns out, people don't open different apps as often as they visit different websites; indeed, 80% of all app time is spent within the top five apps, according to research outfit Forrester, causing problems for retailers looking to do business online.
The changing marketplace aligned perfectly with Pinterest's move into commerce, providing retailers with an easy way to sell online in an app with meaningful traffic. Pinterest isn't the only social company that stands to benefit from this shift, either. Facebook, Google, and Twitter also have recently introduced "Buy" buttons, all trying to capture some of this business.
"They're starting to realize that increasingly they're not probably going to be one of those apps that everyone's going to go to every day or every week," Pinterest Monetization's general manager Tim Kendall said of commerce businesses. "And so, they've got to figure out a way to get in front of their customer in a different way. This could be it."
Merchants selling their goods via social platforms like Pinterest isn't dissimilar to a what's happening in the publishing industry right now. Media companies are starting to host their content within social apps — Facebook's Instant Articles and Snapchat's Discover, for example — in order to reach an audience that isn't coming directly to them anymore. Just like merchants.
"People used to email a lot of links to stories around, now they share them all on Facebook and people read on Facebook instead of in their inboxes. I think you see a lot of that in mobile shopping right now," Yamartino said. "People will email themselves links to things that they then go buy on desktop because that's kind of the only way that they can make it work. But if we can bring the products that they want to buy to the platform that they're already spending time on, and make it really really easy and exciting to buy something, then I think we can change the way that people shop."
Satish Kanwar, director of product at Shopify, a Pinterest buyable pin partner, agreed with Yamartino's assessment. "It's pretty difficult to buy things on mobile phones," he told BuzzFeed News. "When you are ready to purchase something, the process of conducting a transaction is very inconsistent." The difficulty of buying on mobile devices has led to an odd dynamic, Kanwar said, where people research on their mobile phones and then complete the purchases on desktop. "A smaller share of orders happen on mobile devices than the percentage of traffic," he said. Using Pinterest's buyable pins could make mobile purchases much easier. You only have to enter your credit card information once, and then you can buy from whatever shop you'd like, as long as it's integrated with the platform. "It's so simple and it just works," Kanwar said, though he declined to give any details on Shopify's Pinterest performance to date.
Challenges Ahead
All this sounds promising. But it doesn't mean Pinterest's path to commerce riches will be an easy one. The company must still address the issues that sometimes plague social commerce, among them the fact that sometimes items people want to purchase on social platforms are no longer available for purchase when they spot them. Pinterest will also have to make people comfortable with buying on its platform. The company doesn't yet take a cut of sales made through its platform, nor has it revealed plans to do so. For now, it's just selling ads to advertisers who seem pretty enthusiastic about buying them.
"The big thing that Pinterest has going for it, that other social platforms can't claim, is shopping intent. And that's pretty huge," Orli LeWinter, vice president of strategy and social marketing at ad agency 360i, said in an email. "I believe that there is latent opportunity for Pinterest to become a much more important player in direct sales, and buyable pins are key to unlocking that potential. I've seen the ad product in action and the user experience is really good; it makes buying really easy... Almost too easy — which is good for retailers."
Ian Schafer, CEO of ad agency Deep Focus, said he's always referred to Pinterest as half-shopping. "This is the other half" he said of buyable pins. "It turns the company from being just a search, bookmarking, and curation platform to an e-commerce company. That is really really powerful stuff."
Pinterest already has a key tool for commerce: a recommendation engine that serves 1.5 trillion recommendations a year on the platform. Though the company says it has separate engines for ads and non-sponsored content, the technology can be used to show relevant products to people browsing the platform. More significantly, it can surface products they never knew they wanted to buy, something seen as a key Amazon deficiency today.
Giving an example, Yamartino said someone who is looking at a photo of Johnny Depp could scroll down and see photos of whatever Depp is wearing. Photos of a hat, when interacted with, can then bring up more photos of hats, which might eventually lead to a purchase.
For advertisers and retailers, that's a compelling proposition — more so given the vast number of "Things I Want to Buy" boards littered across Pinterest. "Pinterest may soon be able to make the claim that their intent signals are stronger than Google's," said Schafer of the company's ability to determine what people want to purchase. "That would be my goal if I was them."
And it may well be. Certainly, Pinterest isn't coy about its ambitions in the space. "If we are able to deliver the kind of experience that I think we plan to deliver, we can become the gateway to shopping on the phone," said Pinterest's Tim Kendall. "For the company or companies that get it right, it's a pretty disruptive opportunity to change how people find and buy things."