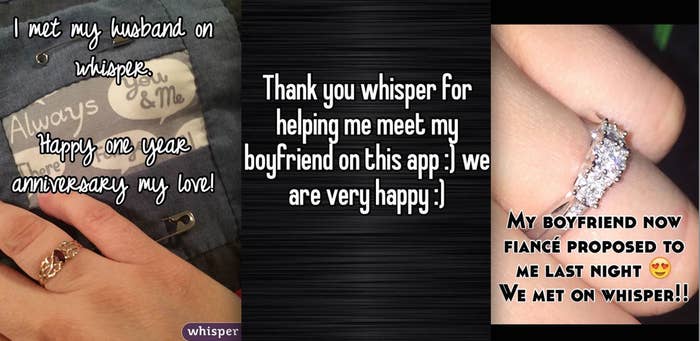 Late in the winter of 2013, a distraught 23-year-old dental assistant from Kitchener, Ontario, took to Whisper to post an intimate concern of the sort that often appears on the secret-sharing app.
Natasha, the dental assistant (who asked that we use only her first name), anonymously told Whisper that she suspected her boyfriend of cheating. He was hiding his phone from her, she said. Sometimes he wouldn't return calls for hours.
Fifty-five miles away, a 25-year-old construction worker named Kerry read Natasha's message and immediately understood what was happening. "I'd just gone through the exact same thing," he told BuzzFeed News. When his ex-girlfriend exhibited similar behavior -- and subsequently admitted she was cheating on him -- Kerry severed ties with her. Seeing echoes of his own experiences in Natasha's, he reached out on Whisper, letting her know she wasn't alone.
The two were soon messaging each other on Whisper and quickly formed a deep bond. A few weeks later, Natasha -- who by that time had dumped her former boyfriend -- suggested they meet. They did. It went well -- very well. The couple was married last month.
"I really have no way of describing it other than a complete and total connection," Kerry said of the feelings he developed for Natasha on Whisper. And while it might seem odd for such a relationship to emerge from an encounter on a secret-sharing app, it's not. Kerry and Natasha's experience is hardly an anomaly. The two are far from the only ones forming such deep connections on Whisper.
Tens of thousands of people have entered into romantic relationships that began on Whisper, the company's CEO, Michael Heyward, said in an interview. "If you were to say 100,000, I don't think that would be an overstatement at all," he said. Of those, a number have gotten married like Kerry and Natasha. Some even have children together.
In the short history of the social internet, love has regularly sparked in weird, unexpected places. Users of a number of platforms, including Yelp and Words With Friends, have reported finding love on them. But Whisper is perhaps the most intriguing because it is explicitly an anonymous social network. It's a platform designed for completely anonymous communication between strangers.
On Whisper, users don't know what the people they're talking to look like, where they live, or what they do for work or school. They know nothing about each other beyond the content of their messages, making the prospect of forming sustainable relationships there seemingly improbable. And yet, they do.
New York resident Lauren Wolfe, for one, posted a revealing message on Whisper and through it found her now-fiance. The message, discussing an abusive ex-boyfriend, was seen by Eric Hudson, a man living in a nearby town, who wrote to offer his support.
"We struck up a conversation. We clicked instantly," Hudson said. A conversation between the two moved to the app's private messages module, and then to text. After exchanging pictures, the two met for a beer at an Applebee's in Saratoga, New York, and, though they did not kiss, the two soon understood this was no ordinary relationship. "I think we both realized that there was something special the first night that we met," Hudson said. The next night, he made the half-hour drive to Wolfe's town again, and the two haven't looked back since.
Wolfe says sharing a secret helped kick the relationship into gear right off the bat. "It definitely broke down some walls," she said. "I shared something really deep that I was going through that I wasn't sharing with my friends or family."
She and Hudson will be married next September. The wedding's theme: "It all started with Whisper."
Teenager Char Baker met her boyfriend, Chance Krug, on Whisper. "A year and a half ago I first got Whisper because I was very depressed and I didn't really have anyone to talk to and felt alone," she said in an interview. One Saturday night, using the handle "_broken_inside_," she posted: "People my age are all out having sex, doing drugs, drinking, and I'm at home in bed eating food."
Krug responded, and with him Baker found someone who could make her feel better. "I could talk to him about it. I could tell him everything and he'd understand," she said. "He basically helped me overcome my depression. I can go out in public and feel like not everyone is judging me."
Finding love on Whisper was a surprise for Baker, but a pleasant one. "I wasn't really looking for dating or anything. I was just looking for someone to talk to," she said. "I really didn't think I would actually meet anyone on Whisper; I didn't really know you could."
Neither did Whisper's Michael Heyward. Certainly he didn't anticipate love connections developing on the platform. But now that he sees them forming, it makes sense. "On a lot of more traditional dating applications, it's all about the exterior and the really superficial stuff," he said. "People probably have a lot more in common with one another than they think naturally, we just don't get our guard down." And that's where Whisper comes in. "What happens when you tell something about you that nobody else knows — that's the foundation for a really strong relationship."