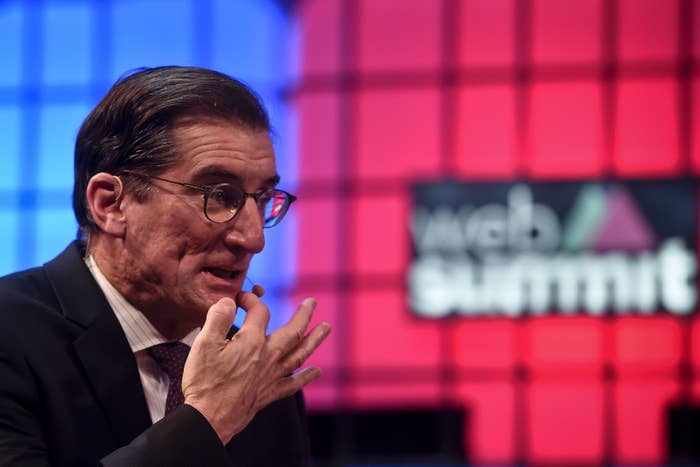 Before venture capitalist Patrick Lord left Paris to attend Web Summit, a gathering of 50,000 global tech executives and enthusiasts taking place in Portugal this week, he warned his family that Trump's election would mean disaster. When he awoke to the results Wednesday and called home to check in, he found out his daughter, worlds away from the vote, was already in tears.
"I was really quite shocked to see the result," Lord, based in Paris, told BuzzFeed News in Lisbon. "It was not what I expected and it was not what I was hoping for."
The same shock was palpable today across Web Summit. Attendees everywhere could be heard saying words like "unbelievable," "fear," "sad," and "shocking." A man walked across one pavilion shouting "Fuck everything. Fuck Trump. Fuck everything." The speaker prep room, at times, felt like a wake. But this dread, or discussion of it, was also often coupled with expressions of optimism about America's future under Trump, and a belief that business would continue as usual despite some dire predictions. Thousands of miles from the US, this contrast gave the day after Trump's election a surreal feel.
Bernard-Louis Roques, a colleague of Lord's at the French VC firm Truffle Capital, said he too was shocked by Trump's election, but expressed cautious optimism because of the President-elect's extensive business experience and the tenor of the victory speech. "He was very calm, polite, using the right words about uniting and tolerance, which I thought are critical when you are president," Roques said. "From a pragmatic standpoint, I was somewhat comforted."
And on a panel in front of thousands, NASDAQ CEO Robert Greifeld said he too would like to remain optimistic, even as markets dropped in response to the election results. "We can see possible good things out of this," he said. Greifeld's fellow panelists were similarly optimistic, or at least stayed away from doomsaying. Tony Conrad, partner at the venture capital firm True Ventures, said the election of Trump could be concerning for some companies, such as hardware startups working with China, but stopped at that. "There's a lot of stuff that's in play, it doesn't mean it's necessarily a bad time to be an entrepreneur," he said. "It's probably just as good a time as any time."
Backstage, Groupon CEO Rich Williams said he believed pragmatism and checks and balances would keep the country out of harm's way and spoke positively of the Americans' desire for change. "Trump managed that beautifully as a marketer," he said. "If you believe in the country's willingness to adapt, to accept and embrace change, and push it hard, then you got to be optimistic. You get pessimistic when you say people just want the status quo, they're not willing to change anymore."
Kik CEO Ted Livingston said he hoped a serious conversation about economic inequality would emerge following Trump's election, calling it a possible silver lining. Trump detractors have two options, he said; they could call his supporters dumb, or they could explain that they misunderstood how bad their lives were and try to start a conversation about how to improve the situation. "If it's the former, we're in big trouble, because the reality is the Trump supporters are now the majority," he said. "It's Donald Trump who is in charge; it's Donald Trump who is president, so we better start a conversation."
Digesting It All
Not everyone was so positive. Others were just plain shocked and struggling to figure out the implications of a Trump presidency.
At a private conference called The Forum, which aimed "to tackle the world's most pressing issues," speakers and participants sat and stared with amazement (and maybe a hint of bemusement) as Trump campaign manager Kellyann Conway appeared on Squawk Box to discuss the victory. It was one of the largest crowds The Forum drew all week.
A group of three Turkish female entrepreneurs with business in the US wondered aloud what the news meant for them. "He hates Muslim people; he hates us," one said. "We were in the process of applying for green cards and now we have to reconsider," said another.
An Iranian entrepreneur said he was worried that sanctions from a President Trump could deal his Iran-based startup a huge setback. He said he was also worried about what could happen should Iran elect its own right winger, like former Iranian President Mahmoud Ahmadinejad. "If someone like Ahmadinejad comes up, I don't think war would be that far away," he said.
Mykhaylo Lazor, a startup CEO from Lviv, Ukraine, said he had mixed feelings on Trump's election, adding: "If Russia's going to invade us, he won't give a fuck."
And Marcos Santos, a Portuguese media executive, said he was open to seeing what Trump would do. "Nobody is prepared for this," he said. "But we'll see how it goes. Give it a chance."
Patrick Lord, the Paris-based CEO, wasn't so forgiving. But as he described his pessimism, his colleague Roques pointed out that unlike Brexit, a similarly unexpected conservative vote in the UK, Trump's presidency would not be permanent. "I hope it's not a catastrophe, but it's only going to be one mandate." His body language conveyed the overriding sentiment here in Lisbon: How bad could it be?