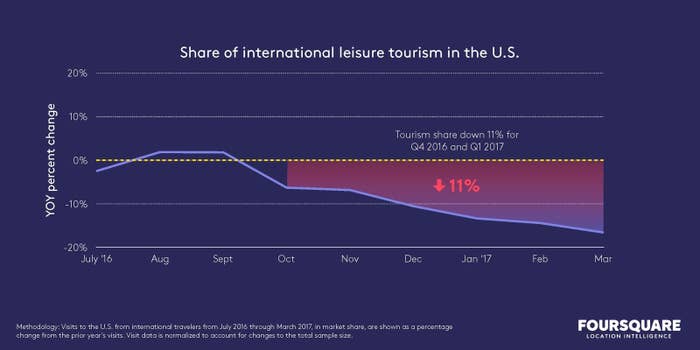 The United States' slice of the international tourism pie is declining, according to a new report from Foursquare that looks at data from millions of phones worldwide.

The US share of international tourism dropped 16% in March 2017 compared with the previous year. And it declined an average of 11% year over year in months spanning October 2016 to March 2017, according to the report.

The drop coincides with the final month of the US election, the Trump transition, and the early months of the Trump administration, which notably imposed a travel ban on people from several majority-Muslim countries in January 2017 that was eventually halted in court but is currently under appeal. Declines in tourism market share from people originating in the Middle East were more pronounced than the rest of the world, down 25% this January, along with a smaller decrease from South America, Foursquare found.
The data accounts for the percentage of international tourism coming to the US and not the absolute number of tourists, but Foursquare CEO Jeff Glueck told BuzzFeed News that it's unlikely tourist visits to the US increased while share declined. "I don't think you'd see a 16% decline in international market share and absolute numbers being up. I don't think that's compatible," he said. "The volume of tourism doesn't change that fast."
Foursquare's data comes from approximately 13 million users who opted to share their locations with the company, much like the data collection methods it used to accurately predict iPhone sales in 2015 and a massive decline in Chipotle sales in 2016. Foursquare tracks where the people holding these devices go at all times, allowing it to identify types of behavior — including leisure and business travel — based on where they go and how often they visit these places. The data is anonymized. "We understand where phones sleep, generally over time where 'home' is," Glueck said. "We're able to see not just that someone traveled from Switzerland to Miami, but things like, did they walk into a mall, a museum, a restaurant; did they stay at a hotel?"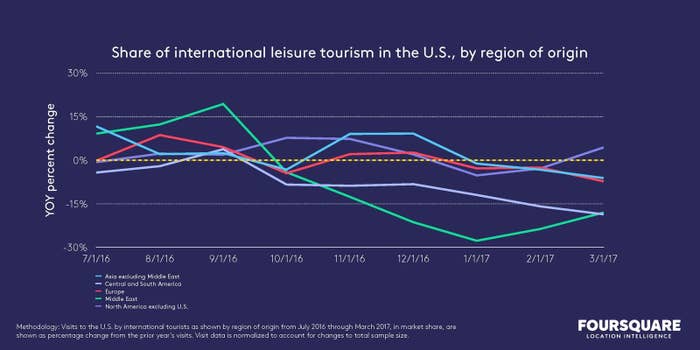 Other research seems to support Foursquare's conclusions about a slowdown in international tourism to the US. While the US Travel Association, for instance, reported a small increase in absolute international travel to the US in its Travel Trends Index in March, it warned that "the modest pace of international inbound travel growth represents a dramatic slowdown, and portends a potential decline in the months to come." The report noted that an increasingly valuable dollar contributed to the slowdown, along with "negative perceptions of Trump administration rhetoric and policies related to travel restrictions, immigration, and international relations."
There are other indications that international tourism to the US may be tailing off. Marriott International Chief Executive Arne Sorenson said in April that his company has experienced a decline in bookings from Mexico and the Middle East during the Trump presidency. And travel app Hopper said searches for flights to the US were down 17% the day the travel ban was announced, compared with the Obama presidency's final two weeks.
While Foursquare's report showed a declining US share of international tourism, it did find an increase in business travel of approximately 3%.
The decline in international tourism share could have a broader impact on the US economy, Foursquare contends, and with good reason. International travelers spent $247 billion in the US last year, according to the US National Travel and Tourism Office. "The entire retail sector fell about 3% last year, and that led to almost 100,000 workers losing their jobs," Glueck said. "A 16% drop in America's tourism market share is a punch in the gut to a restaurant and shopping world that's already under pressure."