Twitter's Most Important Report Card Yet Disappoints
Twitter's monthly active user count remains stuck at 320 million despite new CEO and product tweaks.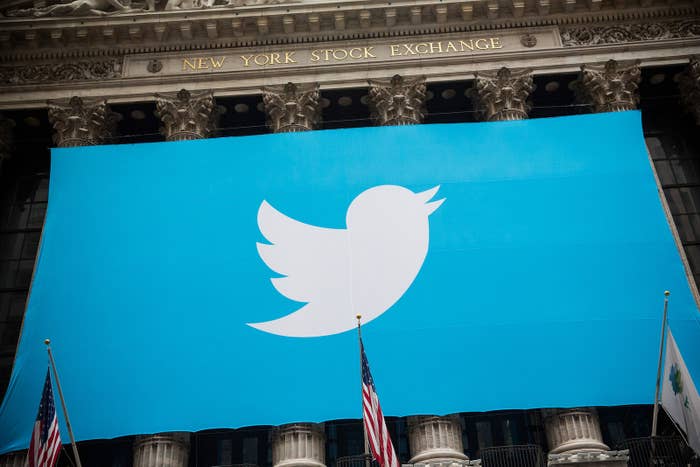 At 1 p.m. Pacific time on Wednesday, Twitter filed its Q4 2015 earnings report with the Securities and Exchange Commission. As it did so, investors, reporters, and company watchers waited for the report to post. And waited. And then waited some more. Finally, at 1:22 p.m., Twitter's investor relations team tweeted: "Our Form 8-K was filed with the SEC at 1PM PT today, there appears to be a delay on the Edgar / SEC site." OK!

The system stall turned out to be an apt metaphor. When the filing finally did come through, it showed zero monthly active user growth for the last three months of 2015. Twitter, like its earnings report, was stuck. Investors, on the other hand, began to flee.
It was all very familiar. Almost ritualistic. Since its 2013 IPO, Twitter has engaged in an almost consistent quarterly rite. It posts its earnings report, and shows slow user growth, and investors and press panic. Their sell-off is not entirely unwarranted. Twitter is small compared with Facebook, making it less attractive to advertisers (its actual customers), who can pay less for the similarly sized audiences in Zuck's playland, according to several advertising executives.
This ripples out to Wall Street, which has knocked Twitter's stock down below $15 despite strong revenue growth. That's more than $10 below its $26 IPO price, and almost $60 below its high of $74.73, in December 2013. The plummeting stock price rattles the company's executive leadership — a good number of whom walked out the door over the past month. It also unsettles the company's users, who at the slightest hint of change are prone to do things like fire off more than 1 million tweets with the #RIPTwitter hashtag.

A slew of developments that took place at the start of the quarter, which began in October, were meant to put the brakes on this cycle. That month, Twitter launched Moments, a collection of curated tweets meant to show the best of the product to new and casual users. That same month, Jack Dorsey took over as Twitter's permanent CEO, adding some stability to an executive suite that had been unsettled since the departure of former CEO Dick Costolo in July. And heck, Twitter even changed the "favorite" star to the "like" heart, in an attempt to boost engagement, make the product more straightforward, and, by golly, just flat out friendlier.
Still, the earnings report showed the company still spits out users as fast it can add them. "We saw positive impacts from our marketing initiatives which contributed meaningfully to MAU growth; however, these were more than offset by organic declines, partially due to fourth quarter seasonal trend," a letter to shareholders read. Translation: People are leaving too frequently for Twitter to grow.
Part of the solution, according to the letter to shareholders, is to continue to simplify the product. One mechanism specifically targeted: the need to put a period in front of an @name (like this: .@jack) when you want to address someone publicly in a tweet. Confusing use cases of this sort were singled out in a Walt Mossberg column last month that called Twitter "Secret Handshake Software."
But change on Twitter isn't easy to execute. After the company switched from hearts to stars, users flipped out. And when BuzzFeed News last week revealed the company's plans to bring an algorithm to the timeline, users went berserk, causing the hashtag #RIPTwitter to trend — it was posted more than a million times over the weekend. The outbursts at once display how passionate Twitter users are, and also how difficult it is for Twitter to change things without facing significant backlash.
Dorsey's focus isn't only on the product problem. More than once on the call, he said his top priority is recruiting, leaving less time to work on the product. It also can't help matters that Dorsey splits his time as CEO of two companies: Twitter and Square.
On the revenue side, Twitter is doing very well. Its sales team met expectations by turning in $710 million in revenue on the quarter. That's a lot of money, and multiple advertising executives tell BuzzFeed News they plan to increase their Twitter spend this year. These advertisers believe Twitter is a cultural force, so necessary that 90% of advertisers who ran Super Bowl ads on TV ran ads on Twitter during the game as well this year, according to Twitter COO Adam Bain.
So if the money is good, and it is, it's worth asking why we keep ending up here.
Maybe Twitter is finally at the right place right now, with a nearly $10 billion market cap. Or maybe it just needs some time to grow, as the company's newly appointed chairman Omid Kordestani asked for during the call: "Success does not come from short-term actions," he said. "Our work will take time and through steady focus and disciplined execution we'll ultimately create the highest long-term value for our shareholders."
Or maybe, and this could be hardest of all, it needs to figure out a way to prove to Wall Street that it's not the size of its network that matters, nearly as much as its influence.