Twitter's Effort To Grow Revenue Is Getting More Aggressive
Have you heard Twitter does advertising?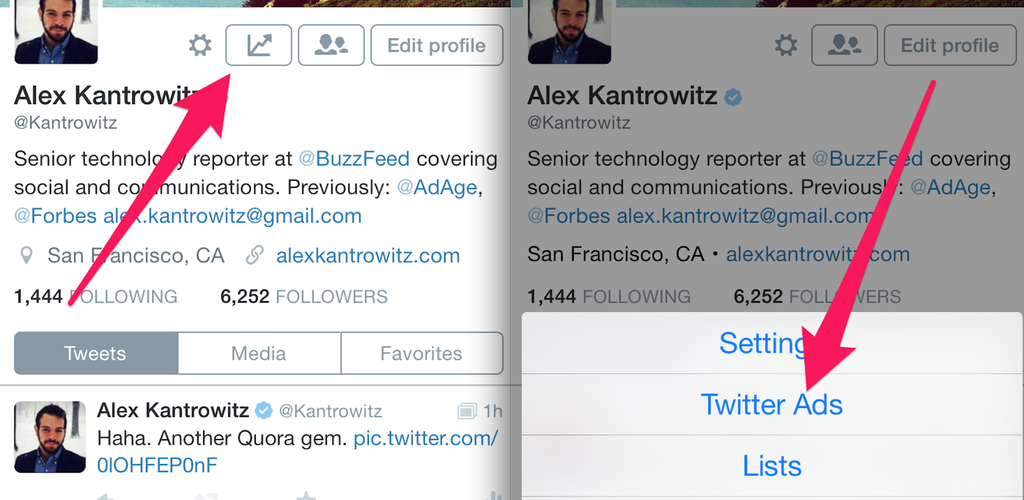 Twitter yesterday pushed an app update that contained "minor improvements," according to the app store release notes. But the most noticeable tweak was a new button that showed up for some users, located prominently within app's "me" profile tab, which brings you directly to the company's advertising interface.
The button's appearance is the latest in a series of aggressive moves by Twitter, which is in the midst of an effort to grow its revenue after posting disappointing results last quarter. It appears in apps of those who signed up for Twitter's advertiser accounts and is available on both Android and iOS.
"They have been increasingly aggressive all year," said Bryan Weiner, Chairman of the ad agency 360i, in an interview with BuzzFeed News. "There's no doubt there is pressure on them to ramp revenue."
Weiner said that as far as Madison Avenue is concerned, Twitter's ad business is commanding a growing share of attention and dollars. The pressure, he said, is coming from Wall Street, whose "expectations are out of whack in terms of where they are in their lifecycle and where they are in their product development."
Twitter is also in the midst of a campaign running Twitter ads to promote its ad product. And, before inserting the new button in its app, it also put a new ads selection in the options tab of its app. But the company appears to have opted to give its advertising link a more prominent presence.
Twitter declined to comment.