Twitter is about to embark on a 17 day-long test where it will insert curated Olympics-related tweets into people's timelines, if they opt in.

The experiment is a more ambitious iteration of Twitter's temporary follow function in Moments, a tab that highlights the platform's most compelling content and offers a temporary follow option for certain topics and events from time to time. Twitter clearly likes what it's seeing from the feature, which proved valuable during big news events like Brexit and last month's political conventions, and is investing more energy into it.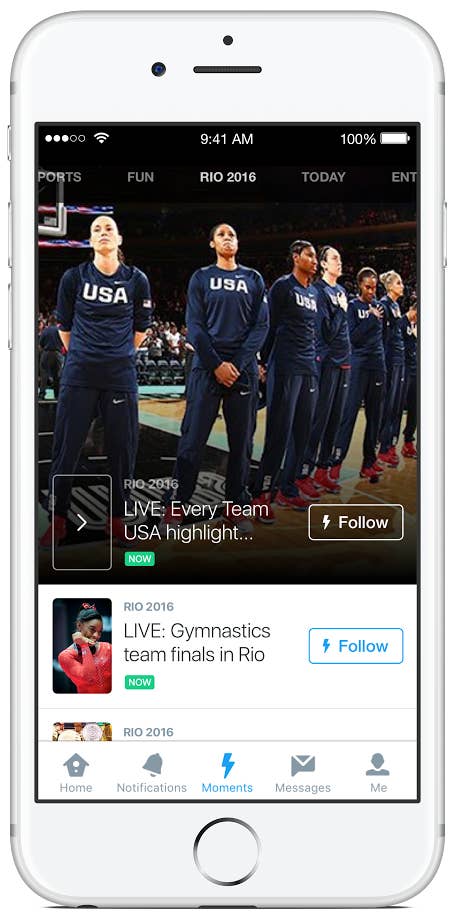 "We want to see how things perform at the Olympics but we're very excited about the idea of the longer [temporary] follow and want to look for other opportunities to experiment," Andrew Fitzgerald, Twitter's Director of Curation told BuzzFeed News.
The temporary feature is beneficial because it inserts high-value tweets — from journalists, newsmakers, people at the scene, etc. — in real time, allowing you to follow live and unfolding events without having to do the work of figuring out who to follow. One major issue with the feature is that it is deeply buried within Twitter's user interface, but long sessions like the one during the Olympics could help it build momentum and increase its visibility.
Twitter will make the temporary follow available in nine different markets; the United States, United Kingdom, Brazil, Australia, Japan, Mexico, Canada, France and Germany. The inserted tweets will be tailored to each market, so people in Japan will see tweets about Japan's Olympic squad in Japanese, and people in France will see tweets about the French team in French. Twitter is bringing on additional people to support the effort. It will also offer shorter temporary follow options for specific events, like swimming.
Though the temporary follow was included in Moments' initial launch, Twitter appears to be putting additional emphasis on it of late. Its rise has coincided with the departures of the product executives at the helm of the Moments when it debuted— head of product Kevin Weil and product manager Madhu Muthukumar — thought it's unclear if the departures have any connection.
Twitter ran the temporary follow for lengthy sessions during Brexit, The Democratic and Republican National Conventions, and Brazil's impeachment proceedings, where it was live for three straight days.

"What we saw in the Brazil experiment was [the temporary follow] actually was a really valuable way for users to stay updated on the impeachment process throughout those crucial three days," Fitzgerald said.
Inside Twitter, there's long been discussion about allowing users to follow topics, not just specific users. Some might hope that this feature develops into that vision. And in some ways, it already has.