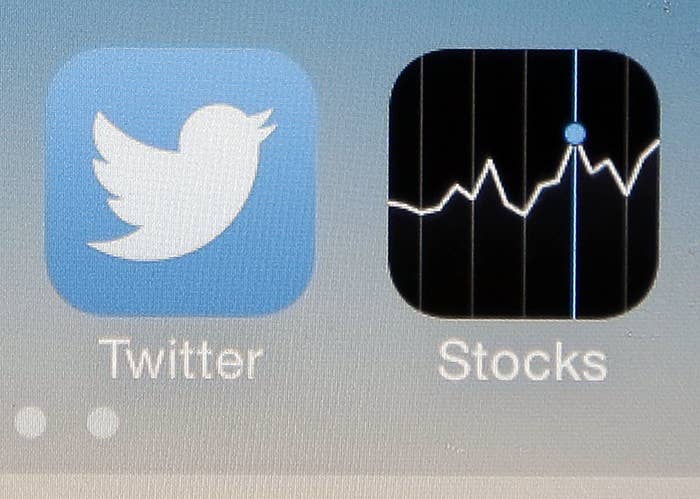 Millions of people visit Twitter every day looking to sign up for a new account, or reactivate an old one, the company said today. The stat is fascinating — evidence of Twitter's position as a cultural force so powerful it attractions millions of newcomers each day who are interested in trying it out. But it also highlights how few of them stick around.
Twitter shared the stat on a call with investors after its third-quarter earnings release early Thursday. The company brought in $616 million in revenue in its most recent three months, beating analysts' expectations. It posted a $103 million loss for the period, but said that when certain costs are excluded — including the expensive stock-based compensation it dishes out to employees — it made a profit of $92 million, again beating expectations.
The company also confirmed reports of layoffs: It will cut 350 employees, or about 9% of its workforce. But the updates Twitter's executives shared regarding its product — especially the detail about those looking to start or restart accounts — proved more interesting than the numbers alone.
The new signup stat is cause for both optimism and concern. If you take "millions per day" at its lowest possible value, 2 million per day, then at least 180 million attempts are made to join or rejoin Twitter in a 90-day quarter. But despite that, Twitter added only 4 million monthly active users in the period, jumping to 317 million from 313 million last quarter. So, only a tiny percentage of those who show up at Twitter's front door end up sticking around.
Jan Dawson, an analyst with Jackdaw Research, said this lack of stickiness is a problem. "Given how few new subscribers it actually adds every quarter, that means well over 90% of those users don't stick around," he told BuzzFeed News. "That's actually kind of terrible, and just highlights Twitter's user retention problem."
On the flip side, the continued interest in Twitter's service suggests the company still has potential to add large numbers of users, something it has struggled to do in recent years. "We think there's a significant opportunity to drive daily usage growth," Twitter CFO Anthony Noto said on the call. "The opportunity to leverage those millions that come in the top of our funnel has been fairly consistent over the last year. And we have that opportunity to convert them into daily active users."
Twitter CEO Jack Dorsey also offered a straightforward assessment of what led to the quarter's incremental growth, primarily crediting refinement of notifications and the algorithmic elements in the timeline.
"We've been making hundreds of small changes as quickly as we can that will continue to compound in more usage," he said. "The people are showing us that these changes are working. We're seeing more people wanting to use Twitter, and to use it more often."
In a letter to shareholders, Twitter also revealed it would soon introduce new anti- harassment features and an update to its safety policy, addressing a major weakness. These changes will go into effect after the election. "For the past few months our team has been working hard to build the most important safety features and updating our safety policies to give people more control over their Twitter experience," the company said. "Next month, we will be sharing meaningful updates to our safety policy, our product, and enforcement strategy."
Asked if he had a "revolutionary" new product up his sleeve, Dorsey didn't indicate that any are on the way. "Our product is already revolutionary," he said. "And we're focused on improving it every single day."