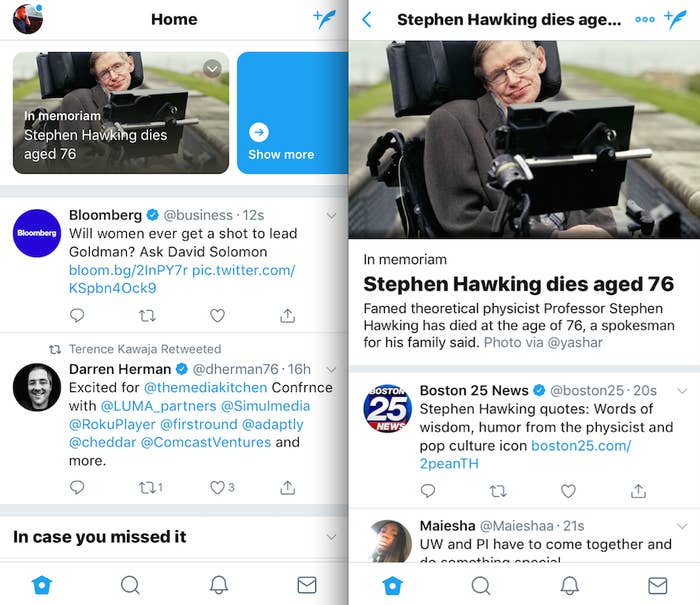 An emboldened Twitter is seeking to push further into news as Facebook pulls back.
The company is building new algorithmically curated timelines during big news events and promoting them at the top of users' timelines in a test, a Twitter spokesperson confirmed to BuzzFeed News. Humans are involved in the curation during the test, but a spokesperson says they can be strictly algorithmic in the future.
On Wednesday, Twitter's test highlighted curated timelines — featuring tweets from news organizations and users that are not news professionals — for the congressional special election in Pennsylvania, the death of Stephen Hawking, and a lawsuit filed by the family of murdered DNC staffer Seth Rich against Fox News.
"People come to Twitter to see and talk about what's happening. We're working on ways to make it easier for everyone to find relevant news and the surrounding conversation so they can stay informed about what matters to them," Twitter product VP Keith Coleman told BuzzFeed News in a statement.
The test is an extension of Twitter's "Happening Now" feature that until now only highlighted sports tweets. During big breaking news events, Twitter will promote the curated timelines via a module at the top of the home timeline. Tapping into the module will lead you to an algorithmically curated timeline made up of tweets entirely about the news event. It feels somewhat similar to the News tab Twitter tested in 2015 that never took off.
Yet just a few years later, the proliferation of fake news and weaponized misinformation have contributed to a decision by Twitter's biggest competitor, Facebook, to pull back from news, which recently said it intends to drop news' reach by 20% in the News Feed. While Facebook is testing a new breaking news function, its move has created an opening for Twitter, which has in recent years decided it's a news app and has worked to emphasize news content. Now, the company is doing whatever it can to take advantage of the opportunity Facebook handed it.
The curated news test is currently underway with a small group on iOS and Android in the US and could eventually feature multiple timelines for the same news event, including one that recaps tweets and another with the latest tweets, the spokesperson said.
If done right, these news timelines will replicate what is widely regarded as one of Twitter's best parts, creating shared experiences around news events, in which people follow along together and watch the news unfold in real time. These shared experiences can pop up during major moments like presidential debates, but have been difficult to replicate at scale. If Twitter's test can deliver that, it could be a major new development for the company coming just as Facebook is giving it an opening.