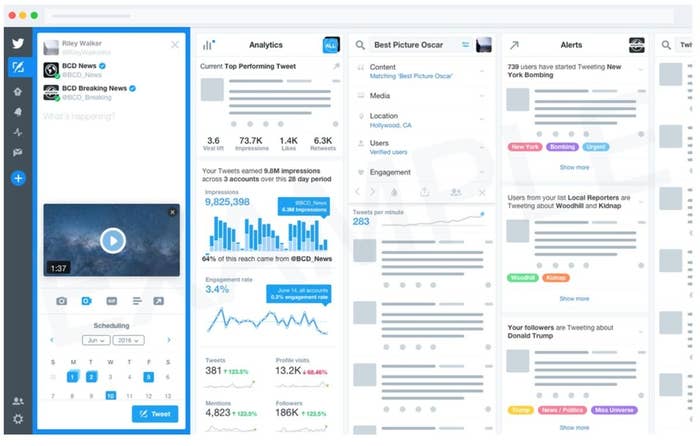 Twitter is considering offering a paid version of its service, the company confirmed Thursday.

The paid version, geared to power users, would feature a number of enhanced features made available in the Twitter-owned app Tweetdeck. It would not supplant the current version of Twitter. The company is still determining what features it would include in such a product, and is surveying some users to figure out what features they'd be most interested in.
"We're conducting this survey to assess the interest in a new, more enhanced version of Tweetdeck," a Twitter spokesperson told BuzzFeed News. "We regularly conduct user research to gather feedback about people's Twitter experience and to better inform our product investment decisions, and we're exploring several ways to make Tweetdeck even more valuable for professionals."

Twitter is not currently developing the product, and it would continue to offer a free version of Tweetdeck if it decided to roll the paid product out. The survey used language describing what the product "will be," making it seem like an inevitability.
"This premium tool set will provide valuable viewing, posting, and signaling tools like alerts, trends and activity analysis, advanced analytics, and composing and posting tools all in one customizable dashboard," the survey said. "It will be designed to make it easier than ever to keep up with multiple interests, grow your audience, and see even more great content and information in real-time."
Twitter is trading far below its IPO price and is struggling to grow its revenue, so a subscription product for power users could be one method to squeeze some cash out of those who get the most out of the platform.