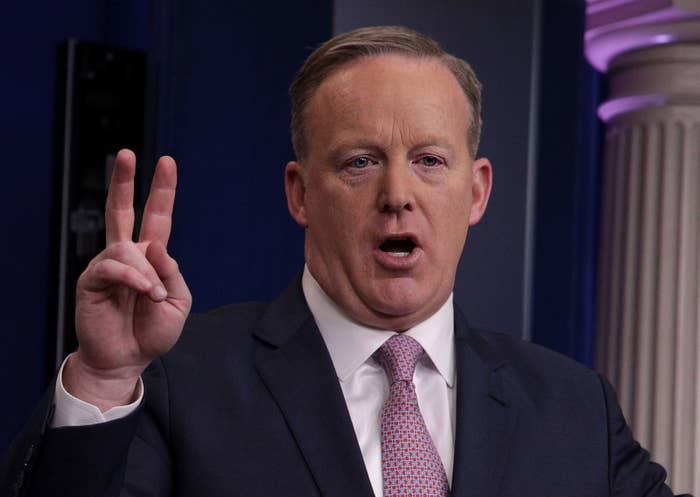 Within his first minute at the podium Monday, White House Press Secretary Sean Spicer let the assembled press know he'd been checking his Twitter mentions over the weekend.

"As I get started, I know that [Obama press secretary] Josh Earnest was voted the most popular press secretary by the press corps," Spicer said. "After checking my Twitter feed, I shot Josh an email last night letting him know that he can rest easy, that his title is secure for at least the next few days."

The Trump administration is only four days old, but it's already evident that Twitter is playing a significant role inside it — not just as a publishing tool, but as a feedback channel. Spicer and other members of the administration are clearly watching the platform closely, monitoring the activity on it and acting based on what they see there. Trump used the platform vigorously and effectively during his campaign; now, it seems, little has changed.
In fact, in each of his two visits to the James S. Brady Press Briefing Room, Spicer has led with Twitter. On Saturday, much of his statement focused on tweets the administration didn't like.
"For all the talk about the proper use of Twitter, two instances yesterday stand out," Spicer said at the start of his Saturday remarks. After criticizing a report that falsely claimed Trump had removed the bust of Martin Luther King Jr. from the Oval Office, Spicer then criticized news organizations' (accurate) tweets about the size of Trump's inauguration crowd. "Photographs of the inaugural proceedings were intentionally framed in a way, in one particular tweet, to minimize the enormous support that had gathered on the National Mall," Spicer said.
The Trump administration's focus on Twitter has already extended beyond news organizations. After the National Park Service retweeted tweets pointing out Trump's smaller crowd size, administration officials ordered it to temporarily stop tweeting, reportedly out of concern that it was hacked.
The Park Service apologized Saturday, calling the retweets mistaken.
And, of course, President Trump is keeping his "big, beautiful Twitter account" active, having tweeted more from @realDonaldTrump than @POTUS since his swearing-in. Trump regularly takes to the service to go around traditional media and its filters. His tweets often move markets and have already broken with behavior expected of a president.
As BuzzFeed News has reported, the discussion of Trump on Twitter far outpaces anything else on the platform. Trump is discussed more than 10 times as often as all of the Kardashians combined.
Spicer, for his part, has suggested replacing traditional press conferences with social media question-and-answer sessions.