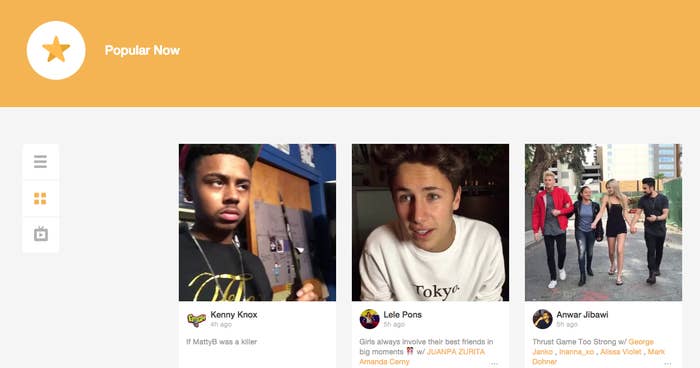 Vine is popular because it became a home for a brand new form of entertainment: six second looping videos perfect for bite-sized appetites on mobile. But while Vine is a home for all that content, it doesn't actually create it. And while its biggest stars have gained millions of followers, they have often had to look for other ways to make money, as it has never had a revenue-sharing component. Now, some of these creators are asking to be compensated for their work, and Vine's parent company Twitter is at least considering their request.
BuzzFeed News has learned that executives from Vine and Twitter met with some of the platform's top talent late last year to discuss payment solutions for content creation. The meeting was requested by the Vine-makers who expressed a desire to be compensated for their work.
Twitter already has some way for these creators to make revenue from content they post to its products. Last year, for instance, it introduced Open Amplify, which allows Twitter users to open up their videos to pre-roll advertisements and share in revenue. And it also has an in house managed service and technology division called Niche that helps connect creators with brands willing to pay them to create sponsored content.
"There's no war or bad blood, the creators just want to be treated fairly," one top creator, who was present in the room, told BuzzFeed News. "Right now they are trying to figure this out."
The discussions come amid what appears to be a battle between social platforms to secure the top social talent. Facebook, last week, confirmed it is looking to pay some of its users to stream live on its platform. And the company is already sharing revenue with publishers — and soon anyone with a website who wants to participate — via its Instant Articles product. YouTube already shares revenue with people who opt into its platform's monetization program. And now Twitter is being pressed to do so as well.
"Three and a half years is a long time to have us posting on your platform for free," the Vine talent said, who named Facebook and YouTube as alternate platforms he and his contemporaries could embrace. "We've had a lot of our top creators find a lot of successes on YouTube, a lot of success on Facebook right now."
Social platforms have long made a living off user generated content, usually unspectacular musings, photos and videos provided for free by its users. But the emergence of Vine changed this dynamic, creating a divide between a small segment of people that produce the most compelling videos on the platform, and the rest of us who, well, don't.
For these platforms, it's worth it to go to war over keeping these talents.
Twitter declined to comment.