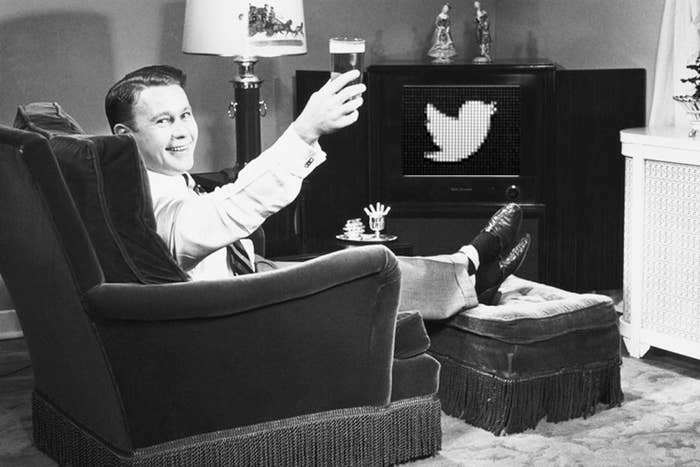 If you're wondering whether Twitter views itself as a media company or not, take a look at its careers page.

Twitter Careers currently displays three open roles for editors, and another for an associate producer for online video. According to Twitter's job descriptions, editors — who will work on the company's Periscope video product — should be "experienced multi-lingual media junkie[s]." Meanwhile, qualified producer candidates must "know how to get a show 'on air' and keep it there."
At a time when social media companies shirk the "media company" label, Twitter, which has also balked at such descriptions in the past, seems to be embracing the role. Twitter is hiring editors and testing breaking news push notifications. It's regularly announcing deals for new, premium live video content traditionally associated with "media" companies (last week, it was a Golden Globe pre-show). It's making daily calls on what's news and what's not in its Moments tab and on Periscope. And after years of being classified as a "social networking" application in Apple's App Store, it's found a new home in the store's "news" category.
Whether Twitter says it or not, it's clear the company wants to be more than simply a dumb pipe for programming created by others. Increasingly, Twitter seems to be positioning itself to procure, program and promote that media as well.
After years of experimentation (Twitter Music, a 2012 partnership with NASCAR, an Olympics deal with NBCU, etc.), Twitter put its media operation into gear in October 2015 with the introduction of Moments, a tab that highlights the day's news in collections of curated tweets. Since Moments' inception, the team behind the feature has struggled with decisions every news organization deals with; it's had to figure out how to handle graphic content (it uses warning labels) and it's made choices on whether to include all viewpoints despite the risk of false equivalency (needs improvement). When Twitter's Moments teams has made mistakes, it's acknowledged them and has even removed a post after admitting bad judgement.
Twitter followed Moments with a series of bigger media bets. Its premium live video efforts, which include a deal to air live NFL games and original programming created exclusively for Twitter (BuzzFeed has partnered with Twitter on this effort), are at the forefront of this push. Seemingly every time you open Twitter on the web, you'll find a live video running beside the timeline. Twitter eventually wants to run these premium live videos 24/7 on its platform, according to a person with familiar with the company's thinking. This same person said that the associate producer job Twitter recently posted is part of a push within the company to hire "TV people." Twitter declined comment on its plans for premium live video and the job openings that will support it.
Twitter's media efforts are occurring against a backdrop of leadership changes at the company, one that has seen Anthony Noto consolidate power around his dual role as Twitter's COO and CFO following the departures of former COO Adam Bain and former CTO Adam Messinger. Sources tell BuzzFeed News that when it comes to Twitter's premium video deals, Noto — a guy who once ran the Global Telecommunications, Media and Technology Investment Banking practice at Goldman Sachs — "is in the driver's seat."
For Twitter, a definitive move into media at a time when larger rivals like Facebook dance and prevaricate around it, could be a savvy tactical decision. Twitter's real-time nature makes it a great platform for breaking news funneled into it by others. In Moments, the company is developing crucial institutional knowledge around news curation. And then there are those ongoing premium live video efforts. If Twitter were to elegantly unite all of that, if it were to fully embrace its "media company" side, it might gain something it's long lacked: an identity.