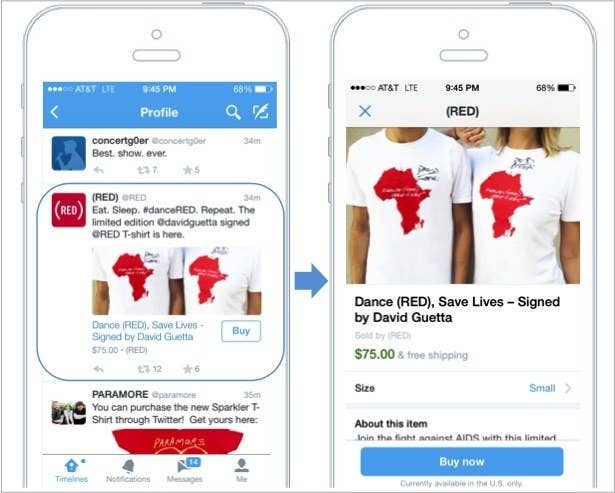 Twitter has curtailed product development on its "Buy" button and product pages and shifted its commerce team into other divisions within the company, BuzzFeed News has learned.

A number of members of Twitter's roughly 25-person commerce team have left the company, and those who remain now largely work on two separate product teams: customer service and dynamic product ads. Customer service may one day include a commerce element (think: a buy button inserted by a company into a direct message), but Twitter has not announced any such plans to date.
Twitter's decision to reallocate its resources in this way speak volumes about the sluggish progress so far of social commerce, a much-hyped push by social media companies to enable the sale of products directly within their platforms. Facebook, Twitter, and Pinterest have all embarked on major product initiatives in this area. Twitter backing away from social commerce suggests that it's not quite the low-hanging fruit some had hoped for.
"People are not buying on social media right now. They are still buying, for the most part, on mobile web," a source familiar with Twitter's commerce team's inner workings told BuzzFeed News. "There's still an active 'Buy Now' card at Twitter, but no one's putting any work into it. There's no new product development happening."
Dynamic product ads (product advertisements shown to people based on their browsing activity) are performing well for Twitter; insiders say it is simply doubling down on what's working.
In a letter to shareholders last month, Twitter said these dynamic product ads average double the click-through rates and double the conversions (on-site actions such as purchase) compared to regular promoted tweets.
Twitter's disbanding of its commerce team appears to be part of Dorsey's effort to realign the company's resources in service of the platform's core experience. Commerce, an effort that began under former CEO Dick Costolo, never really fit that vision, according to multiple sources. Nathan Hubbard, the former CEO of Ticketmaster who led the company's commerce team, has been running Twitter's global media team for the past six months.
"There was more interest in having more focus in the core business, and buckling down there," a former Twitter employee with ties to its commerce group told BuzzFeed News.
"The innovative, experimental 'could, should, might happen in a year or two years' stuff is completely shut down at Twitter," another source with knowledge of the situation told BuzzFeed News.
This doesn't mean that social commerce itself is doomed: It was only a year ago that KPCB analyst Mary Meeker touted it in the "New Things Vendors / Brands / Consumers Should Be Excited About" section of her closely watched Internet Trends Report. That said, it isn't exactly taking off.
"I don't think it is a dead end, but I think it is moving pretty slowly in terms of expanding and adoption," eMarketer retail analyst Yory Wurmser told BuzzFeed News. "By creating a Buy button they may catch a few people, but the majority of people may not want to continue on to buy things on that platform." But Wurmser hasn't given up hope. "They're here for the long run and we'll see how it develops."
Reached for comment, a Twitter spokesperson provided the following statement: "We made a change 3 months ago to INCREASE our investment in commerce by moving fully into Dynamic Product Ads after seeing the great early results (2x the CTR, 2x the conversion rates) we talked about in our Q1 earnings call. We have more product, engineering and business focus on commerce as a result of focusing on DPAs. The bottom line is DPAs work for advertisers and we will continue to invest in that product."