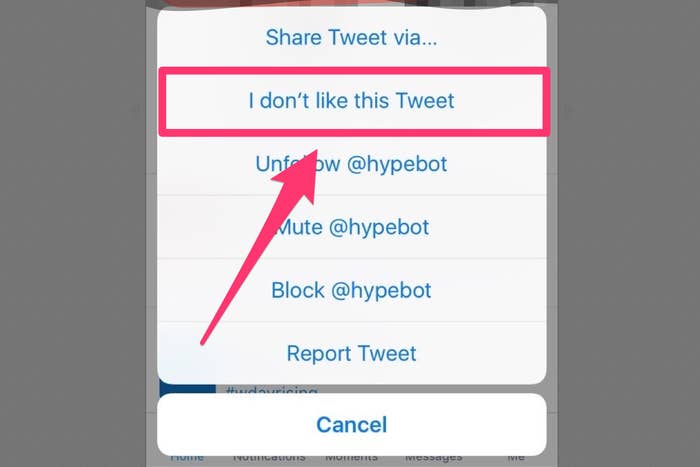 In an apparent attempt to improve the quality of Tweets served up by its timeline, Twitter quietly introduced a new feedback tool that lets users indicate types of tweets they'd prefer to see less of.
The tool, simply labeled "I don't like this Tweet," is available in the options menu on individual tweets, and seems geared to help improve Twitter's algorithmic elements. When you click the option, Twitter lets you know that it "will use this to make your timeline better." Currently, the option is only available for some iOS users.
Reached for comment, a Twitter spokesperson pointed BuzzFeed News to a Twitter Help Center post that says the function "helps Twitter better understand the types of Tweets that you'd like to see less of in your Home timeline. We may use this information to optimize and tailor your experience in the future."

In February, Twitter rolled out what it called an "enhanced timeline," significantly increasing the prominence of algorithmically selected tweets in its product. Since the rollout, the company said that only 2% of users have opted out from the experience.
Though the new option doesn't indicate plans to expand the program, a more expansive role for the algorithm has been discussed within the company, and given the current program's success, it wouldn't be a surprising if this feedback tool becomes part of something more robust.