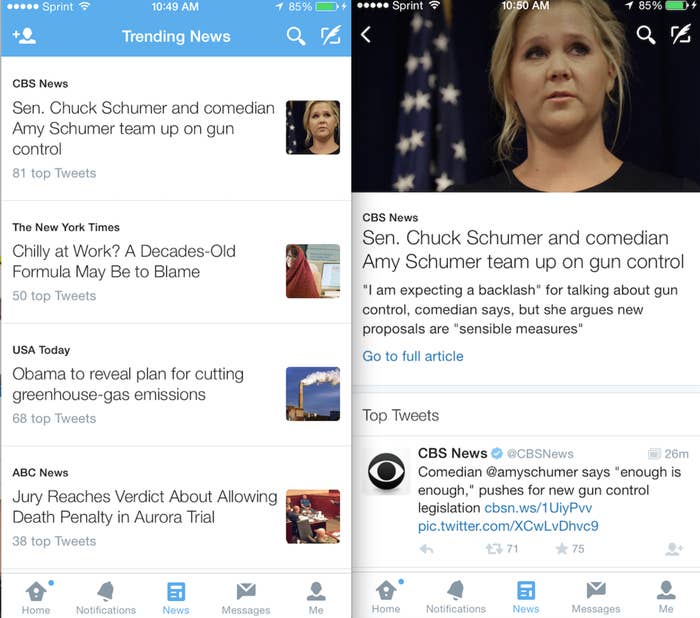 Starting today, some U.S. Twitter users will see a News tab appear in their Twitter apps.
The experimental feature, part of Twitter's effort to make its best content easy to find, inhabits the middle tab of the app's navigation bar and brings up a list of headlines that are trending on the platform. When you click a headline, you're taken to a story screen with an image, headline, block of text from the story, and the top tweets discussing it.
"We're experimenting with a news experience on iOS and Android as we continue to explore new ways to surface the best content to users," a Twitter spokesperson said in a statement.
Between the News tab and Twitter's still-unreleased Project Lightning -- which will curate tweets from live events -- the vision for the next iteration of the company's platform is slowly coming into focus. Both of these products grab the best tweets from Twitter's raw feed and present them in more digestible formats. Think of it this way: Twitter's raw feed is turning into the product's engine. And that engine is powering mini-products with what is perhaps the best live feed of information in the world.
The News tab could lower Twitter's barrier to entry a bit, making its platform and culture more understandable to hundreds of millions perplexed by it. Instead of leading with tweets, the tab introduces people to Twitter with something everyone understands: headlines. Tweets come after.
Though no ads currently accompany this experiment, Twitter's News tab could have significant revenue implications for the company if its implemented as a core platform feature. One of the main issues advertisers have with Twitter is that its conversational nature makes it difficult to insert ads into the stream without appearing to have barged into a discussion. The News tab could give advertisers a less conversational experience with defined topics they can plan around. Sports news, for instance, would likely be of interest to a sporting equipment advertiser.
The experiment, which is already live in Japan, is starting out with a list of pre-approved publishers that number in the double digits. Though Twitter hasn't discussed the possibility of creating an Instant-Articles-style product, the News tab could certainly set the stage for something along those lines.