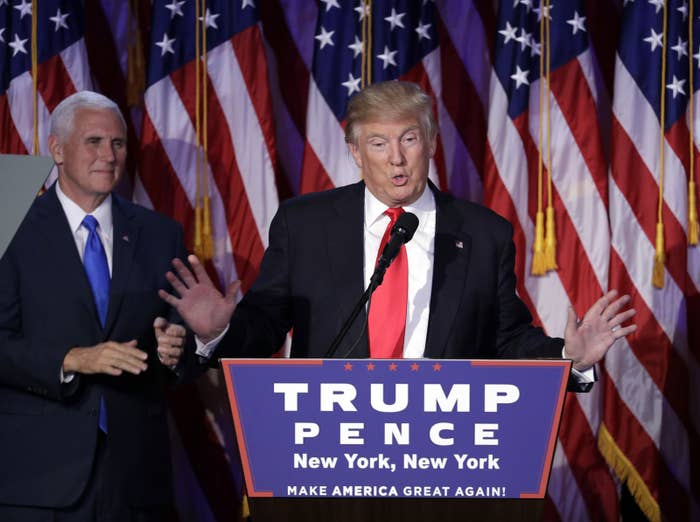 President-elect Donald Trump's campaign had a major Twitter ad buy paid for and ready to go this fall. But a day before it was set to go live, Twitter pulled the plug.

Brad Parscale, Trump's digital director, relayed this story in an interview Monday after he and another member of Trump's digital team publicly criticized Twitter for being "restrictive" during the campaign. Both used Twitter to air their grievances.
The ad buy in question was a sponsored emoji package that criticized Hillary Clinton and was scheduled to run on a debate day during the campaign. Parscale said he believed the ad buy, for which he claimed the campaign paid hundreds of thousands of dollars, was killed because Twitter "thought the emoji would be too damaging to Hillary."
Twitter, for its part, told BuzzFeed News it decided against running any politically branded emoji ad campaigns.

Social media's role in the 2016 presidential election has drawn increasingly probing scrutiny following Trump's surprise-to-some win. Facebook in particular has been criticized heavily for failing to rein in a flood of partisan fake news that some fear may have influenced public sentiment toward the candidates. The notion that such news swayed the election was referred to by Facebook CEO Mark Zuckerberg as a "pretty crazy idea" last week. But not all Facebook employees feel that way. As BuzzFeed News reported Monday, a group of renegade Facebook employees have formed a secret task force to address the issue.
Some details of the Trump campaign's run-in with Twitter emerged last month in a story in the Washington Examiner. Reached by BuzzFeed News, a Twitter spokesperson pointed to the following statement, shared at the time. "We have had specific discussions with several political organizations, including the Trump campaign, regarding branded emojis as part of broad advertising campaigns on Twitter," the statement reads. "We believe that political advertising merits a level of disclosure and transparency that branded political emojis do not meet, and we ultimately decided not to permit this particular format for any political advertising."
Parscale said he found Twitter's approach towards the emoji campaign frustrating. "Why sell it to us?" he asked.
According to Parscale, Twitter was one of a few big digital platforms that made his life difficult during the campaign. "Companies just didn't like how we were using their platforms in a way that might be negative to [Clinton] or show messaging that they didn't like," he said.
That said, Parscale also emphasized that Google, Facebook, and Twitter were otherwise "good supporters" of Trump's campaign. "I feel like those platforms helped us win the campaign," he said. "Twitter was obviously crucial, Facebook was crucial, Google was crucial. Those were the three main mediums that help us digitally to win the election."
In an interview with 60 Minutes last night, President-elect Trump praised Twitter when asked about his use of the platform. "It's a great form of communication," he said. "I think I picked up yesterday 100,000 people. I'm not saying I love it, but it does get the word out."