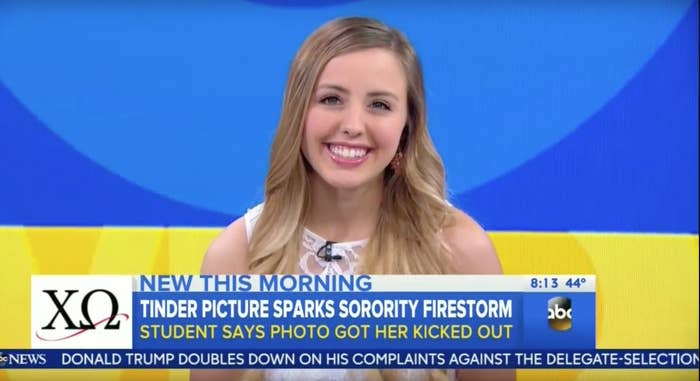 Tinder is throwing its support behind a University of Nebraska Omaha junior who quit her sorority after it moved to expel her for displaying the sorority's letters in her Tinder profile photo. Tinder is giving the junior, Shannon Workman, a full year's scholarship that can be used to cover costs of her senior year.

"It's easy to give in and give up," Tinder co-founder and CEO Sean Rad told BuzzFeed News in an email. "We think what Shannon did sends a very empowering message to young women and college students, which is actually one of Tinder's largest audiences. Don't conform, don't let people tell you your beliefs are wrong just because it's not the same as their beliefs."

Workman, formerly of the Chi Omega sorority, walked out of a meeting with the sorority's executive board where she was told her Tinder photo violated the sorority's "Human Dignity" rule. In the photo, Workman sports a shirt with the Chi Omega letters and text: "Sweet Home Chi Omega." That prompted the sorority to begin the "membership revocation" process, which Workman declined to participate in. "I'm never coming back," she told the board.
In an interview with BuzzFeed News, Workman said the two sorority members and an adviser who made up the executive committee didn't want the sorority's letters appearing on Tinder, which they viewed as a hookup site. "They just don't think that Chi Omega should be involved with that site," she said.
Tinder is also offering Workman a paid internship, Rad said. "It's the first time we reached out to someone whose story inspired us and asked them to be part of the team," he said. "Her actions showed a depth of leadership and courage that is admirable and something we value as part of our company culture. We always want to stand up for our users who stand up for us."
Rad personally called Workman to offer the scholarship and said that she was "incredibly kind and thoughtful and a little surprised to hear from us."
Workman sounded happy that Tinder reached out her. "I think it's absolutely amazing," she said. "I do stand up for Tinder because I don't think there's anything wrong with it. Some people use it for hookups but I don't, and a lot of great things happen through Tinder."
As for the internship, Workman said she's a fan of California, where Tinder is based, and is intrigued by what the company is offering, though she hasn't yet decided whether to take the offer. "I'm excited to learn more about it."