The Number Of Americans Coming Out On Facebook Is Spiking
Facebook released data that indicates significant progress for the LGBT movement.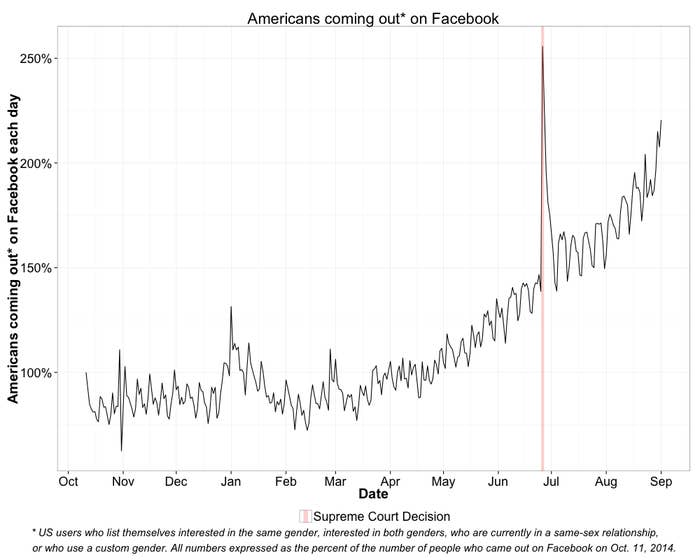 More and more Americans are coming out on Facebook -- including a significant spike following the Supreme Court's same-sex marriage ruling in June, according to data released by the website Thursday.
The Facebook network is so large that a dive into its data can sometimes offer insights about society at large. In a new study released today, the company is offering a look into the progress of the LGBT movement in the United States and the rise in coming out across the country. The arrow is pointing up for both.
"Not only has the total number of Americans who have come out on Facebook risen dramatically, but so has the number coming out each day," Facebook said in the report, entitled America's Coming Out on Facebook. "The number of people on Facebook coming out per day is on track to be three times what it was a year ago."
Approximately 800,000 people came out on Facebook over the past year, the study found. The total number of Americans who have come out on Facebook is currently six million, Facebook said. The company defines "coming out" as: "Updating one's profile to express a same-gender attraction or... specifying a custom gender." The custom gender option on Facebook has been around since 2014.
Facebook didn't stop at making characterizations about its own user-base. It also looked at the success of the LGBT movement in the country at large. "Of those who are out on Facebook, approximately 78% made this change to their profile since the beginning of 2012," the study said. "While this figure may be somewhat conflated by growth in the number of people on Facebook, the sheer magnitude of this increase suggests that the LGBT movement has made significant strides in recent years."
The June 26, 2015 Supreme Court ruling in favor of same-sex marriage nationwide, sent the numbers soaring up. There was a 250% spike in people coming out on Facebook that day compared to 2014's National Coming Out Day on October 11.
Fan support of LGBT-rights groups is also increasing. Such groups' fan bases have increased almost 25% over the past year, Facebook said.