The Independent Internet Is Losing Ground
Facebook, Google, Twitter, and LinkedIn are claiming a growing combined share of online ad revenue.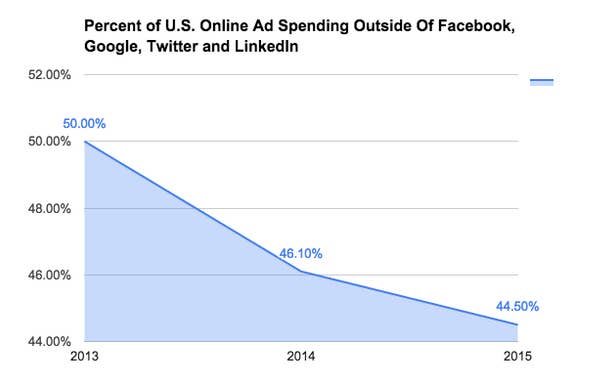 The chart above should scare the hell out of publishers, a group easily spooked in these days of shifting ad revenue.
It shows the percentage of online ad revenue that's left after Facebook, Google, Twitter, and LinkedIn all take their cut. That number has been dropping for the past two years, according to data from to eMarketer — though perhaps not as dramatically as it might appear in this cropped chart. By the end of this year, those four big companies will account for 55.5% of all U.S. online ad revenue, leaving the rest of the internet with 44.5%.
That's a profound shift: In 2013, it was an even split — not ideal for web publishers, but better than what it is now. And as the big four companies solidify their data and traffic advantages, that ad revenue divide is likely to increase.
The overall online ad pie is growing — a point worth noting, but as the independent internet struggles with a seemingly unending stream of problems — ranging from ad block to bot fraud — advertiser budgets are gravitating toward the internet monoliths and their promises of better traffic quality, greater reach, and more precise ad targeting.
All four companies included in the chart above sell ads across the internet, so they make money when those ads run on other sites and on their own platforms as well. And when you buy ads on their properties (Facebook, Twitter, and LinkedIn in particular), you can be sure you're reaching the same person on whatever device they use (not a given elsewhere) thanks to the fact that people log in to their services on each device. That log-in data is also being used to target ads on other sites through these platforms' advertising technologies.
The data set doesn't include Apple, which will account for 2.6% of all U.S. mobile ad spending this year. Apple doesn't have much of a presence on desktop, so eMarketer doesn't have a number for the percent of total online ad spend it accounts for.
Here's the full 2015 breakdown: This year 40.1% of all U.S. digital ad dollars will be spent with Google, 13.2% will go to Facebook, 2.2% will go to Twitter, and 1% to LinkedIn.