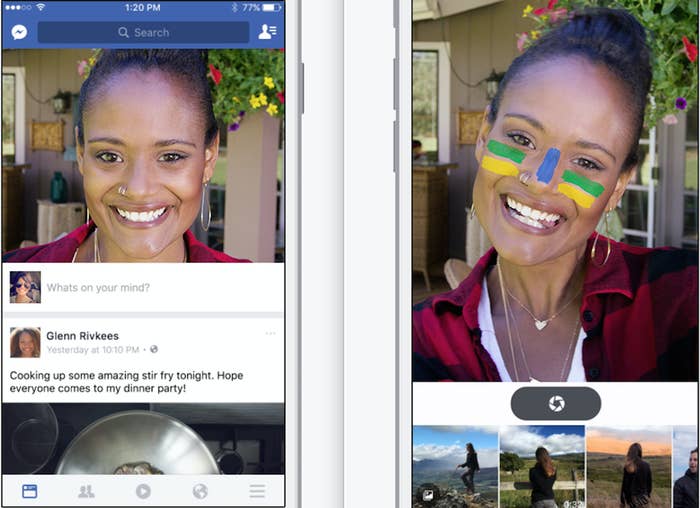 Facebook ought to start paying Snapchat for research and development. For the second time this week, the company is introducing a new feature that copies its popular competitor's core experience.

In Brazil and Canada today, Facebook is starting to test a "camera-first" opening screen that resembles the screen you see when you launch Snapchat. When people in those countries open Facebook, they'll see a live camera taking up about half the screen, replacing the app's traditional text-first compose field. Just like Snapchat, Facebook's new feature will have filters and face-altering lenses you can overlay on top of what the camera captures.
Facebook doesn't have immediate plans to bring it to the US, but hopes to roll it out globally depending on how testing goes.
Facebook's test comes just days after Instagram (a company it owns) debuted its own version of Snapchat Stories. That Instagram feature, also called Stories, is almost a carbon copy of Snapchat's: You post photo and video updates that the app then stitches together in chronological order and deletes after a day or so. Of course, that's not a coincidence. Instagram's CEO Kevin Systrom openly admitted the "inspiration" for Instagram Stories comes from Snapchat.
In an interview with BuzzFeed News, Facebook product manager Sachin Monga said that the company is simply trying to remove friction from the sharing process. "If we want to make it easy for people to share photos and videos on Facebook, we need to make it really easy for people to capture photos and videos on Facebook," he said. "It's our job not only to make it easy to capture photos and videos, but to give people the tools that they want to enhance their stories."
Facebook has been experiencing a decline in original sharing on its platform, according to reports that it will neither deny nor confirm. Copying Snapchat is a move to counteract this, and it has a good shot at succeeding. The camera-first experience does make it easier to share photos and videos, which are its most popular kinds of content. And by bringing down the overall quality bar of content posted to Facebook, it should also make people feel more comfortable sharing. The same goes for Instagram's new Stories. Both will do this by encouraging users to post selfies and filtered pictures instead of the most carefully curated stuff from their camera roll.
Overall, the changes signal a continuing movement in the social world toward "raw" content: the fun, weird, off-the-cuff stuff that made social media so magical in its early days. As platforms like Facebook and Twitter became more formal, they lost that magic to platforms like Snapchat. Now, everyone wants the magic of raw content back.
And the inspiration flows more than one way. In July, Snapchat added a Memories feature that sacrificed some of Snapchat's much-emulated rawness to give its app Instagram-like abilities to add old photos and videos to people's stories.
Facebook and Twitter have both made plays to bring more raw content into their platforms by pushing live video. When Facebook introduced live video, Mark Zuckerberg said as much in an interview with BuzzFeed News. "We built this big technology platform so we can go and support whatever the most personal and emotional and raw and visceral ways people want to communicate," he declared. But live video alone hasn't brought Facebook where it wants to be.
As Facebook builds Snapchat's features into its platform, it's natural to ask: How much does Snapchat scare Facebook? Asked this question, Facebook's Monga tipped his hat. "Snapchat's done a really good job of accommodating the shift from text to photos," he said. "And I think we need to do a good job too."