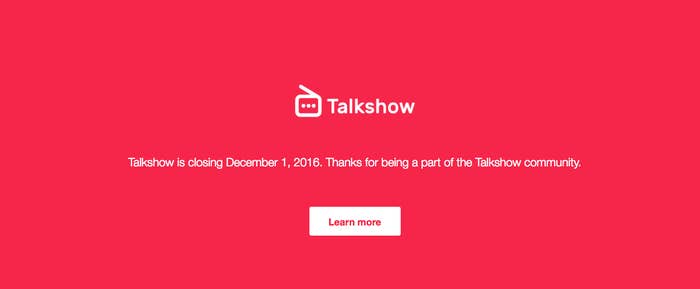 Talkshow, a public messaging app that debuted in April, is shutting down at the end of this month.
"While we have enjoyed the conversations that have happened on Talkshow, and are grateful for the community that has formed around the product, we don't see it getting big enough to have the impact we had hoped for," the company said in an email. "We're sorry, and we're going to try to handle this transition in the right way."

The app, developed by former Twitter product head Michael Sippey, displayed group messaging threads in public. The threads, ranging from sports talk to dating tips, were certainly intriguing.
But ultimately, Talkshow is yet another upstart social app to die, trying to compete for attention with Facebook and Snapchat, two giants that have seemingly sucked all the air out of the room in social. Word of Talkshow's shutdown comes a week after Vine, a Twitter-owned video service, said it too would close.
BuzzFeed News has reached out to Talkshow for further comment and clarification.