Take A Look At The Future Of Facebook
A new Facebook test hints at where the platform may be headed.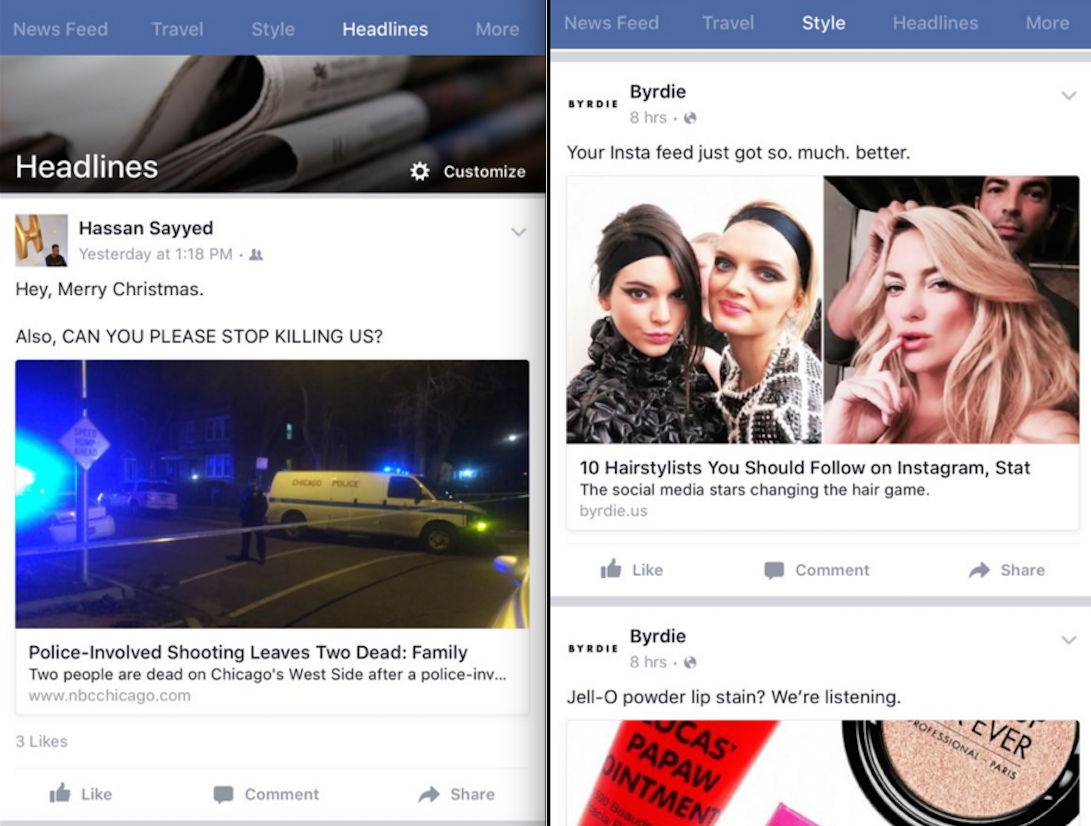 While on vacation in Aruba yesterday, Jason Stein, CEO of social media advertising agency Laundry Service, tweeted two screenshots from a new Facebook test that showed up on his wife's phone. The test inserted a number of different content feeds next to Facebook's traditional News Feed, with Travel, Style, and Headline channels visible in the pictures.
Stein described these specialized content feeds as "a newspaper made up of all the world's newspapers." The vision is one previously articulated by Facebook's CEO, Mark Zuckerberg, who once said he hoped his platform would be a "perfect personalized newspaper for every person in the world." Text, photos, and outside links are still the dominant form of content shared on Facebook. And the importance of links to outside media, for example, drove the company to build Instant Articles, a product that hosts outside publisher content within Facebook in order to get stories to render as fast as possible (BuzzFeed is a partner). Scrolling through specialized content feeds, each replete with Instant Articles, could potentially be a great experience.
It's All About the Movies
But the test gets especially interesting when you consider video. As far back as 2014, Facebook proclaimed that video would be its dominant content format within five years. This shift made sense given that costs of producing and publishing video are falling while the bandwidth availability is increasing.
But Facebook gave little indication of how it could present all this video content in a coherent, enjoyable way. It could, perhaps, turn the News Feed into a big video feed. But jumping from a CNN segment, to a clip of your friend's baby, to a traditional goofy internet video sounds a bit jarring. Facebook's recently rolled-out dedicated video experience, while still new, is subject to this problem.
These specialized feeds, though, might provide an answer. At the very least, they're an attempt by Facebook to figure out how to make the content people consume on its platform more coherent than the sometimes scattershot News Feed. It paves the way for a better video experience.
If people do want to consume video within these feeds, still an open question, then Facebook can puts its most powerful tool into play: its algorithm. For years now, Facebook has been trying to figure out the exact pieces of content to show us based on what we've interacted with in the past, what our networks are interested in, and a handful of other factors. The algorithm powers the News Feed, which, while far from perfect, is effective at displaying relevant content. Put Facebook's algorithm to use within a Style or Sports vertical and one day it could display a stream of videos catered to each user's specific interests.
Stein believes Facebook's algorithm can help organize web videos in a way that might make sense out of the overabundance of them. "When when you sit down to watch video, especially longer form, you're in the mood for a specific genre, be it sports, comedy, music, drama, news, documentary, and so on," he told BuzzFeed News. "Algorithmically organizing videos within genres is critical to the future of video. This new Facebook UI is likely the backbone for its video and TV apps."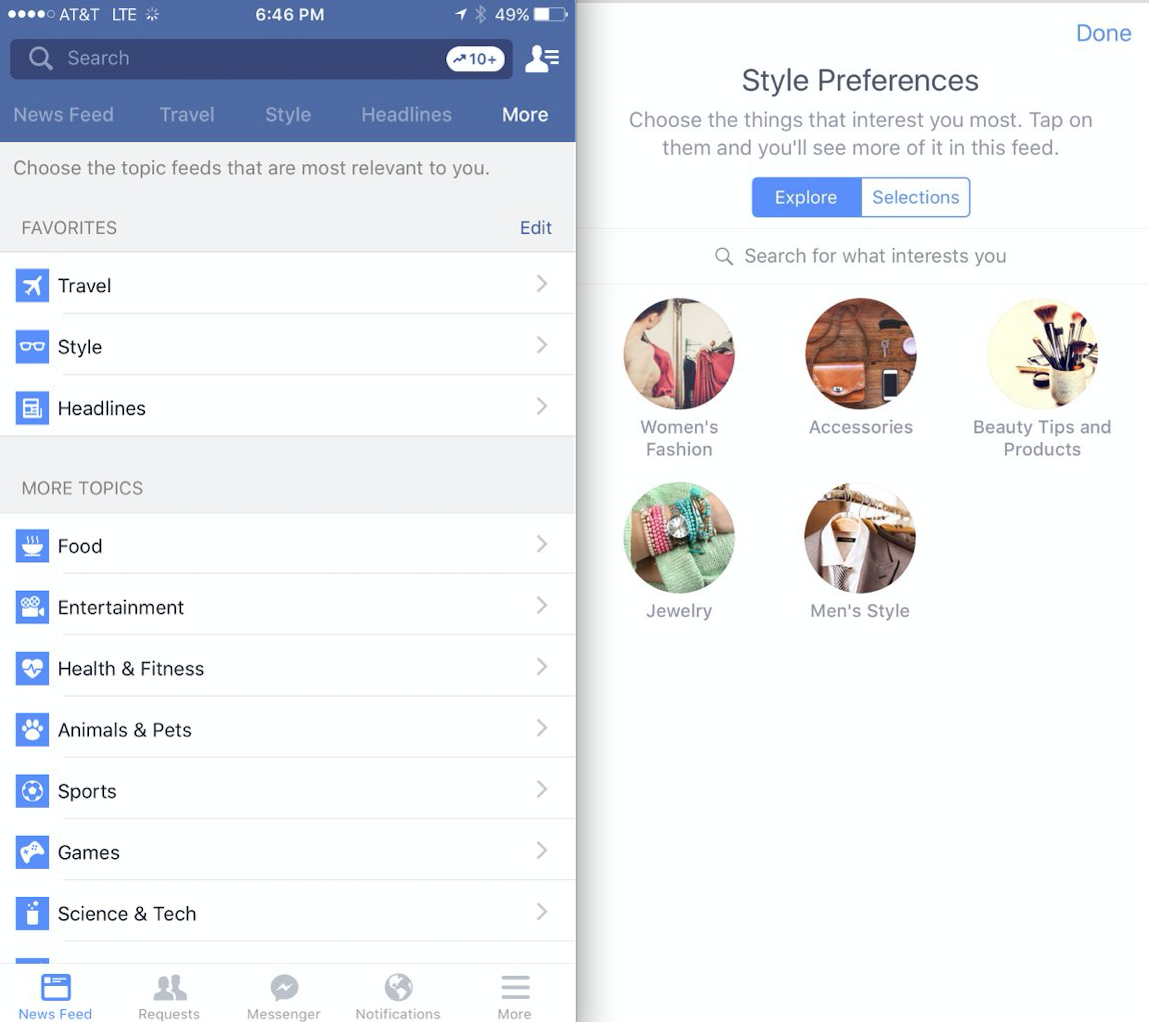 Stein then provided screenshots revealing the existence of far more content feeds available outside the three displayed in his initial screenshots. Among them: Food, Entertainment, Health & Fitness, Animals & Pets, Sports, Games, Science & Tech. Not only that, each vertical is customizable. So someone interested in the Style channel, for instance, can decide whether they want to see women's fashion or men's or whether they're interested in beauty tips, jewelry, accessories, or some combination of the above. This is the foundation of even more personalized channels.
For Facebook, the business implications are clear. It already has the best audience data in the world, since we, its users, have effectively helped it build the dream catalogue for advertisers by telling it everything about ourselves. But advertisers understand that while a well-targeted ads may be good, a well-targeted ad in context can be great. In other words, when a beer manufacturer knows you're a beer drinker, they're better served showing you an ad while you're watching sports highlights as opposed to a video of your nephew's first steps. The ad served next to the baby video still hits its target, but it won't be as effective.
Many questions remain — most notably whether Facebook will see this new format through. But also it remains to be seen if content creators will produce the volume of quality video needed to help Facebook live up to its five-year promise. But assuming Zuckerberg and Co's assumptions play out, what we're looking at today may very well be the next big step for a company determined to seize even more control over the distribution of information and entertainment as we move deeper into the social age.