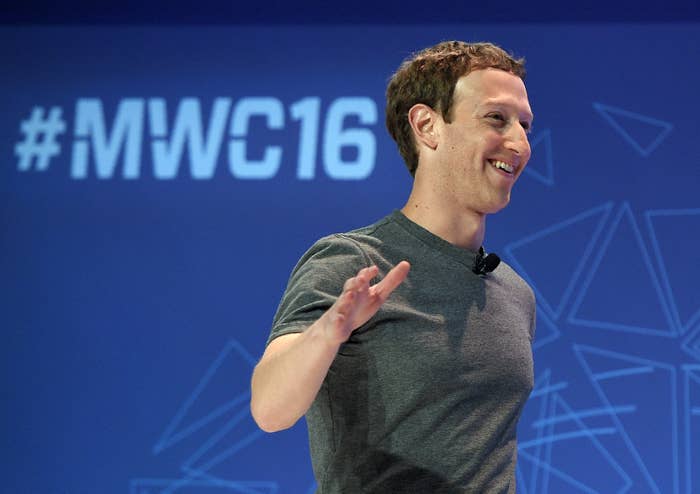 Is Facebook getting nervous about the proliferation of fake news on its platform? Sure seems so.
A Facebook survey question spotted Sunday night by Tom Warren, an editor at The Verge, offers "fake information" as a possible reason why respondents don't see Facebook as being good for the world.
Facebook surveys its users all the time — and it's unclear how long this survey has been running — but it was shared at a time when Facebook is under heavy criticism for allowing fake news to spread throughout its platform and in the run-up to the election.
Facebook CEO Mark Zuckerberg has publicly defended his platform's approach to fake news on two occasions since Nov. 8, initially calling the notion that fake news swayed the election a "pretty crazy idea," and then saying it was "extremely unlikely."
Asking "which of the following is the most important reason why you disagree or strongly disagree that Facebook is good for the world," the survey offers a number of responses, including: "Facebook has too much fake information or too many fake people on it."

As some users have pointed out, Facebook seems to be taking an approach to fake news inconsistent with how it has previously described the influence of its platform.
"Facebook and Twitter cannot take credit for changing the world during events like the Egyptian Uprising, then downplay their influence on elections," said Columbia student Karen K. Ho in a tweet Saturday. Entrepreneur Anil Dash, also in a tweet, offered a similar argument: "Everyone who buys advertising should listen to Zuckerberg saying that Facebook is ineffective at influencing people."
Asked if the survey means Facebook sees fake news as a significant problem, the company did not immediately respond.
UPDATE
A Facebook spokesperson emailed the following statement: "This is a standard survey we use to get feedback on our products. The survey was first created in 2015 and is unrelated to the election."