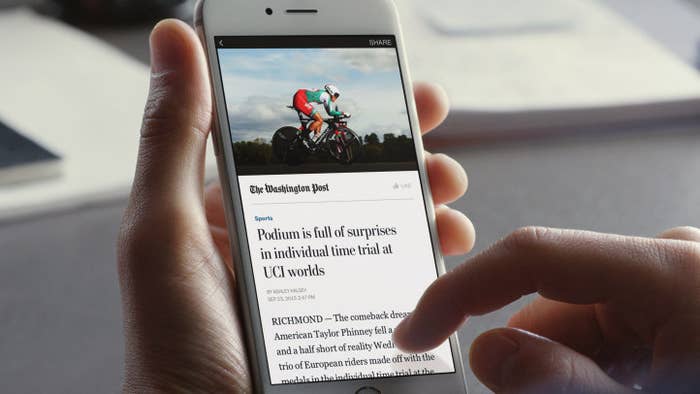 Facebook today said it plans to open up Instant Articles to all publishers, and as it turns out, it has a very wide definition of the word publisher. The fast-loading format won't be limited to professional media organizations, but will be open to pretty much any individual.

Freelancers and amateur writers will be able to publish to Instant Articles as well, BuzzFeed News has confirmed. Moreover, these writers will have access to the same revenue sharing options Facebook offers its current set of professional partners as long as they sign up for Facebook's Audience Network and have a Facebook 'page,' according to a company spokesperson.
The inclusion of freelancers and amateurs in the program marks the first time Facebook will offer widespread revenue sharing outside of professional media entities for content they post to its platform. Facebook gets loads of free content from its users every day, so its notable that the the company is willing to share ad revenue with users in this case.
Instant Articles participants get around 70% of the revenue from ads sold within their stories if they let Facebook do the selling, per reports. This means independent writers could opt to distribute their work primarily via Instant Articles, forsaking traditional outlets in the hope of a better payday and broader exposure.
Importantly, all Instant Articles need a web link as well, so someone participating couldn't simply publish their work via Facebook only. They could, however, set up a simple website to stage the posts, and use Instant Articles as the primary distribution mechanism. Instant Articles are already shared more widely than standard link posts on Facebook, so for someone looking to make a name for themselves, that option might make sense.
For Facebook, the move could signal an effort to bring more quality content to its platform, similar to the way YouTube's revenue-share program is responsible for bringing talented creators to its site (though it's worth noting that program is far from perfect).
With this in mind, it's difficult to overstate how hard it is to make money when online ad revenue is your primary source of income. Thanks to an almost infinite supply of inventory, rates for online ads are incredibly low (a massive ad exchange, for instance, just boasted about raising the average cost per 1,000 ad views from 20 cents to $1.60). Someone looking to make a go of distributing their work via Instant Articles would then need to generate significant traffic to their posts to make the arrangement economically viable.
Still, for many interested in building a career writing, Instant Articles may be a decent enough option to experiment with. Getting paid, no matter how little, certainly beats writing for exposure.