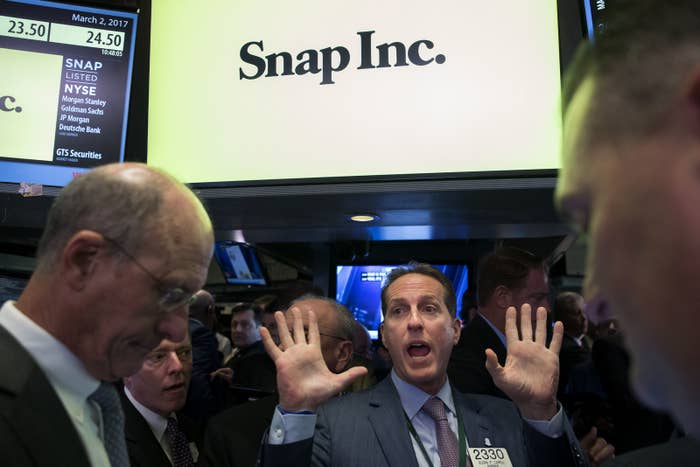 Snap Inc. introduced a shiny, new Snapchat design Wednesday. The redesign places posts from friends and media company content into two separate tabs, and could make Snapchat a bit easier to use. But that's about it. Because rather than alter the struggling app's fundamentals, the redesign simply reorders its features, leaving the company essentially in the same place it was before: down in the stock market, losing key influencers to Facebook, and struggling to convince advertisers to spend with it.

In the "new" Snapchat, your friends still send snaps and post Stories. And media companies still post Stories and create Discover content. But there's no new breakthrough feature, nor does there appear to be a major new revenue generator to entice skeptical advertisers. "Changes nothing," one advertising executive told BuzzFeed News after reviewing the app's new look. "It actually gave me a headache."
Snapchat redesigned its app because its business is flailing. The company badly missed its revenue targets last quarter after a series of disappointing earnings reports, and added millions fewer users than expected. When turning in these subpar results, Snap Inc. CEO Evan Spiegel told investors his company would make Snapchat simpler to use, pulling a move directly from the struggling social platform handbook: When the car breaks down, give it a fresh coat of paint.
Snapchat's investors could use some hope, and Spiegel stretched to give it to them in a bylined article in Axios where he bizarrely positioned his app's new design as a major change with the potential to heal society. The post read as an attempt to position Snapchat as the anti-Facebook and Twitter, which took beatings from Congress earlier this month for their role in Russia's campaign to sow discord in US politics.
"The personalized newsfeed revolutionized the way people share and consume content. But let's be honest: this came at a huge cost to facts, our minds and the entire media industry," Spiegel wrote, taking an opportunistic poke at his competitors. "With the upcoming redesign of Snapchat, we are separating the social from the media, and taking an important step forward towards strengthening our relationships with our friends and our relationships with the media."
"Thanks for letting me know there was a Snapchat redesign."
That's a fine sentiment, but the product fundamentals that isolated Snapchat from the problems plaguing its competitors, from fake and sensationalized news to foreign meddling, remain unchanged. Snapchat's new design has no public share button — the app never had one. And the absence of the share button limits the reach of posts shared by friends, meaning fake, sensationalized, or system-gaming posts can't spread like they do on other platforms. That may be a virtuous element of Snapchat's product, but it's certainly not due to this redesign.
Snapchat's fresh new look won't change society, and it doesn't seem likely to change the perspectives of its advertising customers either. In one Facebook group of advertising professionals, the news of the Snapchat's redesign was greeted largely with indifference. "Thanks for letting me know there was a Snapchat redesign," one member said, indicating the app isn't commanding the same attention from ad agencies as it did when it was a hot startup shooting toward IPO.

So, Snapchat has a new design, but it's still awash in problems:
Its stock is trading approximately 20% below its IPO price

It's got hundreds of thousands of unsold Spectacles wasting away in a warehouse

Its user growth is slowing

Advertisers losing interest in its platform

Facebook has successfully cloned its marquee "Stories" feature in wildly popular apps like Instagram and Whatsapp
With each stumble, Snapchat is looking more and more like Twitter, another hot social platform that sold its IPO hard, took off, and then fell painfully back to earth. Here's what Spiegel said about Snapchat's need to rework itself earlier this month: "One thing that we have heard over the years is that Snapchat is difficult to understand or hard to use, and our team has been working on responding to this feedback." Now here's Twitter's Jack Dorsey in 2015 in his first earnings call as interim CEO amid ongoing financial turmoil at the company: "We continue to show a questioning of our fundamentals in order to make the product easier and more accessible to more people."
Four years after going public Twitter is still trading below its IPO price. Snapchat is hoping to avoid a similar fate, but this new design seems unlikely to solve its problems.